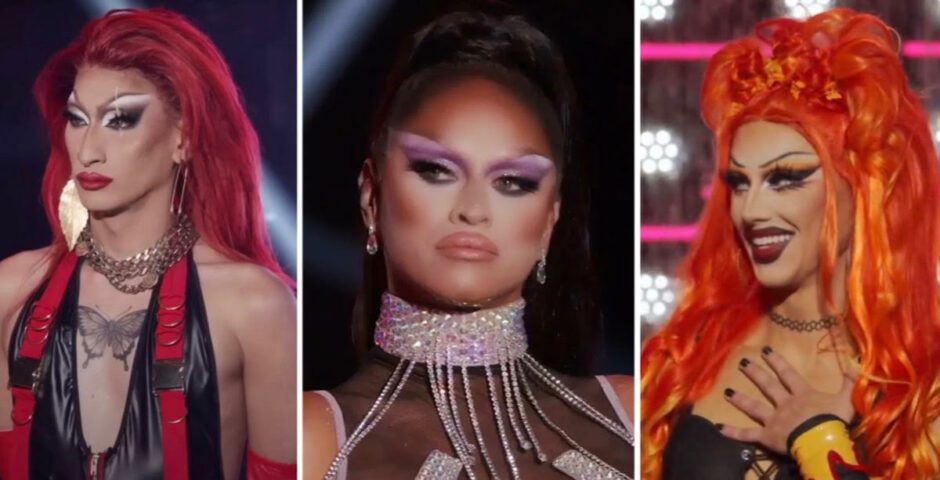 Ranking the remaining queens of Drag Race season 15 by how good they are at lip syncing
Anetra VS Sasha was one for the herstory books
The last episode of RuPaul's Drag Race season 15 was the now-pretty-much-expected LaLaPaRuZa episode, where Ru gives the charade of a major twist reveal in order to force the queens to lip sync battle each other at random until the queen who never manages to win a duel ends up sashaying away. Whilst this formula is getting a bit tired with how much of a shock twist Ru loves to paint it as, the formula is always thrilling because we get to see the queens doing what they do for a living. It's the kind of challenge that makes champions – certainly one that separates the wheat from the chaff with absolutely nowhere to hide. So, LaLaPaRuZa done, who was the best? Here's all the queens left in Drag Race season 15 ranked by how good they are at lip syncing.
9. Spice
Spice is literally the luckiest queen on planet earth to still be in the competition after last week – not only is she the worst lip syncer in the bunch anyway, she didn't even know the words! She made the whole situation so likeable and iconic though that I love her anyway.
8. Loosey LaDuca
She's VERY lucky she was against Spice, let's just say that!
7. Malaysia Babydoll Foxx
I had really high expectations for Malaysia Babydoll Foxx's lip sync prowess, but she didn't even know the words to Don't Go Yet and when she DOES know the words she's just having a mid off I fear. Maybe it was just a bad night for her last week.
6. Marcia Marcia Marcia
Okay now we're getting to the goods. Marcia Marcia Marcia performs with the kind of perfected excellence only a theatre kid can – the Lea Michele of delicate lip syncs. But for me, even though it's technically amazing – where's the heart? Where's the passion? Polished but a bit empty for me, but still clearly great.
5. Luxx Noir London
Immensely watchable, so fierce, just love her. She'd be at the top if the other four weren't so outstanding.
4. Mistress Isabelle Brooks
Mistress said herself she was still holding back a bit in case she had to go again, but what she served was still old school, immaculate drag lip syncing of the highest order. That's mother.
3. Salina EsTitties
I mean, I'm not even a Salina fan particularly and she really showed me what's what with this one. This is high drag. The way the mouth quivers when she lip syncs, the emotion (the kind that Marcia should take note of) and the passion? So excellent.
2. Anetra
Right here's the thing: If I was ranking by who was the best last ep, I'd give the top spot to Anetra. I actually think she beat Sasha in her lip sync. Overall, I'm putting her second but it is CLOSE. She is an immense talent, and I could watch her perform for hours.
1. Sasha Colby
Being blessed with this lip sync is something we should all be eternally grateful for, and let's face it – of all the season 15 Drag Race queens it is Sasha Colby who will always be the undisputed mother of lip syncing. She is truly a force to be reckoned with, and carved out her iconic legacy by being so. If you've never seen her 2012 Miss Continental performance what the hell are you doing with your life?
For all the latest reality TV news and gossip and for the best memes and quizzes, like The Holy Church of Love Island on Facebook.
Related stories recommended by this writer:
• Explained: Why Todrick Hall is getting 'cancelled' on Twitter after Celebrity Big Brother US
• All 16 talent show performances from Drag Race season 15, ranked from flop to jaw drop
• Here's a breakdown of the insane amounts of money queens have spent to go on Drag Race