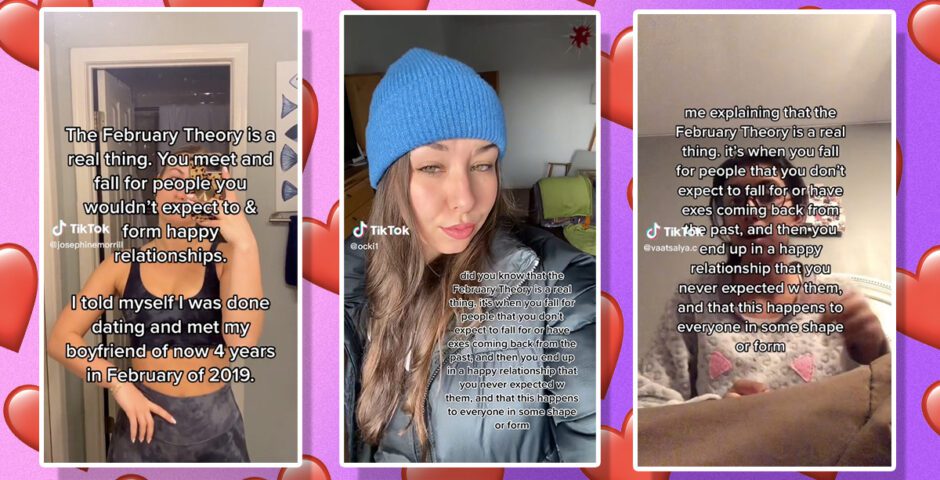 Explained: The girlies on TikTok have come up with this February theory all about love
TikTok girlies make the best love advisors
Despite everyone already knowing February is the month of love, TikTok girlies have come up with a theory about it. Valentine's Day is the most romantic day of the year, but also the period between February and April is certified peak cuffing season. The science I have to present to you with this can be confirmed amongst the case studies between Chrishell Stause and G-Flip who got together in April last year, Lizzo and Myke Wright confirmed their relationship this time last year too.
A few people are also using it as a way of manifesting success in their dating life which we know everyone loves to do. So, here's a rundown of the ins and outs of the February theory from TikTok including how it works.
What is the February theory from TikTok?
So people on TikTok say the February theory is when you fall for someone unexpectedly or one of your exes comes back into your life randomly and you end up happy in a relationship with them. One TikToker says they told themselves they were done with dating and then met their boyfriend of four years in February 2019 – life comes at you fast.
It's not just about old or new flames being ignited either, it can be someone who comes into your life and they're born in February. A lot of people are also using the trend along with Rihanna's song Love on the Brain to manifest the February theory coming true in their life.
Is there a negative side to the theory?
Another TikToker posted a video asking people to tell them evidence for the theory being wrong and the comment section is full of people claiming they got the ick in February or alternatively they got with someone in August and by February they have broken up. So there are two sides to it but naturally the TikTok girls are all for the love theory.
Related stories recommended by this writer:
• Introducing Mimi Webb! The TikTok star who is up for Best New Artist at the 2023 Brit Awards
• Here's how to work out if you've celebrated your golden birthday and when your next one is
• Right, who are these dancing white dogs? And why are they all over my TikTok FYP?