'Who do we report to when the rapists are police?': Protestors gather outside David Carrick's sentencing
More than 1,000 Met Police officers are still working despite being accused of sexual or domestic abuse
This morning, around 20 protesters turned up to the sentencing of serial rapist and former Met Police officer David Carrick, who has pled guilty to a string of violent offences, including 24 counts of rape against 12 women over an 18 year period. The Tab were outside the court, where we spoke to organisers about the demonstration.
Carrick is one of the worst sex offenders in modern British history and used his position of power as a police officer to commit violence against women. His victims were left depressed, suicidal, and feared the police after he assaulted them.
Today, the court heard how Carrick used his position of power as a policeman to manipulate and intimidate his victims and even held a black hand gun to one woman's head before he raped her.
Outside Southwark Crown Court, Women Against Rape and Women of Colour Global Women's Strike protested against the Met Police and the No Public Order Bill.
You can read our live blog of the sentencing with quotes from Carrick's victims here.
Protestors held banners while chanting, "who do we report to when the rapists are police?" and "end impunity for rapist police."
One banner read: "Stop police rape and violence," while another stated: "Police and family courts side with violent men." Another said: "Police: prosecute rapists not sex workers" and "you don't have to be black to know cops are bent."
Lisa Longstaff of Women Against Rape told The Tab: "If your attacker is actually the police [and] they used their position, their power, their uniform and their gun and threatened you— who's going to believe you? 
"They abuse their powers and unfortunately when they are reported, instead of being properly and thoroughly investigated and prosecuted, oftentimes they are not even sacked, let alone even prosecuted, or they are let go quietly to take up position somewhere else – so still a danger to the public. We want an end to that impunity, we can't have that anymore," she said. 
"They have to begin with getting rid and prosecuting the officers who are breaking the law, that is number one priority but they have a really long way to go," she added. "It's become a bit of a cliche now about 'we have to rebuild trust, we have to rebuild trust.' Everywhere you go women are saying 'I don't trust the police, I hope I am not attacked tonight because I wouldn't go to the police'. Their reputation is at rock bottom and they have a long way to go, a really long way to go." 
Today at his sentencing, the court head how David Carrick threatened to report one of his victims, Darcianne Nunes Da Silva, to immigration services if she tried to break up with him after he'd repeatedly raped her. "If you are a woman who is seeking asylum, [the police] are far more interested in whether you've got status or even the right to be here than whether you were raped. What kind of a society is that where that is the priority?" says Crissie Amiss from Women of Colour Global Women's Strike who was also at the protest. 
"Everybody  is fighting for justice. For  a real seminal change in the way this society treats women, treats anybody who has a vulnerability of any kind. It has to stop being that we are somehow the victims, that we should be criminalised, that is going to end….We are going to see what happens in court tomorrow, and we are going to see what happens with all the other officers everybody knows are sitting inside the force."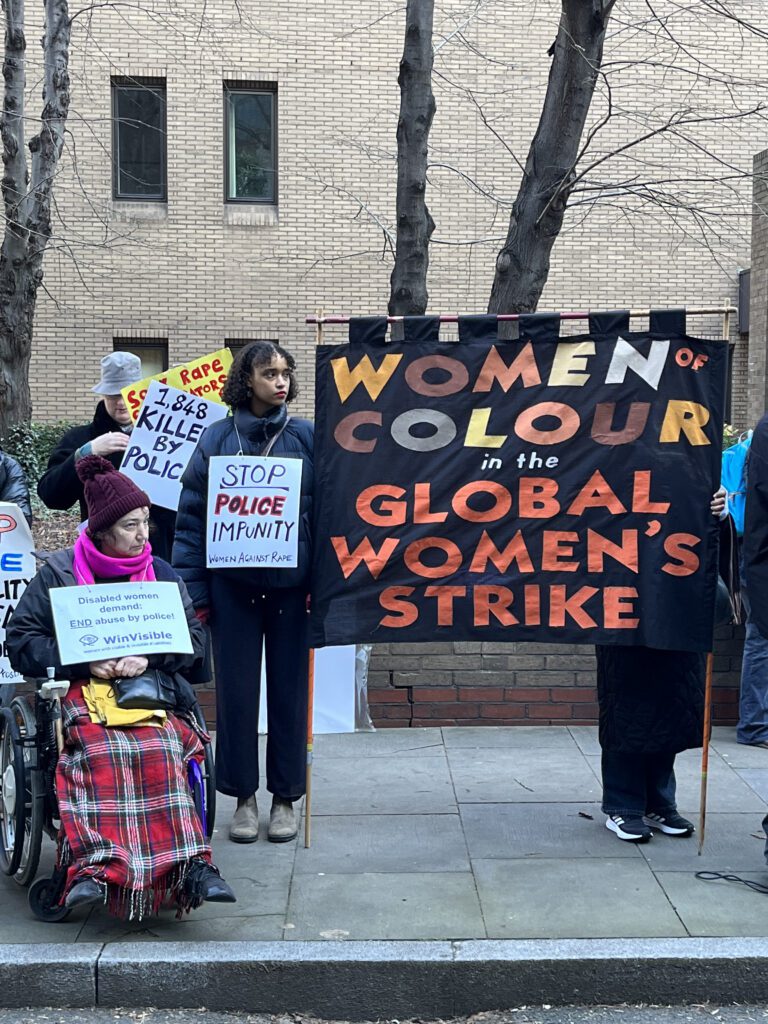 There are currently more than 1,000 Metropolitan Police officers and staff in service who have been accused of sexual offences or domestic abuse, it was revealed last month. Ahead of David Carrick's sentencing at 10.30AM tomorrow, Assistant Commissioner Barbara Gray said:
"I am truly sorry for the harm and devastation he has caused them. We let them down and we failed to identify a man in the ranks of the Metropolitan Police Service who carried out the most awful offences. He should not have been a police officer."
The Tab have contacted the Metropolitan Police for comment.
If you or someone you know has been affected by this story contact Refuge on their free 24/7 helpline 0808 2000 247 or contact Rape Crisis online for a free confidential chat helpline.
Related articles recommended by this author:
• 'Prolific sex offender' used status as Met Police officer to 'relentlessly manipulate' women
• Flag down a bus, and all the other tone-deaf 'advice' the Met Police is giving women
• 'I am so fearful': Young women outside Old Bailey as Couzens given whole-life sentence