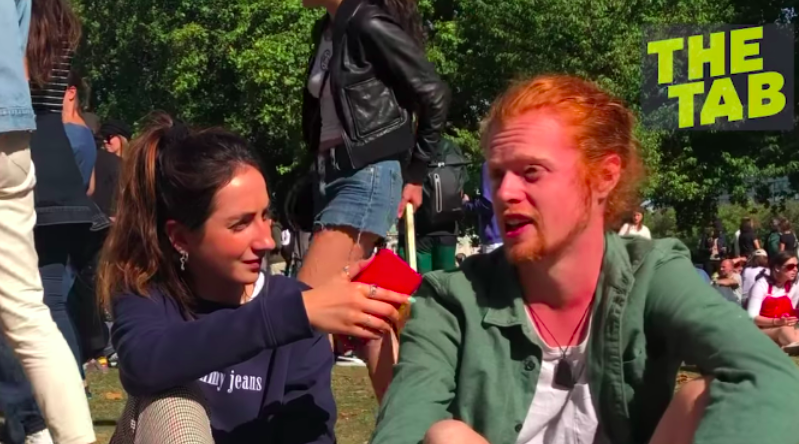 We're hiring a Politics Correspondent
We're looking for an ambitious journalist to come and work on an exciting new project
We are hiring a Politics Correspondent to help launch our exciting new current affairs section Agenda. This is a rare opportunity to join a new growth area, as The Tab continues towards our goal of becoming the mouthpiece of UK youth. You will be an ambitious journalist and video presenter with lots of energy and an obsession with current affairs and youth culture.
Agenda is a new section on The Tab site for 18-25s, and will have a special focus on national topics like mental health, politics and government incompetence, racism, class, the environment, and social injustice. 
Some coverage that represents what we stand for:
Outrage over social distancing at BLM protests but not VE day proves the UK is racist
These 31 memes are the only funny part of last night's chaos at Capitol Hill
We spoke to the boys in THIS picture and they've had enough of your jokes
Ranked: The reality stars who have lost thousands of followers whilst in Dubai
PSA: Drinking almond or coconut milk is really, really bad for the planet
Don't be surprised by the Chartwells meal scandal. It happened to uni students first
This grad's sassy email quitting PwC shows how boring a grad scheme in finance is
Boris Johnson hasn't mentioned university students in ANY of his Covid addresses to the nation
Scotland to become first country in the world to teach LGBT+ inclusive curriculum in schools
Video: This is how easy it is to buy acid in the shops right now
Video: We asked people at the London Climate Strike what we should be doing to help the planet
Video: Introducing the teens of Reading 2019 and BOY can they mosh
About The Tab
We are a site covering youth and student culture – reaching 5 million people every month. We believe young people are overlooked, and we exist to give them a voice. Our coverage includes fighting discrimination and holding authority to account, while at the same time telling you which Netflix shows are worth binging. We are run by young journalists who like being first – our storytelling is brave, original and entertaining.
About you
You're an ambitious journalist who can work independently to gather stories. You must have the initiative to turn around ideas quickly – whether that's a video or a reactive story.
You will have the natural confidence and charisma to host video, hold court during public appearances, and ask the tricky questions on behalf of the audience. 
You're passionate about giving young people a voice and want to make a difference. You must have an instinctive understanding of youth culture: what young people care about, how they feel, what their struggles are right now, what entertains them. You follow and *understand* the daily trends on TikTok, Instagram, Twitter, plus you simply love memes. 
You will be obsessed with current affairs and demonstrate a thorough understanding of UK politics. You don't need to be able to name every cabinet member, but you must have a strong interest in how UK policy plus national and global affairs are affecting young people. 
You're a growth person and love watching the big numbers roll in. You'll be instrumental in growing the audience and video views – and will be responsible for hitting ambitious targets in these areas.

The role
As Politics Correspondent, The Tab you are responsible for delivering top-quality stories that reach millions of 18-25s, driving the company towards its goal of being the mouthpiece of UK youth.
Reporting to: Editor-in-Chief
Seniority level: Graduate, or 1-2 years in a professional writing/reporting role
Salary: Dependent on experience
Start date: ASAP
Working from: London (flexible office working available)
Responsibilities
You will reactively report on several current affairs topics daily. You will also be making and starring in videos that resonate with the audience. You will work closely with the Editor-in-Chief to ensure we are delivering bold, impressive journalism that is adored by the demographic and gets us noticed by everyone else.
– Writing stories for Agenda: news stories, data stories, takes, investigations, commentary, interviews, fun features, quizzes
– Producing and editing video: from short funny clips to 1-2 mins man-on-the-street videos, interviews, mini-documentaries
– Presenting video: either from your computer or out on the beat, at protests and events
– Appearing on TV, radio or elsewhere on behalf of The Tab for comment and insight when necessary
– Helping to accelerate social growth and reach through top-quality stories and videos
In a year's time
– You will have attracted millions of views on your stories and videos
– You will have amassed an impressive following and made a name for yourself in the media
– You'll have voiced the concerns of young people during many national TV/radio/broadcast appearances
In 5 years' time
– You will likely go on to work as a well respected Politics Correspondent at a mainstream national newspaper like the BBC or The Guardian
Requirements
– A generous portfolio of published work – including scoops and takes
– Experience in presenting video
– Video editing skills
– Experience in data journalism and working with numbers such as surveys, FOIs, infographics
– A 2.1 degree from a good university
Benefits
– Competitive salary, based on experience
– Young, sociable and ambitious team
– A mixture of home and office working, and access our Shoreditch co-working space
– Company MacBook
– Early finishes on a Friday
– Free Friday drinks
How to apply
Email Editor-in-Chief Grace Vielma ([email protected]) with the following:
– Your CV
– 3 links to your work that prove you're perfect for this role, including at least one video you've presented or appeared in. This may also include links to published stories and any broadcast appearances
– 3 story ideas that would be really well-read on the Agenda section on The Tab website. Include a headline, and brief synopsis for each
– 3 video ideas that would get 100,000+ views on social for Agenda. Include a brief summary of who you would speak to, how you would go about making it happen