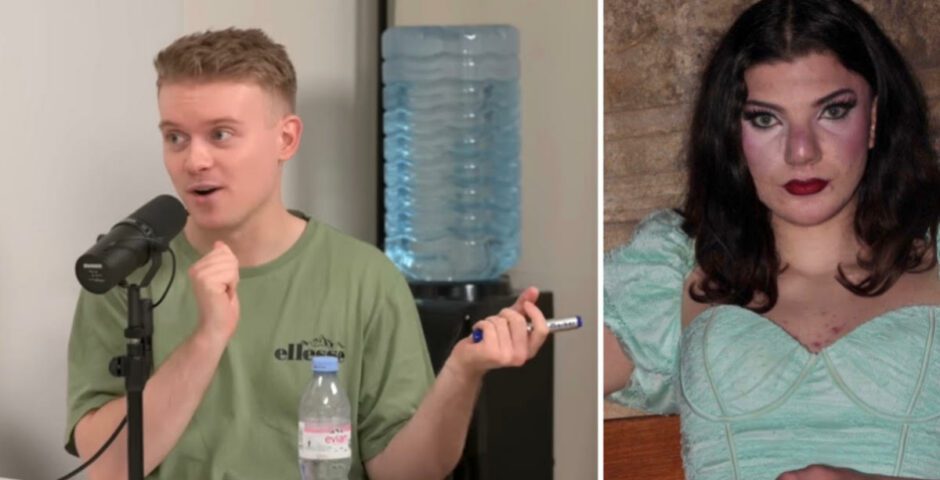 Max Balegde and Elphaba are beefing on TikTok and the drama is so messy
'Your behaviour towards me, acting two faced on a podcast, is horrific'
There was a time Max Balegde and Elphaba Orion Doherty were briefly friends – two widely known TikTok creators aligned in their notoriety. For a while now, that friendship has been long over. Max Balegde has over the weekend spoke about his feelings on Elphaba on his Useless Hotline podcast, which resulted in Elphaba responding and the drama getting messy. Here's a full explainer on what's been going down…
'I thought when I met her: this is such a lovely person'
Speaking on a recent episode of Useless Hotline, Max Balegde commented on the drama surrounding Elphaba on TikTok recently. "I think with Elphaba is I thought when I met her 'this is such a lovely person'. She was so lovely to me, I can't even put it into words. I felt so protective of her, I invited her to our podcast launch event. I personally just felt so disappointed in her as a person when she was at my house and told me about her autism diagnosis, she sat and told it to my face. To then later find a few months later she'd completely made it up.
"She also said on live she had Tourette's but I found out later she'd never been diagnosed with that. She told me and showed me things that Chelsea Lee Art had said to Elphaba and when I saw it I was horrified this woman had a platform. She was so transphobic, so nasty to her, and Elphaba showed me how much that hurt her. A couple of weeks later she moved into Chelsea Lee Art's house and lived with her for over a week? Just on live streams nonstop, come on guys send the gifts, send it."
Elphaba responds on a live
In a rant on live, Elphaba speaks to Max directly, saying "If Max is watching this, I'm really disappointed in how he's responded towards me. If Max was on a phone call with me he'd have been completely different. I don't care how many followers you've got, I respect your content and I respect you as a person but your behaviour towards me on that podcast acting two faced is horrific. You've thrown me under the bus. You've never checked on me, never called me. You said you wanted to be friends and felt protective of me but you never called me."
Max Balegde then responded to the Elphaba drama in the comment section of the account that screen recorded her live, saying "This is a genuinely delusional person and I can't believe she is even real at this point. Will react to this on the pod."
I am READY for the podcast response. It's messy.
For all the latest reality TV and entertainment news and gossip, like Pop Culture Shrine on Facebook.
Related stories recommended by this writer:
• Max Balegde's podcast is getting called out for 'ableist' discussion about the Paralympics
• Calling time on these annoying British TikTokers and their embarassing brand of influencing
• CLA's death hoax and Elphaba's 48 hour boyfriend: This week proves British TikTok is at its peak