A logical guide to all the 2023 Love Islanders as Taylor Swift albums
Taylor needs to add Bad B*tch as a bonus track on Reputation
I would like to say this now before I go any further: There is nothing on this earth that I cannot compare to Taylor Swift albums – and yep, that includes the cast of Love Island 2023. I know these albums like the back of my hand. They've soaked into every fibre of my being, and now I've spent two months with a load of Islanders it wouldn't be ridiculous to say this cast of Love Island has soaked into my being like Taylor Swift and her 10 albums – albeit with much less of a lifespan. Considering this is probably the last of the few days I'll even remember half the cast, please enjoy my logical guide to the Love Island cast as Taylor Swift albums.
Taylor Swift – Amber
If this album was British, it would be like listening to a Snapchat streak. Taylor Swift is a juvenile debut, and liccle Amber Wise felt barely old enough to be in the villa. A baby match in baby heaven.
Fearless – Ella
Ella has had a big romantic journey in the Love Island villa that feels as turbulent and as young spirited as the ones Taylor has across Fearless. Ella and Tyrique argued like year 11s, but were also as smitten as the vibes in Fearless. Also, Ella IS Fearless. She's a strong woman who stands up for herself and the title just matches her to a tee.
Speak Now – Kady
The pettiest of all Taylor Swift albums can only align with Kady McDermott, who has no qualms Speaking Now when prompted or unprompted. You can just imagine Kady belting out Better Than Revenge with nothing short of gusto.
Red – Mitchel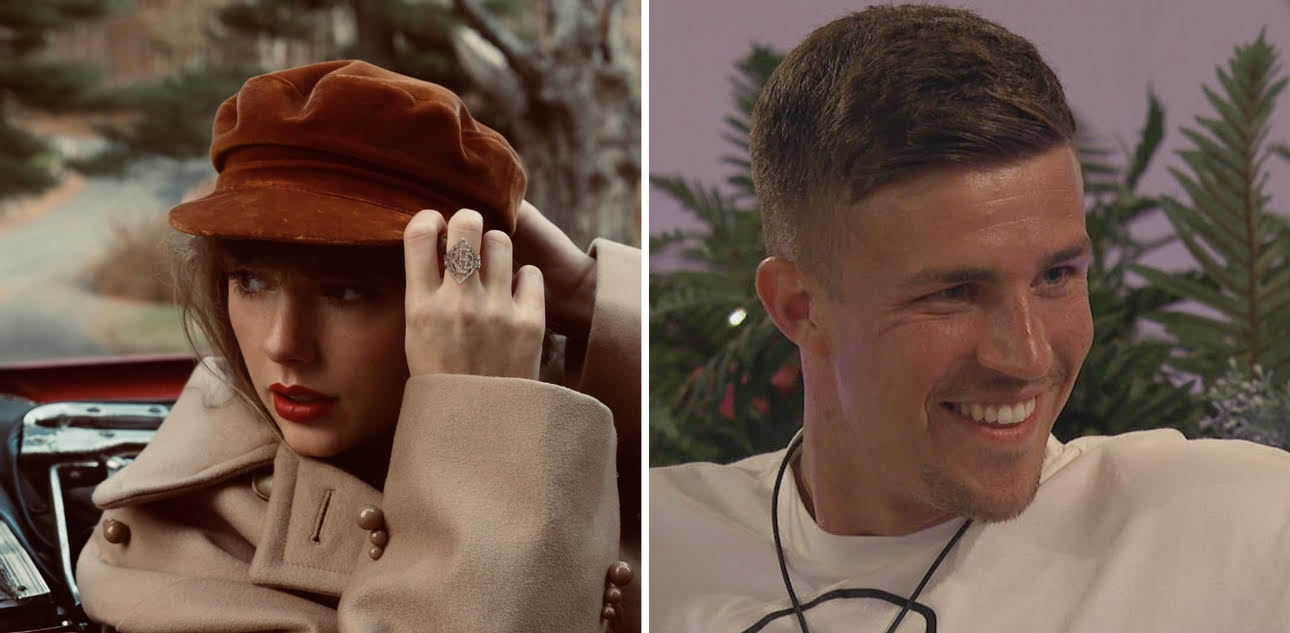 For Red, imagine that every savage song Taylor Swift has written here is from one of the girls in the villa ABOUT Mitchel. He would be getting dragged to kingdom come and back again. We Are Never Ever Getting Back Together, I Knew You Were Trouble, and All Too Well could all be used to drag him. I hear it.
1989 – Jess
1989 is the most fun, happy and carefree of all Taylor Swift albums, so it makes sense that such a warm album of joy goes to Love Island winner Jess. I've said many times that Jess was the heart of this season and the pop perfection of 1989 suits Jess' attitude and loved nature by the fans to a tee.
Reputation – Whitney 

It's giving bad bitch, bad bitch, bad bitch.
Lover – Molly Marsh
I just know for sure this woman would gleefully listen to ME!. This is a pink pop girly Disney princess album mostly and I just know the sickliest moments on Lover.
Folklore – Scott
Just look how perfectly these two pictures go together. Have you ever seen anything like it? The beauty and the class of Scott suit Folklore perfectly – her best and most mature album. This is a match made in heaven. Singlehandedly this pairing made me press play on Folklore. Considering this is home to the best of Taylor Swift's songwriting, who else could it go to than the man who penned the best one liners of the season this year? When I sing August throughout this hallowed month, I'll think of him.
Evermore – Lochan
Oh you want a mature follow up to Folklore that's not quite as good as it but is still amazing and one of the best albums you could ever hear in your life? Then how about have a man that's not quite as good as Scott but is still amazing and one of the most wholesome men you could ever need in your life! Bosh!
Midnights – Tyrique
I slowly pressed play on Karma when I saw how livid Tyrique looked after coming third in the final. Karma is indeed your boyfriend when you've told women to "shut up" for two months. Karma's gonna track you down, step by step from town to town.
Love Island 2023 is on ITV2 and ITVX. For all the latest Love Island news and gossip and for the best memes and quizzes, like The Holy Church of Love Island on Facebook.
Related stories recommended by this writer:
• 'If my name gets you views then keep going': Scott spills all the tea about his co-stars
• We asked people who voted for Jess and Sammy to win Love Island: Why?
• They've graduated! Here are all the Love Island contestants who went to Russell Group unis