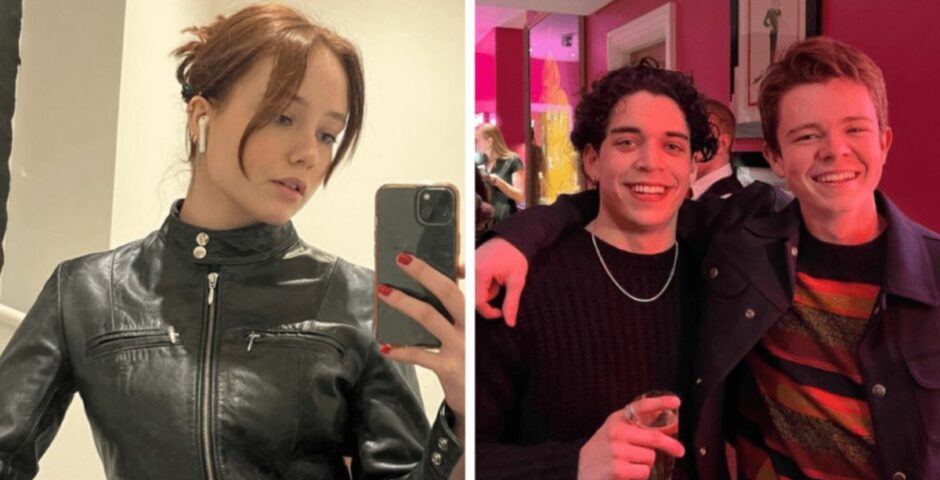 You'll never guess how old the cast of Lockwood & Co actually are in real life
I'm feeling really old now
The most supernatural threat I've ever encountered was someone in my flat mysteriously continuously changing the correct position of the toilet roll, and it horrifies me every time. In Lockwood & Co however, three teenage ghost hunters have to battle actual deadly spirits, and no not tequila, all whilst battling with the standard struggle of being a teenager. But what are the ages of the actual cast in real life, and most importantly how old is Tom Holland's younger brother who's in Lockwood & Co?
This is the cast of Lockwood & Co on Netflix and their real life ages:
Ruby Stokes – Lucy Carlyle
Age in real life: 22
After being rejected by her family, losing her only friend and getting blamed for a deadly work accident, Lucy is at her lowest point when she arrives at Lockwood & Co. But she has a unique gift as she can "listen" to ghosts, a very helpful skill if you're a ghost hunter!
Ruby Stokes is best known for playing Francesca in Bridgerton. She was also featured in the films A Banquet, Rocks and Una. She is set to star in the upcoming drama The Burning Girls based on the novel of the same name.
Cameron Chapman – Anthony Lockwood
Age in real life: 20
Haunted by his parents' death, Lockwood is a prodigious teen with plenty to prove and the ego to back it up. He's the leader of the group, and there might be a little something between him and Lucy! Lockwood & Co is Cameron's first television debut.
Ali Hadji-Heshmati – George Karim
Age in real life: 23
A brilliant researcher but a bit of a character, Ali plays George, an outsider even among friends in the agency. George makes up the third in the trio of Lockwood & Co. Ali Hadji-Heshmati is currently studying at the University of Oxford alongside acting and has starred in Holby City and Bad Education.
Ivanno Jeremiah – Inspector Barnes
Age in real life: 34
Ivanno plays Inspector Barnes, who works for the Department of Psychical Research and Control overseeing London's ghost-hunting agencies to ensure they're following the rules. He has previously appeared in the Black Mirror episode Shut Up and Dance, as well as Humans, and starred alongside Lena Headey from Game of Thrones in The Flood.
Morven Christie – Penelope Fittes
Age in real life: 41
Morven plays the role of Penelope Fittes, who is the chairman of the Fittes Agency (the most well-respected paranormal investigation agency in London and George's former workplace) and the granddaughter of its founder. Morven is the oldest member of the cast but honestly, I can only hope I look as good at 41 as she does. She has starred in TV shows such as The A Word, Grantchester and The Bay.
Rhianna Dorris – Kat Godwin
Age in real life: 20
Rhianna plays Kat Godwin, who works alongside Quill as an agent and rival of Lockwood & Co. Just like Lucy she also has the talent to be able to listen to the ghosts. This is one of Rhianna's biggest roles, but she has previously appeared in Stage School and The Kid Who Would be King.
Jack Bandeira – Quill Kipps 
Age in real life: 28
Fittes Agency supervisor Quill Kipps and his team are Lockwood & Co.'s biggest rivals. A talented fencer and ghost hunter, Kipps is cunning and competitive, definitely a character to keep an eye on. Jack has starred alongside Harry Styles in My Policeman, as well as appearing in Bad Education and Happy Valley.
Paddy Holland – Bobby Vernon
Age in real life: 18
Yes, that surname is no coincidence Paddy Holland is THE Tom Hollands' little brother! In Lockwood & Co he plays the role Bobby, who is a researcher for Quill and Kat. The only previous role he had was in Holmes and Watson.
For all the latest news and to keep up with Lockwood & Co cast drops, quizzes and memes like The Holy Church of Netflix on Facebook.
Featured image via Instagram @rubystokess @paddyholland2004
Related stories recommended by this writer:
• Here's how the scarily real Cordyceps fungal virus from The Last of Us actually works
• Here's everywhere you recognise the mega famous cast of The Last of Us from
• Here's everything you need to know about M3GAN, the new doll horror film that's gone viral