Here are the best bookshops every York student should know about
What are you waiting for? Go spend some money
I think we can all agree that York is an incredible place to live if you have a love for reading. There are countless bookshops and sometimes trying to find the best place in York to indulge this passion can be overwhelming.  Chain or not, these are the shops that stood out as worth your while and I recommend you hop on the 66 as soon as possible and treat yourself to a new read. 
Waterstones, Coney Street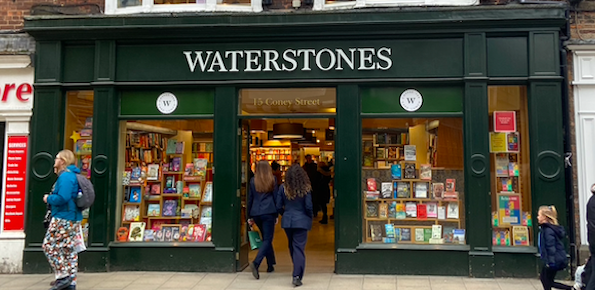 Waterstones is a classic and it's definitely the most obvious choice on the high street. It always has all the recently released books on display, as well as tables with 'buy one get one half price' deals. The café upstairs is lovely as well and the overall vibe is nice. If you have a specific book in mind, and don't want to wander around too many shops, Waterstones is your best bet .
Personally, I like to go here to just stand around for an hour and not even buy anything. Not because I haven't found anything but because I went to all the other places on this list and bought books for half the price (sorry not sorry). 
The Works, Church Street
You have to hear me out here… I too associated The Works with weird arts and crafts pieces you didn't know you were interested in and (maybe just in my case) fidget toys and autobiographies of pretty irrelevant celebrities. But their selection of books honestly had me very pleasantly surprised. They had a huge section of books priced at three for £6! I was kind of blown away. 
Considering I pay more than that for one book in most chain stores (*cough* see number 1 *cough*), I was very impressed. There was a decent range of genres too, including those ones BookTok is always recommending (I'm looking at you, Colleen Hoover fans). It was definitely more romance and non-fiction based but even if that's not your thing you should definitely still go as there were some hidden gems . They can't really call themselves The Works if they don't host the whole 'works' of genres there are to offer. I think they lived up to the name. 
The Portal Bookshop, Patrick Pool
This. Place. Is. Incredible. An LGBTQ+ haven! This shop is half bookstore half café and has hundreds of books catered to everyone in the community. Looking through the shelves, the books are all labelled with flags that correspond with the relationships, sexualities and gender identities of the characters involved. There is something so special and exciting about picking out a book and seeing that it will be relatable to you on such a personal level.
This is the place on my journey that I found myself picking up the most books I was interested in for sure. I definitely recommend visiting here, even if you aren't the biggest reader. Knowing there is a safe and inclusive space like this in the centre of town is priceless and very comforting. Plus they sell other cute things aside from books like pins and various accessories.
The Minster Gate Bookshop, Minster Gate
Shopping here really makes you feel like THAT person. Despite being literally right next to the Minster, going here really feels like you're in a super niche and hidden spot. It's quaint, cute and very traditional. Some of the books in the shelves looked so antique and old (in a good, book way) that I almost felt like I wasn't qualified to touch them when in reality it was just Pride and Prejudice or something you probably would have studied in A-level English Lit.
The shop is four floors top to toe filled with books but if you're like me and are really hunting for a good deal the basement level is the place for you. This is the floor with the more modern and recent finds but at a much cheaper price than most other places. I bought The Woman In Black for only £2.99 where I'd seen it being sold for £8 elsewhere… if that doesn't sound like a good deal to you then I don't know what else would. Even some of their books probably directed at children interested me. They had some really beautiful copies of most fairy tales that really made me wish I was younger again. 
Travelling Man, Goodramgate
This one is for my manga and graphic novel fans. I always love to flick through and see the art styles for myself before I buy a manga/comic/graphic novel and am so reluctant to buy online. Travelling Man has a very good range that definitely tops the ones in Waterstones which mostly covers popular, longer series. Maybe I'm the only one with book commitment issues but sometimes 30+ volumes is too many, okay? Really this place is only helping me avoid these problems by giving me such good range.
It's always nice to interact with staff who are interested in reading the same sorts of things as you are. 
Oxfam Bookshop, Low Petergate
This is a really good place for a bargain. Unlike some of the other places on this list, this is not the place to go looking for specific books. The books are obviously all second-hand and the money is going to a good cause. If you go in and are still not happy enough with the already discounted prices, there's even a reduced section for the truly frugal. 
The Little Apple Bookshop, High Petergate
Since this shop is located nearer to the station and I'm too lazy to ever walk that far, I admittedly hadn't heard of it before, however I really enjoyed my visit. In the entrance of the shop there was a surprisingly large amount of signed copies of books and autobiographies that I certainly wasn't expecting. I know that if one of my favourite books was there and signed, I'd want to know and I'd want to spend all my money on it. So you're welcome in advance if you go there and you're impressed.
I'd say it has a relatively small range of books but that doesn't make it not worth going too at all. I definitely found that because of this I was picking up books I wouldn't normally reach for. So if you're looking for something new, this could be the place for you. 
Related stories recommended by this writer: