Here is a definitive guide to York's best charity shops
One of a kind, sustainable pieces on a budget? Sign me up x
Shopping sustainably in York is made easy thanks to the MASS of charity shops on hand in the city centre. If you're looking to get your fashion fix on a budget, shopping second-hand is the way to go. To help you get started planning your own shop-hopping route, here is a comprehensive list of the best charity shops in York:
Oxfam bookshop, Micklegate
Okay, although admittedly not the best place for your fashion fix (unless you're really experimental), Oxfam has some real gems if you're into reading or music. The shop is so well organised with shelves categorised by subject/genre and a stand in the middle full of vintage records. It is also generally well priced, so definitely worth checking out!
Cancer Research, Coney Street
I found Cancer Research on Coney Street to be entirely hit or miss – in the same shop you can get Converse for £8, you can also get River Island circa 2013 for £7.50. Though the shop is only small, it is well organised, and its location on Coney Street makes it convenient for a quick pop-in.
British Heart Foundation, Bridge Street
Of all the shops we went to, this British Heart Foundation had the most "up-to-date' clothing", particularly in their party-wear section, which was brimming with ASOS, Bershka, and Pretty Little Thing. Beautifully organised once again, but I think I'll let the £15 M&S jumper speak for itself in terms of the pricing.
Mind, Goodramgate
And so begins my favourite row of charity shops. The first Mind charity shop on this street can be found next to Savers, and is relatively small so quickly becomes crowded when there are more than two groups of people inside (I'm getting sweaty just thinking about it). There is a separate area for the more high-end pieces, such as cashmere jumpers and Calvin Klein scarves, but my favourite part was trinkets on the shelves at the back of the store – so much good vintage glassware!
The Mind Shop, Goodramgate
The second Mind on the street is much larger (and far less claustrophobic). Not much is particularly notable about this one but it's a good all-rounder with plenty of stock, fair prices, and friendly staff.
Sue Ryder, Goodramgate
Step out of Mind and head to Sue Ryder, directly opposite. From downstairs there is nothing that particularly stands out about this shop (though there is plenty of stock and good prices). Upstairs, however, is a different story! Reserved for vintage pieces only, I could spend hours browsing up here. There are sections for fur coats, gowns, trousers, skirts, bags and shoes, as well as a few vinyls. Is it safe to say this is everyone's favourite?
British Heart Foundation, Goodramgate
Call me crazy, but this British Heart Foundation feels like a classic charity shop. Prices here are good (there's a fill your bag for £50 bucket at the front of the shop) and there is a lot of stock. The men's section is also bigger than many of the other charity shops in town. This is definitely my favourite of the two BHF's.
Oxfam, Goodramgate
The front half of the shop is filled with sustainably sourced goods and brand new Oxfam products, such as chocolate, room decorations, and even baubles that would make fab Christmas presents (there is also a full collection of Moomin products which I can't stop thinking about). The second-hand clothing and trinkets are around the corner at the back of the store. Recently this has been stocked with some AMAZING vintage formal-wear; definitely worth checking out for all the winter formals coming up.
St Leonard's Hospice, Colliergate
St Leonard's Hospice on Colliergate feels more like a boutique than a charity shop. All the clothing in here is colour-coded (heart-eyes) and is so well organised that I felt bad for rifling through it. With good prices AND good stock, this was an all-round good experience.
St. Leonard's Hospice, Fossgate
Just up the road from the blue St Leonard's Hospice is its green sibling, though this one is less boutique-y and more like your typical charity shop. My favourite part is the wall of jewellery at the back of the store where all unmarked items are £1.
British Red Cross, Walmgate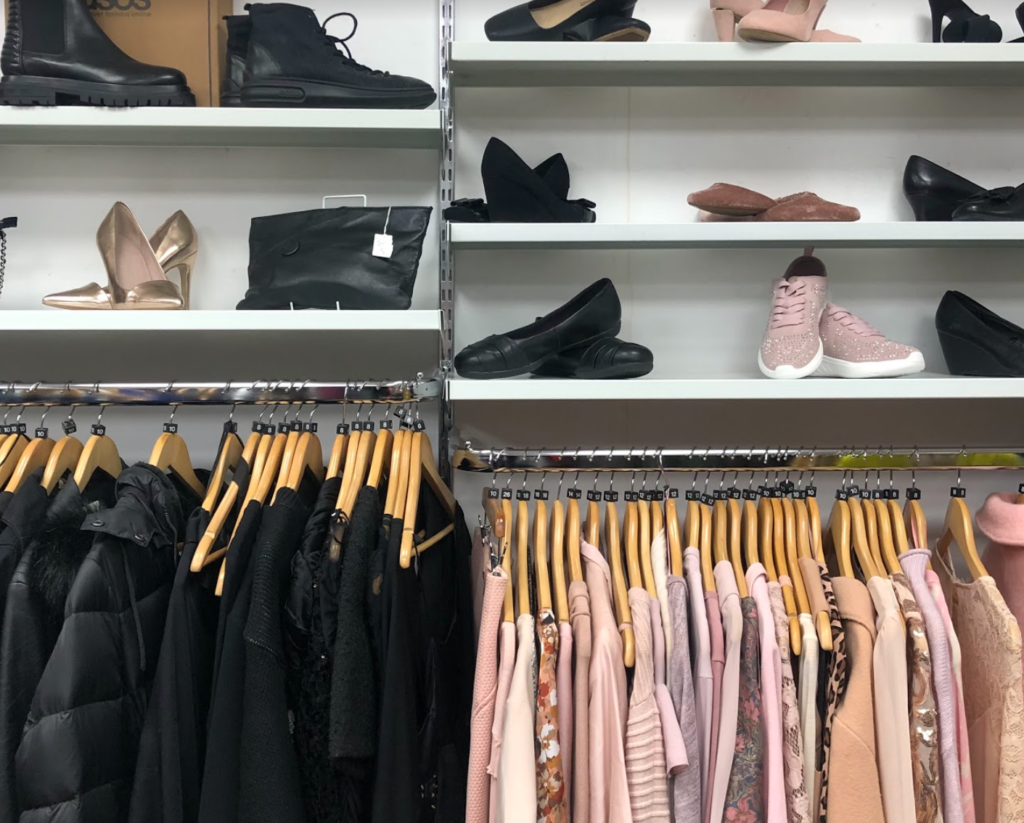 Last, but by no means least, The British Red Cross Shop on Walmgate is just great, particularly if you want to shop more sustainably and also keep up with the trends. BRC is partnered with Zara, so dead-stock is sold in their stores rather than thrown into landfill. Because of that, the clothing in here is brand new with tags. Do I even need to mention the clothes are arranged by colour?
So, anyone up for a shopping trip?
Related stories recommended by this writer:
• Bored of the Morrell? Here are some of the best alternative places to study in York
• What your favourite place to get coffee on campus says about you