We did a house Come Dine With Me and here's how it went
Dear Lord, what a sad little life girls
Imagine it's an average Friday evening, you and your housemates have opted not to face the freezing February weather and go clubbing. Instead, you're all slumped in the living room searching for inspiration on Netflix, anything but watching another episode of the D'Amelio Show because you don't think the last of your brain cells could withstand it.
Suddenly, an idea strikes, to do a house Come Dine with Me. Fatefully, your housemates agree.
As we are students with limited budget and limited skill in multitasking, to each make three courses plus drinks and entertainment, we decided to collaborate and each contribute one course for the evening.
Meet your all-star Lenton locals cast: Mia on starters, Jess on drinks, Grace on mains, and Tally on dessert (next morning's breakfast). Here's how it went.
First course: drinks
Jess took on the drinks making this evening, serving strawberry daiquiris. Made with rum and some frozen strawberry smoothie mix, these cocktails certainly get points for taste. Jess said of her creation: "The drinks were easier than I thought they'd be to make. I think the idea was innovative as I just made them from things we already had in the house. I altered the recipe to my taste and I think it was a great success".
Let's see what the others thought:
Tally rated the daiquiris a 10 out of 10 because Jess chose not to strain the cocktails and Tally "rates the bits".
Mia gave a rating of 8 out of 10 because she would have preferred them to be strained as she's an "anti pulp girl".
Grace rated them a 9 out of 10, because "I am also an anti pulp girl, but I was impressed Jess didn't break any of the glasses".
Second course: starter
Next up is Mia, who, being Surrey born and bred, served a charcuterie board as our starter.  It consisted of lightly salted lentil chips, cucumber and carrot sticks, and some homemade hummus, which she made an hour ago. Mia said: "This was my second attempt at making hummus so I feel like I've really perfected my technique". She reasoned that we probably should avoid eating three big courses, especially as by this point we were already tipsy, so she thought a lighter course was the way to go.
Tally rated Mia's snack selection an 8 out of 10, as "The homemade hummus is impressive and resourceful. I feel like she made a real effort".
Jess rated it a 7.5 out of 10, and described it as "delish".
Grace also rated this a 7.5 out of 10, because "I like lentil chips but I think she could have used a more interesting flavour"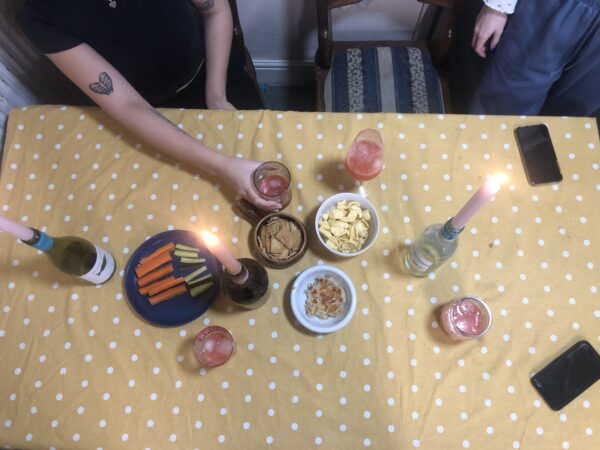 Third course: main
Now it was Grace's turn. At this point, we'd finished our drinks, so Tally and Jess went on a quick Sainsbury's mission to get some mixers because Jess's drinks had gone so well we wanted some more. Grace made veggie chicken fajitas this evening, with peppers, red onion, THIS meat-free chicken, and an Old El Paso fajita pack. She chose this dish "because the fajita pack "serves 4 amigos", and we are conveniently 4 amigos". This is what the others thought:
Tally said it was "really nice and super super scrummy", so she gave Grace a 10 out of 10.
Mia rated it a 10 out of 10, as she was impressed that the meal "catered for the house's dietary requirements", because we're a house of one vegan, one vegetarian, and two half-committed flexitarians.
Jess said "it's nice that we helped ourselves, I really felt like part of the cooking process", so she also gave a 10 out of 10.
In the spirit of transparent journalism, after the main course we got distracted and started playing drinking games, and the night's plan went somewhat awry. We decided we were probably too drunk on Jess's daiquiris to cook, so things moved to the living room and we began our communal contribution for entertainment for the night: karaoke.
Jess and Tally sang an incredible rendition of "Need You Now" by Lady A, while Mia and Grace channelled Troy and Gabriella in High School Musical's "Breaking Free". The night's earlier grace and decorum was lost to us by then, and we went to bed.
Fourth course: dessert (for breakfast)
We were able to rectify the situation the next morning, however. Tally woke us all up and told us she was making her course now: pancakes. Shrove Tuesday having come and gone, we had a few pancake mix bottles lying around, so Tally whipped out her pan that's made just for pancakes, and impressed us all with her flipping skills. There was even a few vegan pancakes for Jess. Tally also provided lemon and sugar, and a salted caramel sauce.
Jess rated this a 10 out of 10, and said it was "delish", much like how she described Mia's contribution.
Grace also rated this a 10 out of 10, "because we're all a bit hungover this morning and pancakes are good when you're hungover. I also thought her pancake pan was very cool because I've never heard of one before."
Mia also rated the "superb, splendid, marvellous" pancakes a 10 out of 10, and applauded Tally for "going out of her way to get the toppings".
Final results
After much deliberation, here are the final scores.
In fourth place, with 23 points, came Mia.
In third, with 27 points, was Jess.
In joint first place was Grace and Tally, both with 30 points.
This evening and morning were quite eye-opening for us all, a true bonding experience.
There was drama (Mia thought Jess should have strained the daiquiris), tears (Grace cutting all the onions), and screaming (belting all the musicals songs during karaoke). Overall, we would definitely recommend you and your house do a Come Dine With Me evening, as it was really fun and a good way to showcase your culinary skills to your housemates, who are probably accustomed to seeing you only ever eating baked beans on toast or pesto pasta.
Related articles recommended by this author:
• Notts grad on The Apprentice comes back fighting with another sick tune despite loss
• Notts grad Avi Sharma back with fresh bars after Apprentice win
• Stop what you're doing, Notts grad on The Apprentice has come out with another rap and it slaps