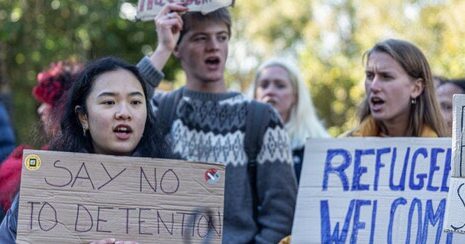 Durham University in £5 million deal with Mitie, the UK's largest provider of migrant prisons
Over a thousand Durham students have signed a letter urging the university not to re-sign the contract with Mitie
Durham University students have been campaigning for Durham University not to re-sign a £5 million contract with Mitie FM Ltd.
Mitie FM Ltd is "the UK's leading facilities management and professional services company", and provides Durham University with staff and services. The university has held a £5 million contract with Mitie since 2010.
Mitie FM Ltd is part of Mitie Group PLC, which is the UK's "largest provider of immigration removal centre management and operations", and currently detain over 13,000 migrants on behalf of the Home Office.
One prison that Mitie funds is Derwentside Immigrant Removal Centre, which is only half an hour's drive from Durham. In 2022, Derwentside IRC came under fire from the HM Inspectorate of Prisons, whose Chief Inspector, Charlie Taylor, claimed that the prison has "gaps in crucial processes relating to safety" which just "aren't good enough given the vulnerable women detained there".
Mitie is also associated with Harmondsworth Detention Centre in Middlesex, where in 2019 Oscar Okwurime died in custody. The Guardian details how Okwurime, known to be ill, was calling out for help on the night of his death, but staff in the centre failed to respond.
The student organisation Durham STAR, who regularly protest outside Derwentside IRC, have composed a letter demanding that Durham University does not re-sign its contract with Mitie when the time for renewal comes this year. The letter has been signed by over one thousand students and staff, and was presented to the university on the 1st March 2023. Durham STAR are still awaiting an official response from the university.
Durham STAR President Livvy, a history student in her second year, told The Tab Durham that "Durham Uni STAR are committed to supporting the refugee community in the UK, showing solidarity and compassion to all those seeking safety". Livvy calls it "shameful" that companies like Mitie are able to profit off what she calls "the UK's hostile environment policy".
Livvy says that the contract Durham University holds with Mitie "directly contravenes all ethics and principles Durham University, and education institutions generally, should stand for".
A Durham University spokesperson told The Tab Durham that the university's contract with Mitie was awarded after a "rigorous, transparent, and competitive procurement process". The spokesperson also told us that "we will review our contract with Mitie at the point of renewal, as with any other contract".
When presented with the claims of Durham STAR, a Mitie spokesperson told The Tab Durham that "as one of Britain's largest employers we are proud of the hard work and dedication of our 68,000 colleagues up and down the UK, including those at Durham University. We do not set immigration policy, however, we are committed to ensuring those in our care are treated with dignity and respect. We are an award winning business for our employee benefits, approach to diversity and inclusion, and environmental commitments."
Related stories recommended by this writer:
• The Mighty Mite: How Scabies has taken over Durham and what to do if you've got it
• 'Everyone deserves a good wage': This is what Durham Uni students think about the strikes
• Eight things in my nine grand Hatfield room that would put my non-Durham friends in a coma