Another Charity Fashion show? Explained by the Cuth's Charity Fashion Show Team
Black tie and flamboyant outfits – the absolute peak of Durham Culture
| UPDATED
The Charity Fashion Show in Durham is possibly one of the most uniquely Durham events. Rarely seen in other universities, Durham currently boasts multiple iterations of a Charity Fashion Show, from the legendary DUCFS, to others led by individual colleges, societies and sports.
Today we're shining a light on St Cuthbert's Society Charity Fashion Show (SCSCFS), where the exec team have kindly exposed us to the logistics of the show and the themes and influences of what makes SCSCFS.
This year, SCSCFS have chosen to raise money for Real Lives: Real Choices, a local charity in County Durham which enables people with learning disabilities and mental health conditions to engage in learning and personal development.
If you wish to donate directly to the charity, please do find a link here.
What happens in a Charity Fashion Show?
A typical Durham Charity Fashion Show involves a whole hoard of promotional events, sponsorships, and joint
ventures with other charitable organisations, which all lead up to the main event – a drunken night of watching your model friends strutting their stuff on the catwalk, while the rest of you who didn't make the cut cheer them on (better luck next year?). Perhaps, you may even partake in the auction, where you may find certain items such as a two-person getaway to a bed and breakfast in Cornwall, or a dining experience with two of the models as waiters sans vêtements.
Do remember though, keep an eye out for events with a lot of engagement, games and fun, typically within the confines of Cuth's Bar, Brooks Bar, or even Cuth's dining hall. Feel free to even talk to the exec, because as Alfie Payton (Event Manager) states, they wish to know as many people in the audience as possible.
Yet, Jasmine Moore (Vice-President) shares that one of the aims of SCSCFS this year is to "make charity…a very very big point", which unfortunately, has not always been at the centre of most charity fashion shows.
While "it is about engagement, it is about fun, it is about getting loads of models on board, at the end of the day, we're raising incredible amounts of money for a cause".
Within the fashion show itself, expect catwalks to be accompanied with a good beat, to have models interacting with the audience, and the lighting to be absolutely dazzling. Moreover, Asha Persaud (the choreographer) aims to implement a fun, flamboyant and startling catwalk routine, conveying the theme of inclusivity by including a non-gendered walk. Keep an eye out for the three themes of inclusivity, sustainability, and charity, and analyse how they will play out in the show.
Why should you go to the Fashion Show?
Possibly the biggest reason for attending St Cuthbert's Society's Fashion Show: the charity. This year's charity, Real Lives: Real Choices, is a local charity to county Durham which provides learning courses and vocational courses to people with learning disabilities and mental health conditions. This aims to reduce the barriers to employment and education that these certain groups can face in the local area. As Beth Cuthbertson (President) and Jasmine Moore state: "The work they do considering they're such a small charity in the grand scheme of things is amazing".
Other than the actual charity, the fashion show aims to decrease its carbon footprint. Beth (President) tells us that this year's show achieves this by collaborating with fashion brands which are "more circular and sustainable". Moreover, the exec this year have collaborated with the Bailey Wardrobe to raise awareness within the college for these schemes.
Nevertheless, perhaps the most impactful change of the Charity Fashion Show would be the inclusivity aspect. For example, the method in which auditions have taken place were changed, by including an "anonymous element" by having applicants anonymously fill out a questionnaire, which heavily influenced which models were picked this year.
While most Charity Fashion Shows are considered the "events of the year", Beth states that the exec this year "are really appealing to other groups of students as well and widening from the people who traditionally go to the show". In fact, this sense of inclusivity has been extended to the exec itself, with two first years, Asha Persaud (Show Choreographer) and Solene Kok (Fashion Executive) being members of the exec team.
After all, it is a charity fashion show, possibly the one event that is uniquely Durham. Expect black tie suits and flamboyant outfits filling out multiple tables this year, with plenty of opportunity to possibly see your friends walk down the catwalk.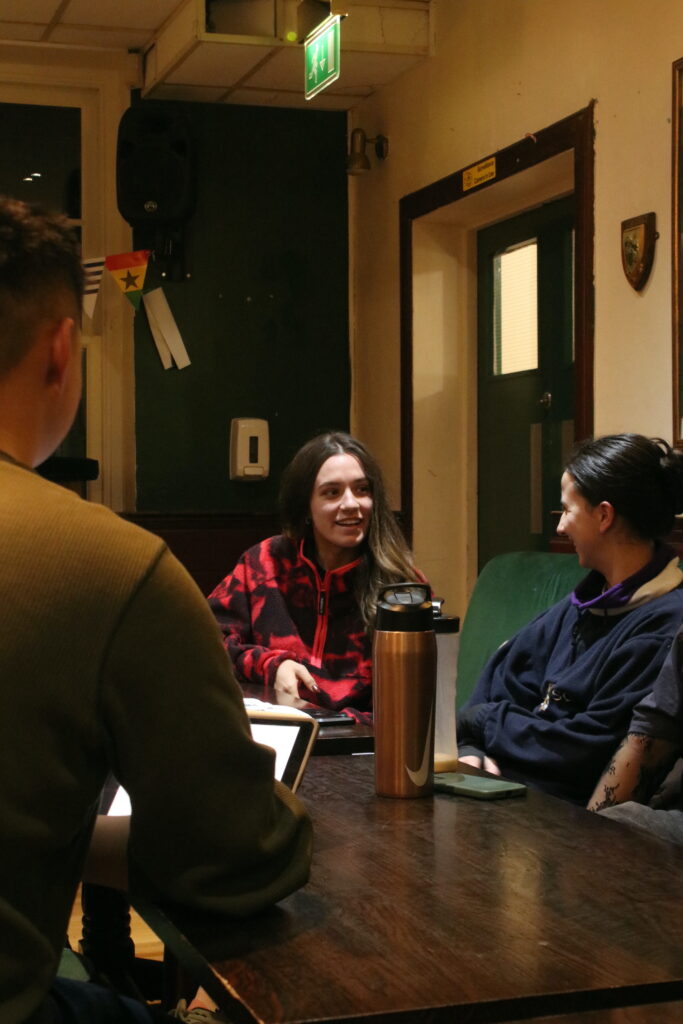 Wrap-Up
This year's fashion show by St Cuthbert's Society promises not only to provide a uniquely Durham experience, but to avail itself to those who feel alienated by such an event. Moreover, it aims to emphasise the charitable aspect of the event, to make the charity the centre of attention, rather than the extravagant event itself.
You can donate to Real Lives: Real Choices here, and do keep an eye out for more promotional events, which can be found on their Instagram account here. 
All photos were taken by Luca Zimmermann with everyone's consent.
Related stories recommended by this writer:
• Dry January really isn't as bad as you think, listen here to what Durham students have to say
• Eight ways to save the environment and your money this ball season
• We tried out the new 'Billy Bus' service for charity, and you should too