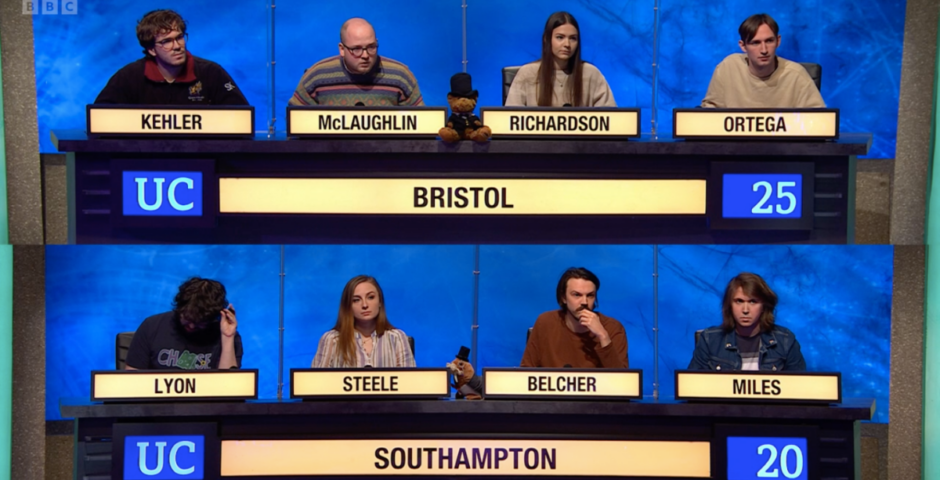 Bristol students qualify for University Challenge final for the first time in the show's history
The team of students are hoping to continue their winning streak to take home victory
| UPDATED
The Bristol University Challenge team has qualified for the final of this year's competition. The team convincingly beat Southampton University with 200 points to their 70 in the semi-final on Monday night.
This is the first time that Bristol has succeeded in reaching the final, and the University is behind them. Evelyn Welch, the Vice-Chancellor, has made her support public wishing "this wonderfully talented team all the luck in the world".
The team is captained by Tess Richardson, a chemistry student, who is something of a superfan. She has proudly stated that she had watched every episode of University Challenge three times before competing on the show herself. She said: "I am so incredibly proud of our team and how well we've done, and it'll certainly be an experience that I'll never forget." The other members of the team are Sam Kehler (Medicine), Jacob McLaughlin (BSc Economics and Mathematics), and Alejandro Ortega (MSci Physics and Philosophy).
Speaking to The Bristol Tab, the quizzers told us about their newfound fame and what it's like being identified in public. They have all tried to avoid social media to an extent so that they don't have to see unkind comments- but that doesn't mean friends haven't sent them funny tweets about them! Just like the rest of the student body, this team have been powering through the experience on Red Bull. Overall, the team felt that all the other contestants were lovely and that the show had a friendly atmosphere behind the scenes.
The series began in August, but for this quizzing crew, the process began much earlier. They had to pass several test papers and interviews just to qualify for the show, along with 27 other teams. They also had to earn their spot on the team which is competitive in itself and means the process started almost two years ago in 2021 for them.
To get to this position they had to beat Oriel College Oxford, Queen's University Belfast, Newnham College Cambridge, Southampton and University College London to get to the final, earning an impressive average score of 195 across their games.
The final, which will be against Durham University, is set to appear on our screens on May 29th and will be the final episode featuring Jeremy Paxman. The presenter announced last year that he will be leaving the show after 29 years as he has been diagnosed with Parkinson's disease.
You can catch the final episode on BBC Two, and the semi-final on BBC iPlayer here.
Related stories recommended by this writer:
• Bristol to get new edition of Monopoly and you can help pick the landmarks
• UCU warns Bristol Uni won't be able to find enough staff to mark summer exams
• Bristol Uni under pressure as hundreds sign open letter to get exams marked this summer