MAFS UK's Adrian and Thomas are having major beef on Instagram over Nathanial saga
Adrian's blocked Thomas and Thomas' mum kicked off with Adrian
Yikes – it's getting MESSY. Thomas and Adrian from MAFS UK have been no stranger to big dramas since their explosive marriage and tumultuous friendship in last year's season, but in recent months the two of them have patched together their friendship. However, as of yesterday – it's completely over – and it's all down to Nathanial from this year's MAFS UK that has truly buried the Thomas and Adrian saga forever. It's got so messy that even Thomas' mum Helen is kicking off with Adrian, so here's what's gone on from start to finish.
Adrian and Nathanial went out for brunch?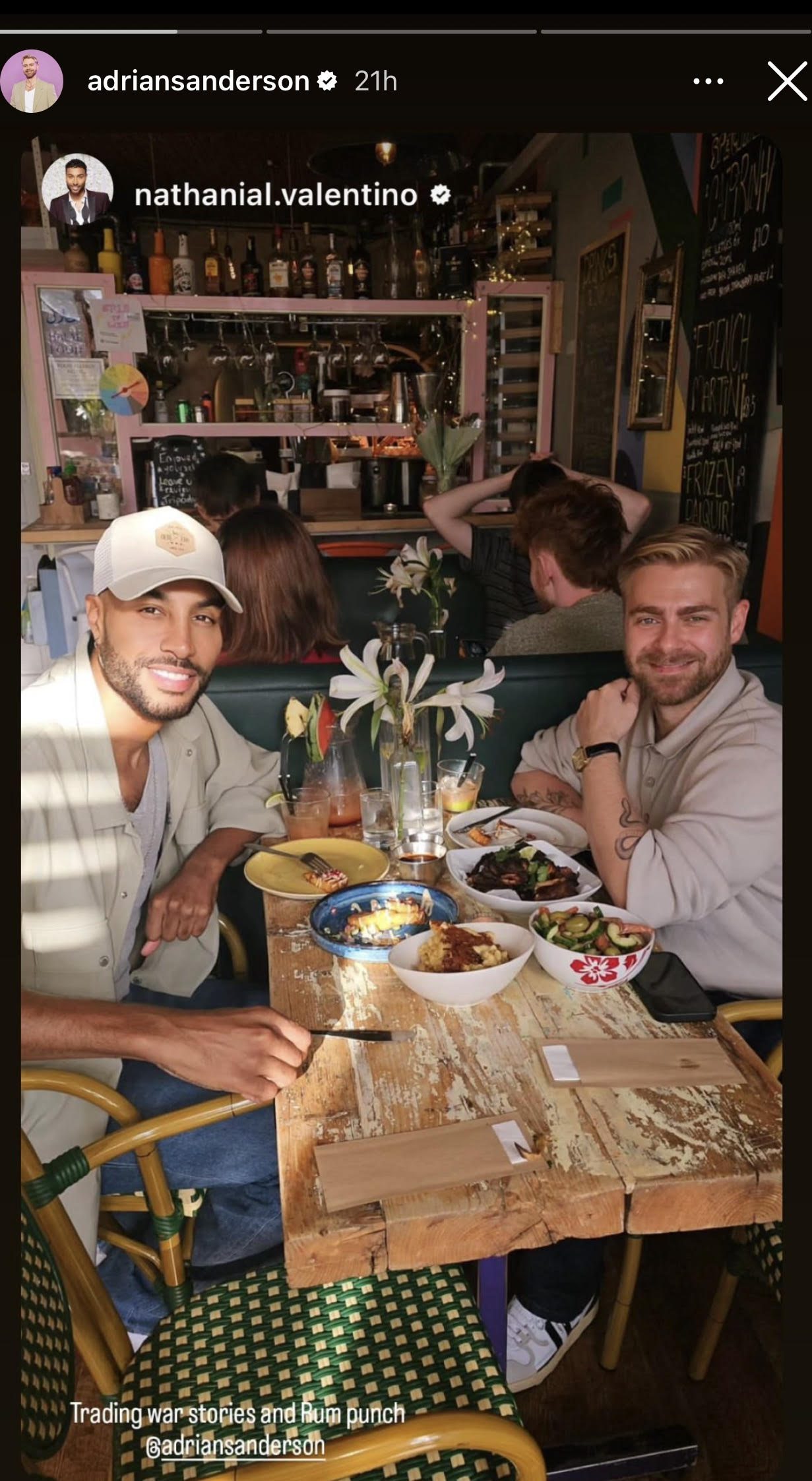 The two have been, erm, "trading war stories".
This comes after a lot of drama between Nathanial and his wife on MAFS UK, Ella – the first transgender bride in the franchise. Nathanial has now come forward declaring that he's quit the show and that the whole programme is a sham. Speaking to The Mirror, Nathanial said "The way some were treated on the show became very dark. Pretty much from the start it was a complete sham. I told producers that I wanted to marry a man, or a woman with a very masculine energy, because that's normally who I go for.
"Then I was told they matched me with a lovely girl who was transgender. My first reaction was 'no' because I felt that just wasn't me, and I told them so. But they encouraged me to think about it, saying if I didn't take part it would ruin this girl's story. And by that point I had also turned down a work contract because I thought I'd be going on the show. So I agreed. My only deal-breakers were that she didn't smoke and didn't work in the sex industry.
"That's why I was angry when I learned, before we went on honeymoon, Ella worked as a stripper."
Thomas called it out on his story
Thomas has been outspokenly against Nathanial and his behaviour on MAFS UK so far – so posted on his story when he saw Adrian and Nathanial hanging out.
"Stop sending me the picture of Adrian with Nathaniel," Thomas said on his story. "They want a moment to get in the newspaper, that's up to them. I don't give a shit, honestly. I've spoke to loads of the cast and you won't know that I've spoke to them because it's private. I find it weird. Nathanial's hot right now selling stories to the papers, well I don't dance with the devil, so each to their own."
Adrian then posted a LENGTHY post on his grid
Alongside a picture of Thomas, Adrian wrote "It's time to put a nail in this coffin. To finally end what has been a very tumultuous journey. Our time on MAFS was unforgettable and at times Thomas was a supportive person and we grew a love for each other."
Adrian said the edit of the show didn't reveal the behaviour of Thomas and his mum Helen on their wedding day.
"I will no longer associate myself with someone who is at the core a bully. Even when he puts political stances in place in order to protect himself, through false accusations and a skill to turn a positive into a negative he has little regard to how he is a threat to people's mental health and well being."
Thomas refused to engage
In a video on his Instagram story, Thomas says he won't be engaging with the post and doesn't wish to be associated with anyone from the show. "I don't need to create posts and keep myself relevant by dropping his name, he's dropping mine. Good luck to him and I wish him all the best. It's the end of an era. I'm not responding to the post, it's irrelevant to me. My mum might though, because she's mentioned in it.
Thomas' mum Helen comes for Adrian and calls him out big time
In a now deleted Instagram post, Helen called out Adrian for what he said about her in the post and said that one time he cried because she showed him such kindness. "Don't come for me unless I send for you."
Thomas deleted the post and has now thanked people on his story for his support. Fellow cast member Lara Eyre posted on her story supporting Thomas as her friend.
For all the latest MAFS news, scandals, gossip and updates – like The Holy Church of MAFS on Facebook. 
Related stories recommended by this writer:
• Nathanial QUITS Married at First Sight and calls it 'manipulative' and a 'complete sham'
• MAFS gossip column: Cast members to be AXED?! Plus Nathanial shares his truths
• So, Nathanial's been on a bunch of other shows before MAFS and has loads of celeb pals