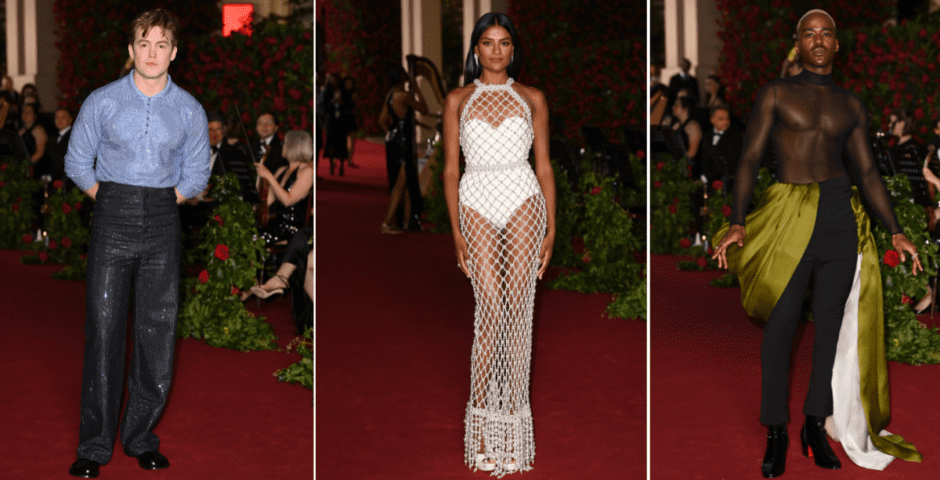 From Netflix icons to pop stars: The best dressed celebs at Vogue World 2023
Bury me in Kit Connor's outfit
It's time for another rundown of best dressed celebs, and this time it's for Vogue World 2023. Give me yet another carpet so I can read celebrities to filth about their fashion style, despite having absolutely no style of my own. This is proven by the fact I'm currently wearing trackies and a hoodie that should have been put in the wash two weeks ago.
The Vogue World event happened last night and all our favourite celebrities were there, including nearly all the cast of Heartstopper, who obviously all looked flawless. Some of them really pulled out some iconic looks whilst others really gave us absolutely nothing. So here is what everyone's favourite celebrities were wearing on the Vogue World carpet.
Cole Sprouse
I'm a Cole Sprouse hater so I'm fully aware I'm going into this negatively biased. First off compared to what the other men wore it just feels so bland?
The weird collar is giving a grandma's shawl and not in an aesthetic cottagecore way. And the all-black just feels so boring, like please can we just get a little pop of colour in there? But look, even the violinist is giving his outfit the side eye so it's not just me.
Ncuti Gatwa
UGH YES. See this is what I'm here for. This has made me ten times more excited to see him as the Doctor. This man needs to drop the skincare routine ASAP because he is glowing. Then the sheer mesh top just looks so insanely good, and I feel like the sleeves really draw your eyes down to appreciate the silver rings.
I'm going to be honest here I don't know the fashion term for this gorgeous bit of olive green drapery he's wearing but I'm absolutely here for it. It's giving Renaissance mixed with a Spanish bullfighter. And of course, the patent heels (which I think might be Louboutins because I spy a red bottom) just tie the whole outfit together.
We all need to prepare for this man being the most stylish Doctor there has ever been, and I will be seated.
Yasmin Finney
God I swear this woman literally never misses. Her body is looking so snatched, I need the workout routine. Her hair looks absolutely stunning, the makeup is flawless and the little pasty bows make me obsessed. The long gloves work here, and the all-black look is proof that you can stick to one colour palette and not look boring (I'm giving Cole major side-eye energy rn).
Overall she hit every single mark perfectly.
Will Gao
Again, the Heartstopper cast all know how to dress impeccably. I am beyond obsessed with the lace detailing that's going on here. The collar is a mixed one for me, I think I love it but there is something vaguely Harry Hill-esque about it that's making me expect Will to turn around and suddenly and a glass-wearing, bald comedian.
Kit Connor
Ethereal. Iridescent. Flawless.
This for me is the outfit of the night. Proof you can never have too much sparkle, it just looks so good. The contrast between the light blue and the black works so well and I honestly think seeing this outfit has changed the trajectory of my life.
Kit Connor really is the man who can do no wrong. As such in my eyes he was the best dressed out of all the celebs on the Vogue World carpet.
Rita Ora
Okay, let's start with the positives. I am a fan of the train/ fishtail that's going on here. That's about it.
Again, the black just isn't working in this dress for me and the combination of the strapless and that pattern just makes it look like it isn't sitting properly. I know Rita is stunning and I just feel like this isn't doing her justice. The watch is really throwing me off as well and the bag just feels like it's not really adding anything to the look.
Simone Ashley
I love this woman so much. She makes an outfit that could have flopped look so good. It's giving off Bridgerton vibes but in the modern day, it just feels so regal and elegant. Simone Ashley, you are my icon.
Dove Cameron
I need to know whether the wristband was an intentional choice. It's like when you go to a festival at 16 and refuse to take your disgusting wristband for weeks because you think it makes you look cultured.
Her eye makeup and lip combo are stunning, and I need the name of whatever gloss they've put on her lips. I appreciate the silver chrome look, although it does remind me a bit of a kettle. But because she's Dove Cameron she obviously pulls it off flawlessly.
Maude Apatow
Now don't get me wrong I love Maude. But this outfit is not it. Just reminds me of dressing up as a little kid and throwing something on top of your head so you could pretend to be a bride. I also feel like the colour of the co-ord is a little too similar to her skin colour?
Having said that I am colour-blind so feel free to completely ignore me because for all I know this could be bright pink. Not my favourite look.
Well, there's my roundup of what the celebs wore to Vogue World 2023 but feel free to argue about it on X if you'd rather.
Related stories recommended by this writer:
• Olivia Rodrigo to Taylor Swift: The very best dressed girlies on the 2023 VMAs pink carpet
• A definitive ranking of the best (and worst) dressed Love Islanders at the NTAs
• Ranking the Brits who attended the Met Gala by how hard their outfits slayed