All the things OG YouTubers convinced us to buy and whether they stood the test of time
My crusty Collection Lasting Perfection Concealer really has been through it
As 12-year-olds, we were very impressionable. If Zoella told you to buy something you'd have your poor Mum dragged in the car and straight to the local shopping centre within minutes.
OG YouTubers like Zoe Sugg, Jim Chapman, Marcus Butler, Alfie Deyes, Joe Sugg, Tanya Burr, Caspar Lee and Louise Pentland ran YouTube back in the day and if they recommended something or even better made something themselves, then we had to have it.
Whether it was a new lip balm or yet another YouTuber book, here are all the things that the OG YouTubers convinced us to buy and whether they have stood the test of time.
Collection Lasting Perfection Concealer
Starting with the OG, the only stable thing in your life for the last decade, the Collection Lasting Perfection Concealer. I've still, to this day, never used a different concealer. YouTube did well with this one. Forever a staple.
Maybelline Lash Sensational
The first of MANY Maybelline products on this list. Maybelline really had the OG YouTubers in a chokehold. It was a great mascara at the time but I really can't get behind it anymore since ten mins wearing it has you looking like a straight up panda.
Rimmel Kate Moss Lipstick in 107
Okay but you know the specific dark purple/red shade Zoella always wore? That one. We really were out there spending our precious pocket money on a lipstick our mums wouldn't even let us wear. This lipstick has since been discontinued. RIP.
Lush Snow Fairy shower gel
I'm sure a lot of people still have a soft spot for this one. I've had so many people tell me that this smells like if a fairy was to vomit but it just screams Christmas. Proper guilty pleasure. With Lush releasing new Snow Fairy products every year (including a candle!) this one has definitely stood the test of time.
The Pointless Book
I mean, the clue's really in the name with this one isn't it. Did we all just ignore it being a bit of a rip off Wreck This Journal or?
Baby lips
The chokehold that Baby Lips had us in! One recommendation from Tanya Burr and you had every single flavour. It's not something people still wear now (are they even still around) but 13 year old us LOVED them.
EOS lip balms
On the topic of lip balms, the round EOS ones. I had so many colours! It definitely was just the gimmick of them being a fun shape though because these dried out after like two uses. Relentlessly pushed by the OG YouTubers but not one we're still using today.
Real Techniques brushes
Another one I will always absolutely stand by. These are the only makeup brushes I have and probably will ever use. I will neither confirm or deny whether the ones I bought at 12 years old are the ones I still use to this day.
Primark Christmas jumpers
Zoella Primark hauls were the shit back in the day. She really had you thinking that it was some high-end amazing shop with the amount she raved about it. But that girl had a Christmas jumper for every single day so, naturally, we all had to have one. Not something in my wardrobe I still treasure, unfortunately.
Tanya Burr's makeup range
So, I have to admit, I still have an old decrepit eye shadow palette of Tanya Burr's. It's definitely no longer on the shelves in Boots but I have to say I'm a bit of a fan still!
Cloud Nine straighteners
The reason most people's hair is so dead now is from clawing these through still wet hair soundtracked to One Direction when we were 12. This is definitely our fault though and not the straighteners. Still, not the vibe.
Girl Online

Minus the ghostwriting drama, I hate to admit that I devoured and loved every single book in the Girl Online series. Is it something I'd take on my holidays to read now? No, but I definitely read them all in one sitting back in the day.
Essie Mint Candy Apple Nail Polish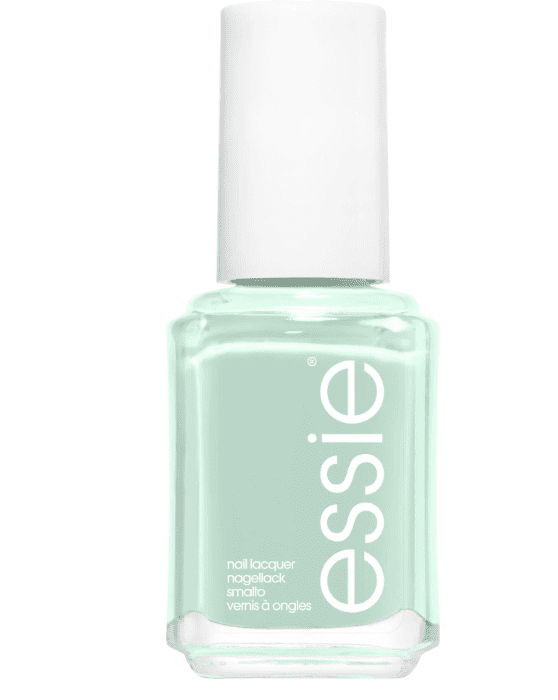 Essie nail polish yes. This colour? Too 2012 I'm afraid.
Any clothes with a collar
Really outing myself with this pic but as soon as I saw Zoella, Niomi Smart or Tanya Burr wearing a top with a collar, my wardrobe was full of them. It's giving Victorian schoolgirl chic. I'm also 99 per cent sure that the nail polish I'm wearing here is from Tanya Burr's range. We were truly obsessed.
Rimmel Wake Me Up foundation
Another one relentlessly recommended by all the OG YouTubers but one that had you looking like Edward Cullen. This stuff was so sparkly I have no clue why everyone raved about it. I remember wearing it to school in year nine feeling all smug and grown up until a mate told me I was literally shimmering in the sun. Mortifying.
Leather disco pants
This one was a Tanya Burr special. New Look's finest skinny leather disco pants. The shinier the better. Whilst we wouldn't wear these specific pants now, I definitely do have a different style leather trouser in my wardrobe.
Related stories recommended by this writer:
• Wait, is there going to be a second Barbie movie?
• A rundown of all 33 films that inspired Barbie, according to Greta Gerwig
• The rise and very rapid fall of the British YouTubers we all watched in the early 2010s