James Corden's Carpool Karaoke moments, ranked by level of ick
RIP to a truly cursed pop culture era
For eight long years we've suffered the loudest forced fun on American television: James Corden's Carpool Karaoke. Usually the saying goes, if you don't like something just don't watch it— but the Late Late Show segment has been inescapable. Across Twitter timelines and TikTok algorithms Carpool Karaoke's viral moments, featuring everyone from Elton John to Ariana Grande, have infiltrated our internet personal space until (today) James finally quit.
So, in honour of the legacy that may well haunt our eardrums forever, here is a ranking of the most chaotic and cringe-worthy Carpool Karaoke moments that will live on well after James finally stops laughing at his own jokes:
6. James getting pulled over with Adam Levine for a driving hazard
Back in 2018, James and Maroon 5's frontman Adam Levine were actually pulled over by police for being a driving hazard while belting out She Will Be Loved. Luckily (because they have celebrity privilege and/or there were numerous cameras around the car) the cop told them to "be careful" and let them go. And so the song, insufferably, went on.
5. The never-ending 'painful' appearance from the Foo Fighters
Also in 2018, the Foo Fighters revealed in a post-carpool interview that they were embarrassed to have gone for a drive with James. "By hour three in dude's car it got less fun," the band's guitarist Pat Smear told NME. ""t kinda went on," he said. "When we stopped at Guitar Centre, that felt like we were done, but it was like 'this is halfway'." Horror.
4. Britney Spears branding the whole experience 'awkward'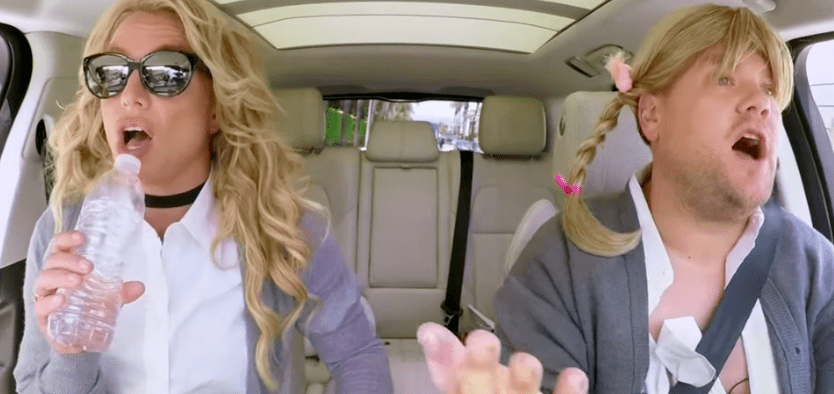 Another celebrity who enjoyed their time on Carpool Karaoke about as much as we enjoyed watching it was Britney Spears, who branded the whole experience awkward. "Driving by grocery stores. People walk by and there are like 18 cameras around us," she told radio station 103.5 WKTU.
When asked if there were any songs she didn't want to perform during the segment, she replied: "Of course 'Baby' and 'Oops'. Oh my God, and he kept playing them! He put a damn wig on for it."
3. James trying to beatbox in front of Nicki Minaj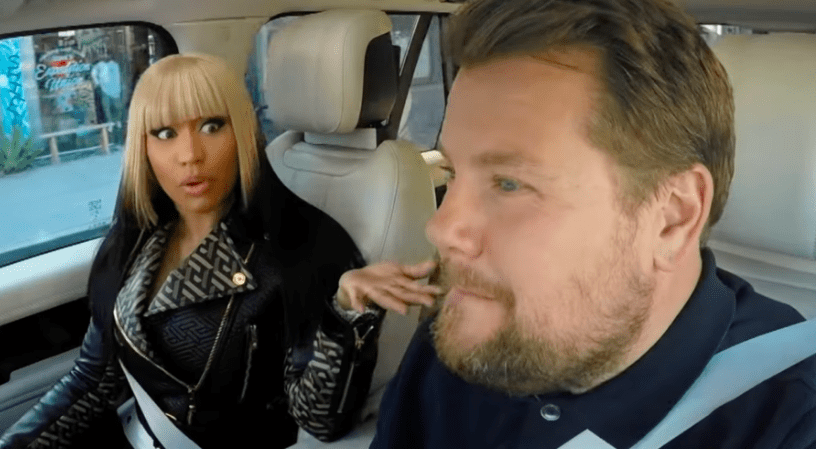 "What the hell was that" was simply her response.
2. Matthew Perry refusing to sing any of the Friends theme song
Usually on Carpool Karaoke, artists sing their own songs. But when the cast of Friends were roped into a golf cart for their own carpool reunion, they were forced to sing their theme song I'll Be There For You, having never released a single in their lives. Jennifer Anniston looked uncomfy. David Schwimmer was awkward and Matthew Perry simply didn't sing a word. James then rounded off the whole horror show by forgetting to put the cart's break on, nearly yeeting the US' national treasures into a wall behind them.
1. James yelling over Chris Martin and getting the lyrics wrong
If you had to boil down the irritability factor of James Corden's Carpool Karaoke to one element, it would be his incessant need to belt out every song far, far, louder than any of his (professional singer) guests in a musical theatre style alto we heard enough of during his Cats cameo. Which is why, the number one most mortifying moment from the eight years of the Car Pool segment is undoubtedly when James began to yell over Coldplay's Chris Martin with entirely the wrong Viva La Vida lyrics. Absolute hell.
Related stories recommended by this writer:
• Actually, James Corden has always been a dickhead
• How much more do we have to endure as a nation before James Corden just stops? 
• Teens are acting out Gavin and Stacey scenes word for word on TikTok and it's hilarious