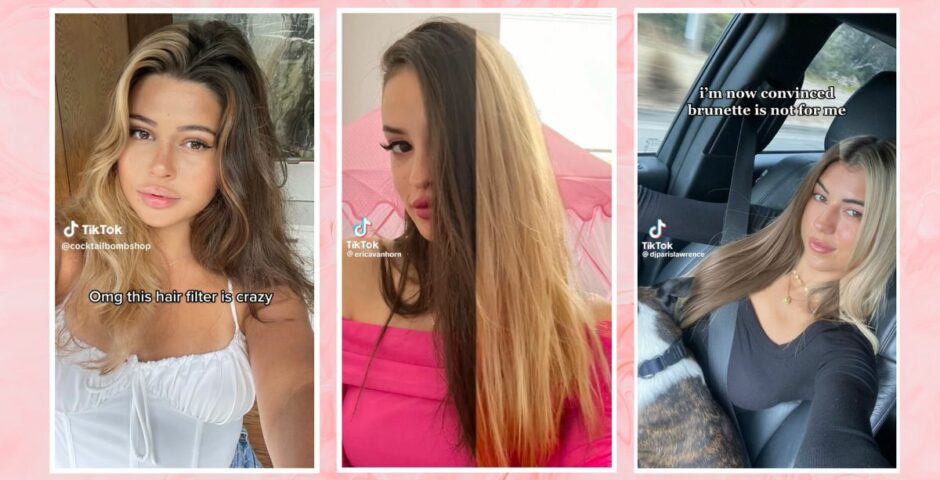 Here's how you can get the changing hair colour filter that's all over your For You Page
Everyone is going blonde now
A trend that no one can seem to escape on TikTok is the hair colour changing filter where everyone is seemingly deciding to turn blonde.
The filter goes across a person's face and hair and slowly gives them a brand new hairdo, with a lot of TikTokers opting to see how their hair would look if they went blonde.
This filter is one of the latest effects available on CapCut that everyone has been using lately. Some TikTokers who have a huge following have already been experimenting with the filter, including Paris Lawrence and Kate Bartlett.
If you're keen to see how you would suit a brand new hair colour, here's a step-by-step guide on how to do it.
1. Fist off you'll need to have FaceApp and CapCut installed on your phone and then you can begin!
2. Go onto FaceApp and take a picture of yourself.
3. Once you've taken the photo, go to hair colours and select the colour you want to try.
4. Once you're pleased with the photo save the image and go onto TikTok.
5. If you don't have the template saved on CapCut, search 'Hair Colour Change filter' on TikTok and someone will have a video using the CapCut filter.
6. Above the TikTok user's username, click 'CapCut – Try this template'.
7. Then click 'Use template in CapCut' and click 'Use Template'.
8. Select the original photo of yourself you took earlier and then the new image with the different hair colour.
9. Export the video onto TikTok and there you have it!
Related stories recommended by this writer:
• Sixth formers are using a TikTok filter to decide which uni to go to and I'm officially done
• TikTok manifestation girlies reckon saying 'I'm dead' at a joke is low-key ruining our lives
• Every 3D Super Mario game, definitively ranked from worst to best
Featured image credit via TikTok and Pawel Czerwinski on Unsplash before edits.