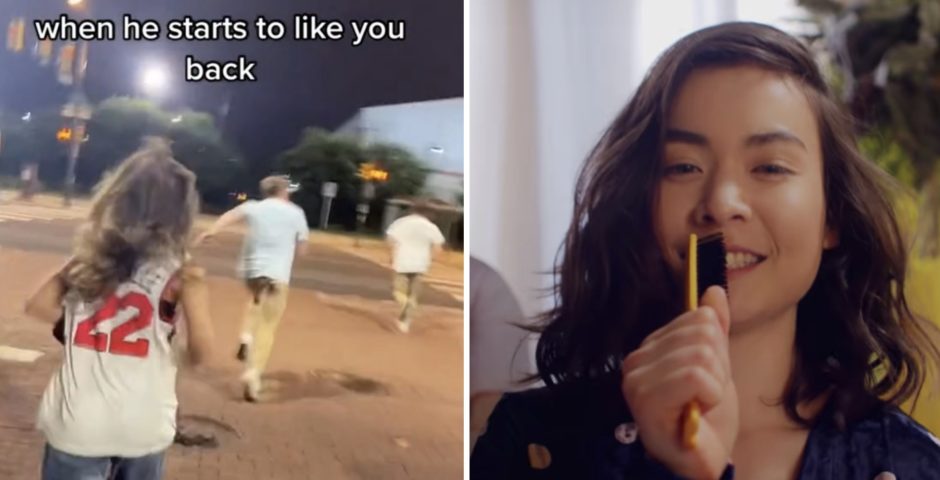 What is the 'Nobody' song that's all over TikTok right now?
Spoiler alert: It's an absolute bop
If your TikTok FYP is anything like mine, you won't be able to escape the Nobody song that's being used in so many viral videos right now.
The song is most commonly used in the running away meme, where people on TikTok are legging it from something they don't want to engage with. The meme started with people running from things that give them the ick, but now it can be anything from Molly-Mae running away from the question "when did you last wash Ellie Belly?" to Trisha Paytas running away from "when all the comments are asking you to apologise".
The sound comes from Mitski's 2018 single Nobody. Mitski sings the titular 'nobody' on loop before the beat drops and the disco production crescendos. It's an absolute bop, despite the rest of the song actually being quite a sad ode to loneliness – filled with lyrics detailing how Mitski doesn't feel like she's good enough for anyone and craving the company of others.
It's a song that's message rings even truer after a year living through the lockdowns brought on by the pandemic.
For those not familiar with Mitski, she's a Japanese-American artist who has received major critical acclaim for her work. Nobody is taken from her 2018 album Be The Cowboy, which was named album of the year by big (and notoriously hard to please) publications like Consequence of Sound and Pitchfork.
She has spoken about her Japanese-American identity a great deal, and has said how she feels she isn't able to feel like she fully belongs to either culture. This theme is a main component of her music, and got her a lot of acclaim for her song Your Best American Girl, on which she said:
"It's just a feeling of loving someone so much, and yet being from completely different backgrounds and not being able to do anything about it. You watch movies where the couple loves each other so much but can't be together because of their fate or whatever, and when I was younger I thought that was so stupid.
"I just thought, "They love each other, why can't they be together? This is ridiculous." But then as I got older, it's like, "Oh, I see." Sometimes life or your backgrounds just kind of get in the way, and there's nothing you can really do about it."
Recommended stories by this writer:
• Here are 16 icks which make people on TikTok want to run away and never come back
• A petition to ban OnlyJayus from TikTok has been signed over 110,000 times
• What exactly is the 28 Xtremes challenge everyone is doing on TikTok?