These are the 15 most shocking revelations in the Jeffrey Epstein Netflix series
The documentary contains lots of new claims
This week, Netflix released a true crime documentary about the life and crimes of Jeffrey Epstein. The four-part series makes fresh claims against Jeffrey Epstein and the people associated with him.
Through survivors' testimonials and interviews with those closest to the case, the show sheds new light onto old allegations and allows the survivors to share their stories.
Here are the most shocking revelations and claims made in the Netflix series, Jeffrey Epstein: Filthy Rich.
*This article contains details of sexual abuse which are included in the Jeffrey Epstein: Filthy Rich documentary series*
Uncovering Jeffrey Epstein was basically an accident
In the first episode we are introduced to Vicky Ward from Vanity Fair. She says she was working on a social profile piece about Epstein and his work – and what had made him as rich as he was. She never went looking for information about the sexual assault claims against him, nor did any survivors approach her at first.
It was in her research where she started to find things out about rumours circulating regarding Epstein and this led her to Maria and Annie Farmer.
Survivors claim Jeffrey Esptein's 'associate' Ghislaine Maxwell was part of the abuse too
Ghislaine Maxwell is also accused of being part of Epstein's abuse. In the Netflix series Filthy Rich, we hear how she is said to have solicited some of the girls and witnessed and even took part in some of their alleged abuse. She is described as Epstein's "right hand person" for recruiting the girls. Maxwell has always denied the claims about her.
Epstein ran what was effectively a pyramid scheme to recruit girls
It's shown in the series that Epstein ran a "pyramid scheme" creating a huge web of girls "working" for him. Him and his top associates were at the top, who would recruit girls lower down, who would recruit even more girls and it goes on and on.
Epstein and Ghislaine are said to have used intimidation to stop survivors from talking
During the documentary, a survivor called Maria Farmer says Ghislaine Maxwell and Jeffrey Epstein would intimidate the girls so they wouldn't tell anyone what was happening to them. Farmer says Maxwell once told her there were "lots of ways she could die" on her regular running route.
Epstein is also said to have hired private investigators who would intimidate the girls. Ghislaine Maxwell has denied any involvement and all claims against her.
There are claims that Jefferey Epstein would intimidate prosecution lawyers too
Attorney Brad Edwards says he himself was intimidated by Epstein and his investigators. He claims Epstein had his wife followed.
It was rumoured Jeffrey Epstein was in a sexual relationship with Les Wexner
Les Wexner is one of the only public clients from Epstein's business. Epstein would look after the assets of billionaires, one of which being CEO of L-Brands, Leslie Wexner. People believed the two were in a sexual relationship and it is said in the Netflix series they were in a "controlling sexual relationship".
Wexner says he felt used by Epstein. Epstein would tell girls he had connections with Wexner, who is the CEO of brands such as Victoria's Secret, in order to lure them. He even claimed he was a Victoria's Secret talent scout.
Epstein was 'gifted' 12-year-old girls for one of his birthdays
One of the survivors, Virginia Roberts Giuffre, says: "His friend sent him [Epstein] three 12-year-old girls that he had purchased from their parents." It is then explained that these girls were gifted to Epstein for his birthday for him to abuse.
Epstein was interrogated about his 'egg-shaped penis'
In one of the most bizarre moments of the series, Epstein is asked by an accuser's attorney, Spencer Kuvin, whether he has an "egg-shaped" penis. Epstein's attorney retaliates by saying this line of questioning is argumentative and to embarrass Epstein, who gets up and walks out.
There are lots of fresh and shocking claims made about Prince Andrew
In some of the most shocking claims made in the Jeffrey Epstein documentary, allegations are again made against Prince Andrew. A worker on Esptein's island claims he saw Prince Andrew "grinding" on a topless young girl in a pool – who he later identifies was Virginia Roberts Giuffre.
Virginia confirms herself that she was also assaulted by Prince Andrew after a night in a club in London. This is the night where Prince Andrew claimed he was in Pizza Express in Woking with his daughter. Virginia describes how Prince Andrew allegedly was "sweating profusely" on her, which he also denies – saying he "cannot sweat".
There is a photograph of Prince Andrew with Virginia, where Ghislaine Maxwell is in the background, which he also says he has no recollection of.
Prince Andrew has always denied any claims made against him.
Epstein allegedly had cameras all over his island to stop the girls escaping
One of the survivors, Sarah Ransome, who shares her story in the Netflix documentary series recalled how one day she ran to the edge of Epstein's private island intending to swim away and escape. It was then she realised she must have been being watched as Epstein found her and bought her back onto the island.
Ghislaine Maxwell and Jeffrey Epstein allegedly asked Virginia to have a child for them
In episode three, Virginia Roberts Giuffre claims that Ghislaine Maxwell and Jeffrey Epstein had asked her to carry a child for them. She says they told her after she had given birth she would have to give the child up to them and it would be theirs.
The former attorney is accused too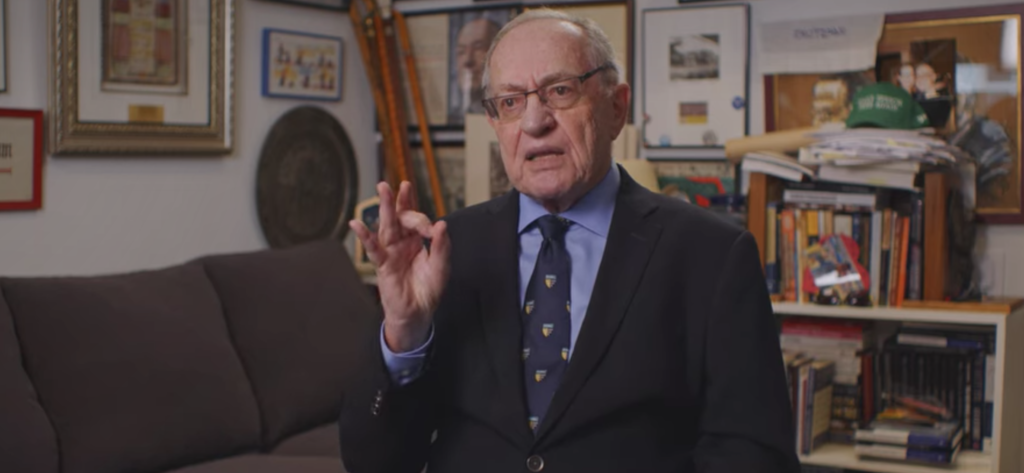 Another shocking claim which intensifies the huge web of accusations against Epstein and his many associates, is when Virginia Roberts Giuffre says she was also abused by Alan Dershowitz, Epstein's former attorney.
He denies any claims made against him, and asks for Virginia to publicly accuse him on camera – which she does.
Bill Clinton is said to have lied about visiting the island
Whilst Virginia makes it very clear she has never seen Bill Clinton doing anything wrong, both her and one of Epstein's former employees on the island say he has been there. Bill Clinton has always denied ever going to Little St James island. But flight logs say otherwise, stating that Clinton has been there tens of times.
Jeffrey Epstein had an 'escape plan' the whole time
In the final episode we see footage of an FBI raid on Epstein's mansion in Manhattan, New York. It was there that officers found pictures of girls as well as diamonds and a fake passport in his safe. These diamonds and the passport are called Epstein's back-up "escape plan" so he always had the option to flee if anything was proven about him.
It is claimed the whole scandal was a huge blackmail scheme
And the end of the Netflix documentary we hear that Epstein's New York mansion was filled with CCTV cameras in every single room. It is also said throughout the documentary that Epstein would often say his high-up associates owed him "favours". It is concluded that all of this is part of a much wider blackmail scheme so that Jeffrey Epstein would never get caught. He had all this incriminating evidence against people in high-up places so that nobody would ever say anything against him.
Jeffrey Epstein: Filthy Rich is available on Netflix now. For all the latest Netflix news, drops and memes like The Holy Church of Netflix on Facebook. 
Related stories recommended by this writer:
• Who is Ghislaine Maxwell from the Epstein documentary and where is she now?
• Jeffrey Epstein's houses: What happened to his multimillion dollar real estate?
• Jeffrey Epstein net worth: What did he do and how much money did he have?