The most iconic Love Island sex scenes of all time, ranked
Series two had SO much shagging
| UPDATED
Although recent Love Island series, this current one included, make the show seem more than just a *little bit* tame, a look back dat old classic Love Island gives us an absolute ton of bored, horny, fit people shagging to their heart's content. In the past we had the Do Bits Society, and the first series had so much shagging that there was even some on the first night. Love Island really just isn't what it used to be x
Love Island contestants have to follow loads of rules, like no nudity, no masturbation and no drunk or unsafe sex, but that certainly doesn't stop any of them from sleeping together all summer long. Or at least it didn't used to, until the contestants seemed to all-but stop doing it in some of the more recent series.
Before any of that happens, though, here's a ranking of all the iconic Love Island sex scenes that have happened so far, from the first series to now:
15. Luca and Gemma's foot
19-year-old Gemma, one of the youngest ever contestants on Love Island, went into the Hideaway with Luca, who she's coupled up with right now in the 2022 villa. The next day both of them SWORE nothing had happened, but viewers at home knew better. We'd all seen Luca put Gemma's entire foot in his mouth.
14. Paige and Finn's weird food code
After winter Love Islander Finn asked Paige to be his girlfriend, it seemed like the two shagged. Finn told Luke M and Luke T "it was banging . . . a lovely evening," and proceeded to describe it to them using a code based off the food on his breakfast plate.
Finn used toast, tomato and avocado to talk about different ways of doing bits. It all got a bit confusing and left everyone questioning what the hell he was actually on about.
13. Curtis and Amy's sex faces
Curtis and Amy were first Love Islanders of their series to do bits, and people had a LOT of questions about Amy's sex face.
Curtis then showed off his sex face while the Islanders were playing a game of suck and blow.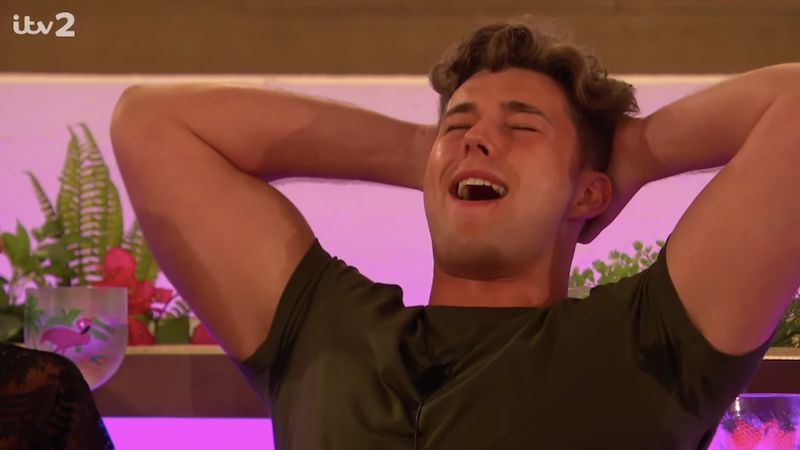 Their relationship got cut short though, when Curtis said he just wanted to be the person who makes everyone coffee in the morning, and Amy revealed she'd been about to tell Curtis she loved him. She left the villa shortly after.
12. Zoe and Jordan in the Hideaway toilet
Zoe and Jordan were one of the power couples of series one. They were sent to the Hideaway on Jordan's birthday, and ended up shagging in the toilet, because there weren't cameras in there. Zoe had previously said she was a "good, Christian girl" and even refused to take part in a Karma Sutra game.
For some reason they pretended they weren't shagging but were looking at a massive spider??? Ooookay then.
11. All the girls making a sex pact
In Love Island season seven, the girls all made a literal pact to shag on the same night. They had a weird "NVQ" code for sex and doing bits, and the girls all decided to throw their hats in for graduation and "just do it", calling it prom night.
In the build-up to it, we saw a montage of all the girls getting ready for bed in lingerie, Priya (who had only been in the villa for a couple of days at that point) looked very confused, and the boys talking about getting "cheeks clapped", despite seemingly not knowing about the pact. Then the girls all walked in wearing lingerie and the boys lost their silly little minds.
It seemed like Chloe and Toby, Liam and Millie, Jake and Liberty, and Faye and Teddy shagged, and the camera panned out to see a whole ROW of bedsheets moving in very suss ways. Anyone watching with their parents wished they would immediately turn to dust.
The next day Priya conducted a "graduation ceremony" for them all, and it was a bit year 13 of them but still quite iconic.
10. *That* whipping challenge
The Love Island series two producers had obviously run out of ideas for challenges, because they made all the girls dress up as sexy maids, policewomen and school girls, and then whip and tickle the boys. Apparently the goal was to raise the boy's heart rate the most??
The girls were meant to try to be as sexy as they could, but Olivia said it was "the most un-sexiest I've ever felt". Kady worked tactically, choosing not to try and be sexy but instead literally just tickling her man non-stop. It must've worked, because she ended up raising his heart rate the most and winning.
9. Tommy and Molly-Mae's spooning
Tommy and Molly-Mae appeared to be the first couple of Love Island 2019 to shag. Some people were saying they only did bits, but it looked like they were shagging while spooning. Whatever they were doing, people were disturbed by Tommy's VERY intense staring.
There was also *that* clip of Molly-Mae's hands under the covers, with her exclaiming "it's fucking huge".
8. Olivia and Rykard shagging next to Rachel
Series two's Olivia and Rykard were coupled up as friends, while Rykard was cracking on with new girl Rachel. One night, Olivia and Rykard had sex while spooning, whilst Rachel was sleeping LITERALLY RIGHT NEXT to them. Olivia and Rykard never really explained what happened or why, but for the rest of the series they were just mates and nothing else happened.
After Rachel was kicked out of the villa, she obvs found out the whole thing. Then Rykard left for Rachel, and there was this unforgettable scene where she confronted Rykard about Olivia:
7. Nathan and Cara's 'second base'
One night early on in series two, Nathan literally begged Cara to "go to second base", like a horny 16-year-old at a house party.
She ended up doing it, though. He called it "unbelievable" and even thanked God when it was over. Maybe that's why they won their series.
6. All the Islanders having sex at once
One night in series two, basically all the Islanders had sex at once and it was a moment where everyone who'd chosen to watch Love Island with their parents collectively died of embarrassment.
Adam sat up in bed and watched for some reason, which was deeply unsettling. And Nathan and Cara didn't shag, because Nathan was too busy narrating everybody else's shagging like it was a horse race.
5. Megan and Wes trying to have sex in the middle of the day
Megan was undoubtably the top shagger of Love Island series four. One afternoon she and Wes headed to the bedroom to try and have sex, but ended up getting caught by fellow Islander Stephanie while Megan was taking her top off. Meg tried to say it was because her bikini hurt, but she wasn't fooling anyone.
After Stephanie left, Meg and Wes tried to crack on but ended getting caught again by Islander Laura, and then were interrupted for a third time by series four winner Jack.
4. Kem and Amber getting caught
Series three winners Kem and Amber also had sex in broad daylight, and ended up getting caught. After the mood hit while they were by the pool, the pair ran around the whole villa, trying to find somewhere to shag.
They ended up opting for just going under the sheets in bed. Afterwards, fellow Islander Nathan walked in on them. Awks.
3. Terry and Malin in front of literally everyone
In series two, Terry and Malin shagged in the VERY well-lit bedroom, while a load of other Islanders were watching. Somehow, Terry and Malin managed to block out their fellow Islanders' laughter and shouts of "oh yeah!", "that's a good rhythm!", "good stroke!". How cringe.
2. Alex and Zara in the Hideaway
In series two, Zara chose Alex to go to the Hideaway with her. After they'd finished, the Love Island producers showed the rather iconic clip of Zara licking her teeth. Zara even ended up losing her Miss GB crown over the footage.
The other Islanders were NOT happy they'd had sex. Alex was talking to Islander Olivia Buckland at the time – the one who had sex with Rykard!
Alex and Olivia are now married and just had a baby. They live in a boujee af house, and are one of the only Love Island couples are still going strong.
1. Emma Jane and Terry shagging on top of the sheets
After Malin left in series two, Terry was quick to crack on with Emma-Jane. Emma-Jane thought if they had sex out in the open, rather than under the covers, it would count as porn and so the Love Island producers wouldn't be able to show it on TV. Oh no, no, no. Turns out, they definitely CAN show it.
All the other Islanders were awake, so they watched the pair going at it too. Fellow Islander Sophie said the next day "I could not believe what I was seeing. Emma was riding him like a bucking bronco." A true icon, and an inspiration to us all.
For all the latest Love Island news and gossip and for the best memes and quizzes, like The Holy Church of Love Island on Facebook. 
Related posts recommended by this writer:
• Quiz: Can you match the iconic Love Island quote to the Islander who said it?