What's the best trash college bar in America? Vote here
Students across the nation have made the case for their college bar
The funny thing about your college's trashiest bar is that you never really want to go to it, but would never miss a night there. These are the bars you will drag your feet to, knowing by the time you leave you'll be covered in sweat and liquor, soon to wake up with the world's worst hangover. This is the trash bar that you love to hate and hate to love, where the Svedka flows freely and The Chainsmokers sing about pulling you closer over and over again.
Everyone knows the recipe for a trashy college bar is equal parts Pitbull, perspiration and Jägermeister. But nobody can say for sure which is the best in the country. That's why we're searching far and wide for the trashiest college bar in America – the stickiest, nastiest, place you'll want to go to the least and yet end up in the most.
Students have made the case for the top 50 in the nation – vote for your favorite below.
Choose your area:
The Northeast
Mary Ann's, BC
It's hard to call it "the best" by any means, but Mary Ann's has been a BC staple for decades. Whenever meet a BC alum, the first thing they will ask is if you've been spending time at Mary Ann's. It's an institution, but it's also by far the grossest, most run-down bar BC students go to, and has gotten shut down at least once or twice every year. It currently doesn't even a sign, but they host BC "senior night" every week. There are lots of other we love and, in all honesty, would rather go to, but Mary Ann's is the quintessential BC bar.
JT's, Binghamton
The beers are cheap, the floors are sticky and the table dancing is plentiful. It's more lowkey than Venue, with more windows than the Rat and has everything you need from a shitty bar in a grimy town. It's the sort of place where making friends with the bouncers goes a long way and you'd never set foot in it over break. Sure, it's rough round the edges, but it's also home.
Whiskey Republic, Brown
Whiskey is a place of messy regrets. Your only hope is that you get blackout enough to forget whatever booze-induced dirty dancing goes down on the sweaty dance floor. Freshmen: beware. Upperclassmen: your forgotten freshman year hookup will be there to haunt you.
You're likely to drink tequila, you're likely to hear Justin Bieber (the DJs haven't heard of any other music), and you're likely to see your hallmate aggressively making out with the wingback reserve on the football team. Top tip: go out for a cig on the waterfront and almost forget where you are. If you can't get in with the shitty fake ID you bought online in high school, see if you can sneak in the side entrance by jumping over the fence. Good luck.
T's Pub, BU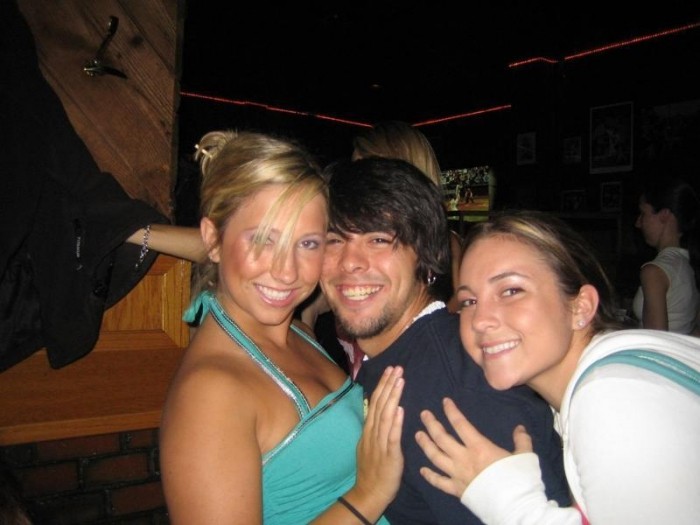 If you like drunk-shouting karaoke on Tuesday nights, then this is the place for you. You are guaranteed to get fucked up here. There's not much to the ambience. If you're looking for a fun atmosphere, you might as well head over to Harvard Ave and skip this place. The bouncers can also be extremely unpredictable. People 21 and older have as good of a chance of getting turned away as the underage students. As for dinner, all you'll find is mediocre bar food and terrible service. Sad thing is, it's so bad it's kind of great and you know you'll end up there Tuesday after Tuesday. Proud to BU.
Bull Run, Bucknell

The perfect place to go once you've gotten sick of the dark, sweaty mess that is a downtown party, Bull Run is there to provide a breath of a little-less musky air. We love Bull Run because, if Wednesday-Friday-Saturday downtown parties weren't enough, Bull Run allows students to go party on Tuesday and Thursdays for trivia and LIT nights. Essentially, it's Bull Run that keeps the Bucknell party schedule to a tight five days in a row. With 40 drinks on tap, it provides a much needed break from Natty and shitty Vladimir mixes. A Bucknell classic.
1020, Columbia
1020 is the pinnacle of college dive bars. As you walk in through a curtain at the door, the familiar stench of stale beer hits you. High ceilings and low lighting make for quite an odd pairing, and you'll notice that there is always a muted movie playing on most if not all of the screens in the bar. You can order a cheap drink and play darts or pool with one of the regulars if it's during the week but come any Friday or Saturday and there's a line out the door going around the block. Why would a Columbia student wait 45 minutes in the cold to get into this masterpiece of mediocrity? No one really knows and yet every Columbia student has done it.
To top it all off, it was once featured in the Will Ferrell movie The Other Guys. Which honestly gives a pretty accurate depiction of the vibe. (Especially when Will Ferrell's character pees on the pool table).
Level B, Cornell
Nothing beats a trip to Level B. So many Cornellians can recall the nerve-wracking moments waiting in line to check their IDs while the music was blasting down the stairs. Once given the go-ahead to trek down the flight of stairs, Level B welcomes you with the true college bar feel. Fishbowl Wednesdays and jolly rancher shots are a must-have in the dark depths of Level B, and let's not forget about the iconic dance moves you can throw by the center pillar; how else will your friends get to see you a head taller than everyone else? Best part about this bar? Because Dunbar's closed, it's the closest thing to CT that isn't Ruloff's.
Bar Hop, Dartmouth
Realistically, if you're at Dartmouth, you're not going to be drinking anything anywhere that's not the smooth taste of Natty Lite in a basement full of ass-branded frat stars. But you do have Bar Hop, which is an interesting take on a college bar where stuff like the dancing that's going on in that video above happens. Who needs beer pong?
Piano Bar, Georgetown

In a neighborhood known more for its townhouses than its night life, Piano Bar is heaven on earth for Georgetown students looking to let off a little steam after a long week. It's practically the only good bar for miles, which makes it the most popular, especially given the happy hour until 9pm on weekends, and three dollar beer. There's truly nothing comparable to drunken karaoke in a basement bar. No one will judge you for being tone deaf. A Yelp user accurately describes it as being: "Like a frat house with two drunk dudes playing the piano and singing." The nachos are horrendously overpriced, but you can always sneak in some Chipotle from down the block. It might not be perfect, but it's a good enough bar scene for a student on a budget.
Hong Kong, Harvard
Tough one, this. Felipe's is the easy option, as it's a regular Saturday night drunk spot. Daedalus, like Felipe's, has a good rooftop. If you're after the best atmosphere in an outdoor beer garden, head to Charlie's Kitchen. But these are the wrong answers for this article. Forget about them. The Kong – Hong Kong if you're new – is Harvard's best worst bar. It doesn't have good food by any means. It gets wilder the higher up the building you go, like a reverse Alice in Wonderland: the first floor is a restaurant, the second floor has a bar area, and up on the third floor, there's a dance floor with an awful DJ. Come for the scorpion bowls, stay for the burn-out seniors drinking away their last semester through exciting novelty straws. Also, Bill Murray went there one time, which is pretty cool I guess.
Moonies, Ithaca College

This is the bar where even your fakes might work but is not worth it for the amount of trashy spills that occur, the overpriced fishbowls, the one dance floor where people push against you and spill your drinks, the bathrooms that always run out of toilet paper at midnight, and the annoying freshies that don't know how to act. Let's not forget how shitty beer pong players are there, and how they consider dancing to be jumping in one place. After the third time there, almost getting into a fight, and realizing that 1:30 a.m is just too fucking early to leave a "club", you'll come to terms with Moonies being a trashy bar not worth wasting time over. You'll even be saying "what the actual fuck" while wasted.
Josie Woods Pub, NYU
It's NYU's answer to the college bar, the bar you'll find yourself at when you realized going that new, hip NYC bar you heard about will cost you a small fortune. It's Josie Woods Pub. You'll be remiss to not find a NYU student at Josie's on the weekend (or even the occasional rogue weekday) – for better or worse depending on how much you actually like your classmates. Located on (what is considered) NYU's campus, Josie's has cheap drinks, pool tables and plays the kind of music you love to hate. Most of the time, it's filled with those in Greek life (yes, NYU has Greek life) and it's often so rammed that you will probably make a lot of awkward body contact with strangers but you always make solid chat with the bouncer so at least you know you'll get in for free. And if you're a super-fan, they also serve food so you can stop by during the day if you are looking for a delicious, if slightly tragic lunch.
Bamboo Bar, Penn

Bamboo Bar has long been recognized as the place where good decisions go to die, but only last semester has it soared to legendary college bar status – when a freshman LOST HIS TOE ON THE DANCE FLOOR. An endless cycle of top 50 soundtrack your attempts to push the limits of how much alcohol your body can contain – that, and the screams of a freshman who LOST HIS TOE ON THE DANCE FLOOR. A witness at the time told us: "I did see a guy sitting off to the side with lots of cloth wrapped around his foot, and there was a huge puddle of blood on the floor that security was keeping people from stepping in. I noticed him again outside with two girls holding his leg up in the air to keep the blood draining backwards." How delightful.
Phyrst, Penn State

The Phyrst is every Penn Stater's rite of passage – it's the first bar practically everyone goes to the moment they turn 21 to get that lime green leprechaun hat – but, it loses its luster pretty quickly. It may have live bands every night, but the playlists are generally strictly 90s, so if you want to hear Counting Crows on repeat it's definitely the place to be. They also have one of the best happy hours in all of downtown. Who wouldn't want a half-off trash can? But there is cover every damn night of the week and even though most of us are willing to spend all of our life savings at the bars, there's just something about having to pay cover that automatically pisses us off. The Phyrst does always has a great crowd though, even though half of the time it is filled with alumni trying to relive their glory days. Luckily, that sometimes comes with a free round of drinks on them, which makes everything worth it.
Peter's Pub, Pitt

It's where all the annoying Greek life people go to hook up with their fuck buddies and bitch about who their ex is dating now. It's where being sober sucks, cause beer is being spilled on you left and right. It's where you know but hate everyone around you. The dance area is just a maze of fuckery as you try to make your way to the bathroom and the bar is either empty or full of horny guys or angry couples. At the end of the day, it's the best place to get fucked up and make friends you'll never see again.
Terrace, Princeton

A different call on college bars here, as no Princeton student would ever drink outside an eating club. So to Terrace! The best college bar at Princeton – the only club to boast non-sticky floors, and not to smell too much like beer. While the building is by far the edgiest place in New Jersey (all the walls are painted with psychedelic art), everyone on campus comes knocking by the end of the night. Three floors of raving separate Terrace above your standard basement dwelling beer pongers, earning this club and its spangled revellers a place in history as ultimate college bar in America. A Terrace insider confirms to us: "there's live music and fucking awesome bands" as well. Good times.
Olde Queens Tavern, Rutgers New Brunswick

It's hard to explain to non-Knights what makes Queens so special. To the outside observer, it's your standard issue frat bar. With dirt cheap beers, ear-splitting shitty music and less room to move than your average Porta Potty, some may even view it with disdain. But there's something about going on Tuesdays, week in, week out that endears it to even the most seasoned drinkers. Your best friends are there, your classmates are there, even the fuckboy who you know better than to invite back to yours but will still ending asking home is there. In essence, it's the perfect one stop shop for everything you need in a college bar. Even Obama gets it.
Schramrocks, RIT

Mention "Thirsty Thursday" to a typical RIT student and they'll quickly throw their busy schedule in your face for proposing such a thought. Yet a visit to Schramrocks on Thursday nights proves some of us still believe in the good ol' college tradition. Surrounded by food joints and bloodsucking Barnes and Noble, Schramrocks is the hot sweaty sardine can of every freshman's dream. Feast your eyes as fuckboys from all walks of RIT drink huge pitchers of fishbowls and cheap beer through straws, but don't blink because those same drinks will likely be on the floor from the shoving, dancing, and careless motions of the crowd. There's nothing extraordinary about the food or drinks, except that it will likely deplete your savings before you can achieve a decent buzz. If you've had enough of the claustrophobia-inducing, oxygen deprived, hormone filled scene, you can escape outside where you can get front row seats to someone being tackled by Park Point security. Schramrocks is home to your regretful nights out, but that won't stop you from going back.
Chuck's, Syracuse
Chuck's is the most famous bar in all of Syracuse. Its history is rich and has been a stomping ground to all students 21+ (they're really strict with fake IDs). The walls are filled with the names of different patrons who left their mark on the establishment pre-graduation (literally). Although it's considered "overrated" (very crowded, rowdy, sweaty people and sticky floors), it's a 'Cuse tradition nonetheless, with cheap drinks, great grub, and even better people. What's more, it's rumored to be shutting down to be converted to student housing (!), but students have started a GoFundMe and using #SaveChucks on social media to ~raise awareness~.
The Draught Horse, Temple

Ah, The Draught Horse. Everyone hates to love it, and loves to hate it, but everyone always ends up back there every Wednesday night. Granted that's the only night non-degenerates will be caught dead in there, but god damn is "White Girl" always a hell of time. Yeah, yeah, it's awful in there – it's too cramped, too loud, the dance floor is too small, and if you were blindfolded and led there by a friend it's so hot you might mistake it for a sauna – but it's our awful bar. The drinks are cheap, everyone there knows everyone else there, and any mention of "White Girl" in the actual real world (you know, that strange part of the day when the sun is up, people are sober, and not dressed in all-black) is met with smirks and fond memories from everyone who goes regularly. It's been said that to appreciate the good things in life you have to experience the bad, too, and maybe that's what The Horse is there for; our little reminder of what a bar shouldn't be. But there's that little word again, ours. I'd take great people over a great bar any day of the week, and that's the magic of The Horse.
Nickel at Huskies, UConn
Nickel at Huskies is a UConn institution, passed down through hammered generations of students. Entrance is $6 and with a group of four people, you can get a drink each for a dollar. Yes, that means 25 cents a drink. Huskies has all the song that drunk people love to shout at, with Mr Brightside and Piano Man as crowd favorites, but also good tunes to grind on sweaty guys with. The bar area sometimes gets so crowded that if you lose your spot at the front, you possibly won't get a drink for the rest of the night… unless you're a girl, in which case, guys will readily include you in their group of four and get you a nickel drink. Guys at the front of the bar have been rumored to relieve themselves on the floor rather than leave their spot for a bathroom but, you know, that's probably just a rumor? Claustrophobics beware: this is place is so crowded that you will be in contact with a total stranger throughout the night. Go Huskies.
Monkey Bar, UMass Amherst

I'll wait in line to get into Monkey Bar until my hands freeze off, if it means getting to grind with econ majors in the back room until the sun comes up. Firstly, the location is prime – The Harp is at the other end of town, VFW is over the tracks, and AmCo is just a bit too close to Amherst College for comfort. HH is in town, but I'm never sure if my flannel is loose enough, or my Birkenstocks are worn in enough for the ~vibe. You can't relax in there – it's like "do I look Instagramable?" "I can't see out of these glasses I borrowed from Steve." Monkey bar is a place where we can release these inhibitions. Beers are three dollars, they're served in tin cans, and last time I was there a girl vomited into her hands. As if all this isn't enough, you'll beat the line at Antonio's, which means you'll get a slice of that CBR before they sell out, AND you'll score a prime seat on the PVTA for the ride home.
Trinity Irish Pub, The University of Virginia

Every Corner bar at UVA has its charm—but Coupes's live music, Crozet's fresh zens, or Virg's table-dancing simply cannot compete with the allure of Trinity Irish Pub. Located in a prime central location equidistant from most other bars, Trin is a bumpin' 3-story complex that gets increasingly rowdy as one ascends. Now be warned, you can't just waltz in on any given night, looking to casually sip one drink and "chill" at the bar. In fact, you're going to want to be multiple shots deep to elbow your way through the herds of belligerent college students (albeit mostly First Years) flocking to the third floor where the ~magic~ happens. But, let's be real, you were probably headed that way too, because who doesn't want to spend a night tearing it up on the Trin dance floor with your best friends by your side? Plus, you're basically guaranteed to meet your new best friends in the bathroom (especially true for girls). Just be wary of anyone who tries to tell you that ordering a Trash Can is a good idea—unless spending $15 on a green drink that consists of every type of alcohol in alarmingly high concentrations is your cup of tea. Now that you've been warned, grab your friends (and your Connecticut fake) and hop on the next Trin train!
Top of The Stairs, Virginia Tech
Ah, TOTS, Top of The Stairs, the last stop on Thursday, Friday, and Saturday (sometimes Tuesday and Wednesday too) nights, "the place to be" most weekends. TOTS, and its neon flag is an integral cog in the landscape and spirit of Virginia Tech. But it's not even like it's a fantastic bar. It's constantly overcrowded, there's an unnecessary cover, the drinks are made with bottom shelf liquor, and the bathrooms…the bathrooms are disgusting. It smells like stale beer, the floors are covered in something mysteriously sticky, and people have no sense of personal space. We hate to love this place. Taking pictures by the flag is a need for every Hokie, singing karaoke on TOTS Tuesdays is on the Hokie Bucket list, and the Rail is a disgusting rite of passage. Somehow, TOTS has slithered its way into the hearts of Hokies and Townies alike.
The Green Leafe, William and Mary

Situated right across the street from the WM campus, The Green Leafe is the place to be if you feel like having a great time, don't want to go far, or don't think you'll be able to drive home.
The Leafe went through a bit of a makeover after a rambunctious senior class quite literally tore the place apart in 2016. Since the renovation, most of the traditions remain intact. We still have the Senior Mug Nights, where the most seasoned members of the Tribe can take some time to knock back a few pints and forget about the impending stress of graduation and job searches. There's also Thirsty Thursdays—there's nothing really special about this tradition, but it's a chance for us to start our weekends just a little bit early.
Although the lights are a bit dim, space is tight, and the bar is always swamped with TWAMPS seeking refuge from their studies, there's no better place to be when you're in the mood for a cold one!
Toad's, Yale

"All roads lead to Toads" is a saying that suggests an evening far more romantic than the truth. Wednesday Night Toad's, or Woads if you're a die-hard, is where Yalies go to smash Jägers among the scions of the East Coast elite and presidential offspring. It's a brief respite for the overachieving and underslept, a cheese course in between afternoon CS50 and tomorrow morning's ergs. The dance floor is fiercely tribal as different srat territories are marked with the sticky excreta of spilled drinks. "A noisy unattractive place patronized by townies and Yale students with no taste for anything but cheap booze and loud music," says a Trip Advisor critic. "Avoid even walking by this place." That's a Monday opinion, but come Tuesday, it suddenly doesn't look too bad, and by Wednesday, you'll be dusting off your good Sperry's just in time for Woads.
The South
Harry's Bar, Alabama

Every student of The University of Alabama, former and current, knows about the infamous Harry's Bar. We all tried our fake IDs here at one time or another, and more often than not we all got in. However, we always ask ourselves after a night of paint buckets, "Why did we go to fucking Harry's?" Its the age old question. It isn't even close to where any of us live and, worst of all, it isn't by any other bars that we go to. They have a bus to take people to and fro for Christ's sake, and not a pretty bus either. We've all had nights where we've ended up on the old, 1970s, grey, short Harry's Bus without really knowing how we got on it or even why we are on it. This place is on the edge of the part of Tuscaloosa that not many people want to be in, yet we somehow continue to go there time after time. Whether it's the paint buckets, the $3 Four Lokos on Wednesdays or the 50 cent wells, we all love to hate on Harry's.
Tiger Town Tavern, Clemson

Although every Clemson bar has a lot of local flavor, one takes the cake as the best: TTT's. Tiger Town Tavern is where everyone ends up. When you go there, you know there's a high possibility you will see every person you know and stand in the exact same spot all night where you stood last week, but something always pulls you there. The drink deals on Thursdays are not only unbeatable, but dangerous to a person's health and reputation. As each song changes, a new deal becomes available and the previous one disappears. It's basically Extreme Couponing, alcohol edition. The most enticing deal? A bottle of champagne for $5. Sure, you could buy one to share with a friend, but what's the fun in that? Every Thursday at midnight, like clockwork, this deal is offered and soon after, everyone's night becomes a fuzzy mess. Once the 50 cent Jell-O shots are announced, you're officially done. No matter how blurry your night gets, you'll always be back the next day to do the same thing over again. TTT's may not be glamorous, but neither is Clemson and that's exactly how we like it.
Shooters II, Duke
Everyone who's anyone wouldn't be seen dead in Shooters on a Wednesday night, which is good, because Shooters is too dark and grimy to be seen in anyway. A night spent here is as unforgettable as much as it should be forgotten. Be whisked away by a party bus ride from whichever frat you're pre-gaming to the exotic Shooters II! Dance in the cage overlooking a sticky mass of revelers! Smell the elegant perfumes of sweat and beer in a confined space! To grow tired of Shooters is to grow tired of life. We recommend ordering the SFK: a cocktail of pineapple juice, 151 Rum and Malibu, named after one of their favorite customers…
Pot's, Florida State
In the light of day, Pot's looks like an abandoned house that should have been condemned years ago, but after a lunchbox or two, it's a palace. From Summer C freshman year to your very last game day, stumbling out of Painted and pouring yourself into the Uber will never get old. Purgatory has seen the worst of you, and happy hour the best. Pot's is truly a home away from home.
East Village Grill, NC State
East Village Grill is nothing special, yet it is crucial to the NC State experience. Their menu is limited but they offer what we're all really there for – booze. Beer is abundant here for everyone, and I mean everyone (on the down low). There are trivia nights that bring people in, and there is always a crowd when rivaling sports teams play. The seating is limited and it's hard to accommodate groups, but people just fill in where it's open and ultimately have a grand drunken time.
Nephews, Texas State University

Every single weekend, you decide as a group that you'll skip Nephews. "Ugh, Nephews is so ratch," you'll say, rolling your eyes over a Taka-fueled pregame at The Woods. "Let's just go to the Marc for dollar tequila." Fast forward a feverish four hours later and you're on the second floor of Nephews, grinding (practically on all fours) with someone who know is be way too old to still be in school. Someone, you see every single person you've ever had a class with, had a crush on, or been in a fight with. The sea of Kendra Scott-adorned bodies are dotted by what must be townies, eager to pull a girl from Plano or Sugarland. You're dancing to what might be Cyclone by Baby Bash, but at this point in the night, it could literally be anything. As you drunkenly stumbled into an Aloha Taxi and try to convince the driver to hit up Gumby's on the way home, you wonder why you normally discount such a place as Nephews. And so the cycle continues.
The Boot, Tulane

The Boot has been voted the number one college bar in America for the past three years running and here's why… When you say the word "college bar" you don't actually expect it to be located on campus, but The Boot does just that – in fact, the plot of land that The Boot was built on was specifically bought by its owners to not legally be a part of campus while still 100 percent being a physical part of campus. When it's 2am and time to go back to your dorm, someone else's dorm, or the next party one block off campus in that frat house no one dares go without a little (or a lot) or liquid courage, the walk is never more than sixty seconds; plus it's the central social meet up for both Tulane and Loyola Universities. Add in the drink specials that cannot be beat (it's a wonder how they stay in business) which boast 50 cent shot night on Tuesdays, 3$ Long Islands on Thursdays, $5 pitcher nights (rotating), $4 bloody's and mimosas on Sundays, and happy hour on Wednesday and Friday from 3pm-10pm with $6 triple shot drinks or "big ass drafts" it's the cheap haven dream of a broke AF college student. Due to the year-round nice weather, you can grab a table outside any time of the day or night and watch as the bar turns from tipsy to grimy (aka: you). And if that's not enough? The Boot is located in New Orleans. I repeat, New Orleans: city of unrelenting partying, hard liquor, and good times. So it's no wonder that The Boot matches the atmosphere of the city – almost too good to be true. Almost.
Jerzees, UGA

If drinking in Athens is an extreme sport, then the most hardcore athletes go to Jerzees. Jerzees is not for amateurs, beginners, or rookies. It is a student night out from Thursday through Sunday – the trashiest place where you go at the end of the night to hook up with someone. The second you enter, you will see people dancing and falling off the bar, the stage, and each other. It is important to note that you could never entertain the thought of "hey, let's go to Jerzees" any time other than between the hours of 1am and 3am. Once you're in, you will question what you are doing there until you have a lemon drop (two dollars) and then you'll think "actually, dancing on top of the bar looks pretty easy, even in heels." Be warned: the atmosphere is so pre-coital here that some people are actually doing it. Welcome to Athens.
Tavern, UMiami

Tavern has come to be known as the universal last stop on a rowdy tour of "The Grove." Often frequented by blacked-out seniors and optimistic underage freshmen, Tav has come to be known as a hotspot for chugging stolen pitchers and scheming your way out of the absurd $20 cover charge. Familiar faces include: the little Cuban guy who steals cell phones out of pocketbooks, the overly aggressive bouncer, and plenty of frat stars with their hats on backwards. If you're looking for an average to decent spot to sacrifice your liver – look no further – Tavern is calling your name.
Fat Daddy's, University of Florida

Any UF student knows that Fat's is the place to be on a night out. You can trust that you'll see loads of friends and that they'll be hammered enough to give you a very soflo kiss on the cheek. Fats' slushies are are heaven-sent to Gainesville even though we have no idea what's in them – but mix the blue and red slushy and you have yourself the best cocktail in Gainesville. The music is always poppin' (interestingly lots of Drake), but when a banging song comes on, the bar goes wild. Also, if you're sitting on the slushy bar, or better yet, standing and dancing, you've got the best spot in the house.
Country Fried Duck, UNC Chapel Hill
When Country Fried Duck opened, everyone expected it to be a shittier version of UNC's famous Country Night at the Deep End. Well, we were right, but it's also much more fun. You start your night with $2.50 everything before grinding the night away with some 30-year-old man who heard this was the hot spot for UNC students. Your night will probably include some beer pong on the sticky wood tables in the dark back corner of the bar or riding the famed CFD bull while perverts watch your riding positions. Everyone goes mad when they play Cotton-eyed Joe and Caroline back to back. The aesthetic of this bar is confusing as hell – the only word we can think of is sketchy – but damn is it fun.
Latitude 22, University of South Carolina
Though arguably the most popular, Latitude 22 should be everyone's least favorite bar at USC. And yet, you will be there every weekend, seeing the same faces you saw the last time. Have a $10 pitcher of Everclear! Listen to the Frozen soundtrack! Enjoy the same night out, once a week, for four years! Even though it's a bar many people no longer actually like – having been there so many times – it's one we'll always have memories in.
Trophy Club, UT Austin

The best bar on Sixth Street doesn't even have a sign. You just have to know and trust that it's there — sort of like a boozehound's room of requirement. Trophy Club is unassuming, trashy, and the greatest bar in Austin. Maybe it's the mechanical bull where, for the price of just being hot, you can get bounced around like a rag doll for the entertainment of the construction workers hanging through the big open window. Maybe it's the bonus bar, tucked away in the back that the drunk bitches in from San Marcos dominate all night. Maybe it's the fact that despite it's sudsy, nasty smell, it's where celebrities go when they come into town (hello, Harry Styles!). Whatever it is, it's ours. Long live Trophy.
The Last Resort, Wake Forest

Everyone knows if you're thirsty on a Thursday, The Last Resort is the place to go. Famed for its year-round beach theme, cheap booze, and promotion of poor decisions it's a college student's dream. After all, the inevitable Thursday night Uber surge speaks for itself. With a campus as small as ours, it's not uncommon to see everyone you know tearing up the dance floor, making every drunk thing you do on public record for the entire university. But don't worry, they were probably too drunk to notice, right?
The Midwest
The Union Bar, Iowa
The Union Bar, oh how you are loved and hated by Iowa students and Iowa City residents alike. You have the best music, and by far are the hottest spot for a night of dancing. But you are shamelessly disgusting. You are the home of fantastically cheap and sloppily made dollar drinks. We come to you blackout drunk, entirely forgetful of our dignity, looking to grind upon complete strangers, for within you there is no such thing as personal space. We come willingly to drench ourselves in sweat among other partiers on your packed dance floors, and splash about in the inch-thick layer of spilled alcohol and grime that covers your floors. But we love it all, every audacious aspect of you. You are our guilty pleasure, and every weekend night you welcome us back with open arms.
Kilroy's on Kirkwood, Indiana University
Kilroy's on Kirkwood (KOK for short) is the iconic Bloomington bar. It's the place where most IU students start their nights out; it's the home of Breakfast Club, a 7AM tradition on game day Saturdays that offers mediocre buffet food and free t-shirts; it's the keeper of the beloved Birth Canal, a section of wall I was gleefully ushered beneath as a rite of passage on my 21st birthday. Oh, how I love you, KOK. You, with your popcorn machine and your constantly-sticky bar counters, your heavily graffitied bathroom stalls and bathroom floors submerged in a centimeter of grayish water. You will always hold a special (albeit grimy) place in my heart.
Rick's, Michigan State
Abbott Street is famous for the best college bars but we all know there is one that stands out above the rest. Rick's is the obvious answer for the best bar in EL. Whether you go for half off Wednesdays or on any given weekend night, you're bound to drink A LOT and have a great night while doing so! Walking down the iconic yellow stairs looks like the gateway to heaven on an epic night out. Thanks for being the GOAT, Ricks. And always remember on a night out go #STR
Nash Vegas, Mizzou
Booze, cowboys and pig calls, oh my! Located on 929 E Broadway, Nash Vegas is the home of the honkeytonks of downtown CoMo. With the smell of whiskey that wafts through the streets to the thumping country music that sways the building from side to side on a Saturday night, Nash Vegas is surely a sight to see. Fair warning: entrance is only admitted to those who know how to Square Dance and maneuver a John Deere tractor.
Club Fever, Notre Dame
South Bend may not be a thriving metropolis, but it fulfills its duty in that it boasts that one great marker of any college town—a good, old-fashioned, shitshow of a nightclub. Feve, or "Club Fever" if you want to get fancy, is both loved and hated for its perpetually sticky floor and for being eternally filled with freshmen. Want to smoke indoors? Not a problem at our beloved Feve. Looking for drinks so cheap you literally can't buy enough to fulfill a $10 credit card minimum? Notre Dame's favorite destination has your back. Every Friday morning when you stagger to your 9:30 class, you'll swear you're never Feve-ing again—but come next Thursday night, you know you'll inevitably end up jammed in the crowd at its side door.
Midway, Ohio State
Nestled right across from the Ohio Union, everyone always knows Midway is the place to be any night they're open. From their Tuesday $1 wells and $1 bombs deals to half off everything on Thursdays, Midway understands we're all poor college students. Sure, the bathrooms are always absolutely disgusting and the girls' bathroom is a million times worse than the guys. But you just gotta love it. They even sometimes get special guest DJs after they do their shows at the Newport. They have a stage to dance on, which has become known as "whore island." Somehow it's so popular that even in the depths of winter when it's freezing outside, a line extends around the high street with hopeful students trying to get in.
Scorekeepers, UMichigan

Affectionately known as Skeeps, this shitty little den of sin is the heart and soul of Ann Arbor. It's probably the first place you ever got in but only after waiting two hours in a line that stretched into the Maynard parking garage. If you've been to Skeeps, you've been puked on, shoved, and – if you've ever gotten there before 10 – hit on by someone over 35. The beer is watered down and the floors are sticky. Still, the drinks are cheap, the chicken fingers gloriously good, and $2 Long Island night is a gift from the gods. There's something awesome about being at a bar with everyone you've ever met at Michigan, signing your name on the block M, and reveling in the unabashed shittiness of the quintessential college bar, and because of that, Skeeps will always hold a special place in the hearts of Wolverines.
The Pickle, UW – Eau Claire

The Pickle. Its name is a reflection of the bar itself. It has a distinct smell, is a little grimy, and has been overused on a lot of side dishes (or side chicks) for decades. The infamous Hoe Box really proves the mood of the place as it is a rickety bench that only allows girls' going out shoes to grace its top. Some girls even have the ability to talk their way into a wasted state all while never paying a cent for a drink all night. The Pickle will in no doubt leave its mark on you. This could be in your heart, or for some not-so-temporary tattoos of their "Picklepalooza" held annually, or even from breaking your arm trying to jump the back fence to get in. It can also leave its mark by whatever airborne illness you get from their should be condemned bathrooms. It continues to be a legend – for what, we don't know. But a legend all the same.
Red Shed, UW – Madison
This bar is definitely the best of the worst bars in Madison. It's never crowded, always sticky, and one of the only bars in Madison which doesn't accept credit. On a given night, it's usually full of hipsters and old people. This is the place where our parents went in their glory days before places like The Double U opened, and they have no idea how bad they had it. Going there anytime before midnight is like seeing the trashy person you hooked up with the morning after: embarrassing and gross. No one truly enjoys going there, but it's a great place to spend those singles in your pocket.
In their defense, they have amazing Long Island iced teas. If you're a fan, this place is a must. It's also the place where people ironically buy their merchandise but end up flaunting it everywhere. We hate how much we love you, Red Shed.
The West Coast
The Nuthouse, Stanford
As a Stanford student you're not likely to venture too far out of the golden lawns of your country club campus for a night out. But if you're feeling adventurous, you might choose to make the journey to The Nuthouse on California Avenue. It's by far the best bar in the area, way cheaper than any of the organic wine bars in Palo Alto where a sniff of Zinfandel will set you back the best part of $20. The Nuthouse is perfect if you're looking for a grimy place to play pool before the $4 beers make short work of your aim. As one fan put it: "Ah, The Nuthouse. A dive bar where you can throw up in the gutter after celebrating your admission to dental school." The floor is also covered with peanut shells, so if you're severely allergic you'll have to resist the urge to run your tongue over the carpet.
Kip's, UC Berkeley
It's 2AM on what was formerly a Thursday night, and you're stumbling out of what has to be the worst bar in your college town. So why is this the third time you ended up there this week? Every school has one, and ours is Kip's. Home to the most ridiculous traditions and the most inappropriate dancing, it's the bar you never mean to go to. If its weekly pub quiz and sickeningly sweet birthday shots don't seal the deal, it's great taste in music and sticky dance floors certainly do. Plus where else can you get drinks for around $3 dollars until nearly 2AM? Certainly nowhere in the real world. Shout out to you, Kip's – you keep every night interesting.
Barney's Beanery, UCLA
Welcome to Barney's, a bar packed with hubcaps, beer signs and UCLA's finest. They have a huge selection of cheap beers (hello $3.50 Stella Monday's), and two floors so they can really pack you in – make sure you try the shuffleboard upstairs. The staff are lovely, the vibes are great, and the food is acceptable. Come for Trivia night on Wednesdays and Karaoke on Thursdays. Cheers.
Dublin's, UC Santa Barbara

Isla Vista's scenic beauty lends itself well to house parties overlooking the Pacific on Del Playa – from the daygers playing beer die to rammed parties on weekends, house parties certainly rule UCSB party culture. That said, there comes a time in every student's life when a need arises to swap sunset views for the dingy room and sticky floors at Dublin's Irish Pub. Ideally located on the corner of Pardall opposite The Habit and Freebirds, Dublin's offers long nights of pool and a chance to get away from freshmen who infiltrate every party in IV. Inside, you'll find older locals looking for a chance to regain their youth and a lot of students at the end of a long night on The Loop.
What's more, the mythical "Dub's Club" offers patrons a chance to win a t-shirt and a party if they go 40 times in a quarter. Many have tried and most have failed, but those who complete Dub's Club are forever immortalized on the wall of the most iconic Irish pub in Southern California. It may be out of place in the most beautiful college town in the world, but Dublin's is an IV staple which every Gaucho will have at least one sloppy night in.
Taylor's, University of Oregon

Get used to hearing "All hail Taylor." Dollar beers on Wednesday nights to Thursday night breaks, Taylor's is where Ducks go to hit the dance floor. Sitting at the bar you take a deep breath before roaring at the TV watching the basketball. The beer is outrageously cheap, the pool is fierce, and the atmosphere is unforgettable. An Oregon tradition.
9-0, University of Southern California
USC's Greek Row may be infamous, but Lambda and Phi Psi are really just bricks on the yellow brick road to the holy grail of peak USC: the 9-0. Flanked by a 24-hour McDonald's and usually a homeless man pissing in the street, the 9-0 is essentially a nondenominational frat house which serves cocktails at typical Downtown or West Hollywood prices but in bulk sizes. In other words, the 9-0 is where your night, your liver and your dignity go to die. That being said, Biebs has been spotted ordering the whole bar a round of shots, and in the weeks before finals, fatigued Trojans too lazy to call an Uber to the Ace Hotel will stop by the 9-0 for "just one drink." Sure, it's a shitshow, but who doesn't love watching freshmen hand their Hawaii fakes to Big Shawn or taking a smoke break through the gate at the back of the bar. The 9-0 may not be classy or raging, but it's always shameless, and that's why we love it.
If your college bar isn't listed, message a paragraph explaining why it's the best along with a picture to harry@thetab.com, and we'll include it. Cheers.
With thanks to Maximilian Tortoriello Photography for the cover image.
Contributions from Zoe Weaver, Elena Alvarez, Ciara Appelbaum, Lamar Bethea, Kay Bontempo, Maddie Burke, Yana Carr, Tyler Cianciulli, Susie Clark, Bridget Conway, Una Dabiero, Meagan Davis, Madi Dettlinger, Anne Giordano, Samantha Feinberg, Maggie Fischer, Edie Freedman, Roya Hegdahl, Sara-Rose Joy-Hogg, Josh Kaplan, Megan King, Lexi Lampner, Tiana Lowe, Kristen Mabie, Zack Maddox, Sharon Mejia, Remi Nicole Monaghan, Linden Moore, Alexis Montoya, Caroline Phinney, Abraham Ramirez, Amanda Ross, Imani Scott-Blackwell, Art Sejdiu, Annabel Sen, Delaney Sexton, Gabi Turi, Caroline Watkins, Natasha Welingkar and Rob White.