From glitter to feathers: Here are the best dressed students at Harry Styles' Love on Tour
I've never seen so many feather boas and pink cowboy hats in one place
If there's one person that can bring millions of loose feathers, pink sparkles and intense traffic disruption around Coventry Arena, it's Harry Styles. Over the past couple of days, that man has had the entirety of Coventry in a chokehold – with two sold out arena shows, I'm pretty sure anyone within a five mile radius could've heard the joyous screams of "Leave America" echo throughout our beloved city of culture.
But there's more than just fan frenzy. Harry Styles' Love on Tour has become a fashion runway for many, many people – every outfit must be a slay certified by Mr Styles, or you might as well have not shown up in the first place. From feather boas to knitted hearts; pink sparkles to cowboy hats; pearl necklaces to rather strange fruit-themed costumes, Love on Tour is almost apocalyptic with its lines and lines of similarly dressed fashionistas, all adorned in Harry-themed attire. Are they glittery zombies coated with feathers, or just a couple of Harry fans?
Evidently, there's no better place to be. Here are some of the best outfits our very own Warwick students have worn to Harry Styles Love on Tour in Coventry:
Rainbows, makeup and initials behind jeans
This group of Warwick students came through with their bright colours, makeup and accessories. We're absolutely in love with the Harry-esque "Love" and "H.S" written on the back of their jeans – Harry himself would surely be proud. And the drawn on hearts with the Love on Tour colour scheme? The beaded necklace? Amazing.
You can even see the design of the jeans taking form below
The dedication here is impeccable. The attention to detail is phenomenal. These students really put the "style" into seeing Harry Styles live.
Warwick Tab's very own Love on Tour fashion trio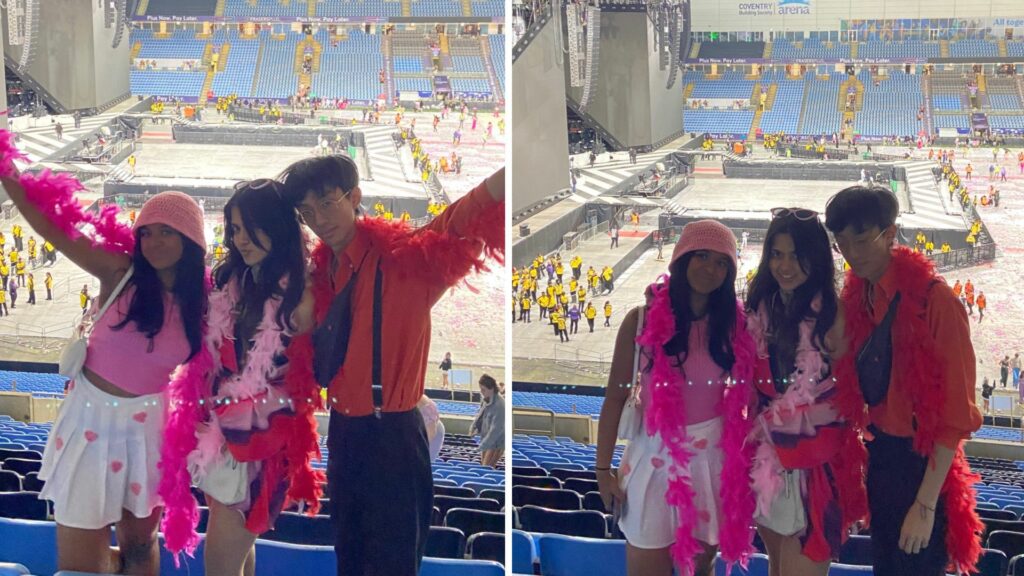 Next up, we've got my own outfit – the bright orange shirt, black suspenders, matching suit trousers and red feather boa? I might be a tiny bit biased, but it's basically taken straight from Mr Styles' concert wardrobe. What more can I say?
On the far left, we have a wonderfully put together pink hat, top and skirt – with the hat and hearts on the skirt personally crocheted. All matching together, all very carefully crafted – these designs are sure to give Harry's stylist a run for his money.
And in the middle – adorned with a beautiful, baby pink feather boa – we have an oversized red, orange and purple shirt. It's different, it's flashy, it's screaming Love on Tour for sure. And the pink sunglasses? Ten out of ten.
Classic cowboy hats and jumpsuits
Here we have it – the pink cowboy hats, heart sunglasses and jumpsuits. It's giving Harry at Coachella last year, and we're all here for it. And both of the outfits matching each other? I love everything about them. There's definitely a crazy level of detail and thought that went into this – I'm a sucker for matching fits for sure.
Related stories recommended by this writer:
• Feather boas and cowboy hats: All the best outfits so far at Harry Styles Love On Tour