It's time to relearn the alphabet, here's the ultimate A-Z of student life in Notts
Any guesses what O stands for?
If you're lucky enough to be a student in Notts, whether that's UoN or Trent, then you will have no problem recalling this version of the alphabet. Take this as the ultimate Notts student checklist, you have definitely either seen it, done it or had to endure stories from your housemates about one of these 26 things.
From picnics on the downs, selecting an interesting outfit from Luvyababes to ending up in QMC after a heavy night of drinking with your besties, here are all the classic Notts moments showcased through the alphabet:
A – Awkward pres
We've all been there. It's an almost unavoidable part of Fresher's; sitting in a brightly lit JCR, clutching your pint and watching everyone trying to suss each other out. 
B – Beeston
The perfect place for a mooch around the charity shops and cafes.
C – Crisis
The UK's biggest weekly student night.
D – The Downs
The favourite spot for lying in the sun with a couple of cans and forgetting about your deadlines.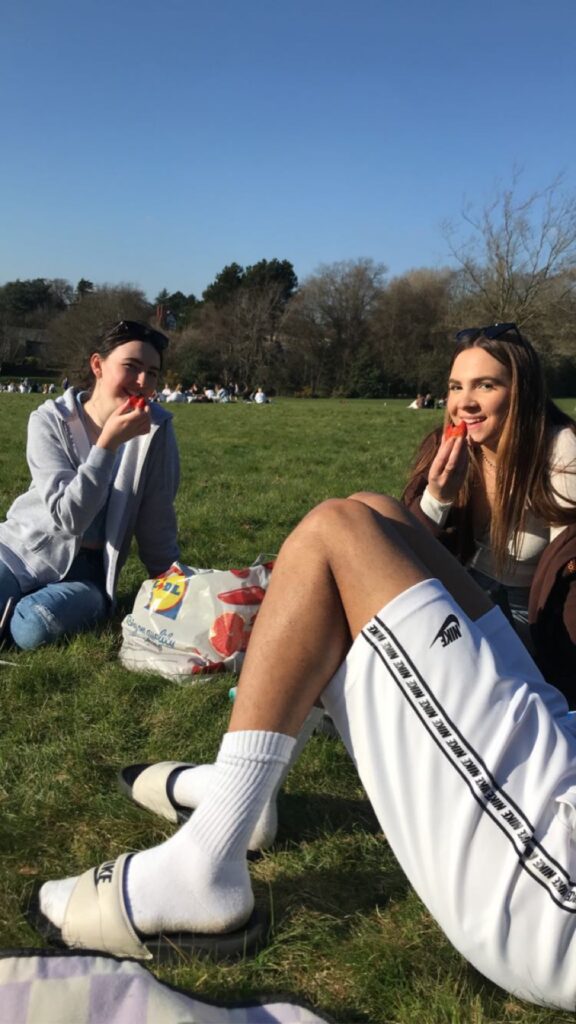 E – E scooters
One of the quickest and most convenient ways to zoom around Nottingham. 
F – Forest FC
The infamous football team with a champions league trophy in their locker and a liking for Unit 13's Dirty Mondays.
G – Geese
A curse on University Park Campus.
H – Hallward
If your go-to place to study is the silent study section in Hallward then I'm assuming you take your course seriously and are here to get your essay finished – I wish I could relate. 

I- Indecent exposure
Probably the less said about this the better.
J – Jagerbombs
Whether you love them or hate them, they can't be avoided on a night out. 

K – Karaoke
Always entertaining, no matter your singing abilities.
L – Luvyababes
The supplier of all your society costume needs. 
M – Monica Partridge
One of the superior study spaces in my opinion.
N – Ningbo Friendship Bridge
An iconic landmark within Notts which medical students will be all too accustomed to.
O – Ocean
Where else would you wanna spend your Wednesday or Friday night? 

P – Portland Coffee
You made it to campus? Go reward yourself with a well-deserved iced latte and panini at Portland. 
Q – QMC
It's almost a rite of passage to end up in QMC at least once after a night out.
R – Reading week
You always start with the best intentions to get back on track and be productive but this swiftly dissolves into telling yourself that you deserve a break from uni work and instead end up in Rock City for the third night in a row.
S – Sainsbury's/Savoy
A quick trip to everyone's favourite third most expensive Sainsbury's Local in the UK. Don't forget about the Savoy, which is the perfect Sunday activity for any Notts student.
T – TV Licence
Some students simply cannot take the anxiety of receiving multiple letters from the government and some prefer to save that much needed cash. A TV licence will be the bane of your life once you move out of halls.
U – URN
Our very own award winning student radio.
V – Varsity
The ultimate battle which will bring out your team spirit no matter the sport.
W – Wollaton Park
Ideal for a wholesome Sunday walk, complete with the iconic Wayne Manor.
X – Xmas Market
A festive favourite in the Notts calender.

Y – Yellow high vis
The sudden appearance of a NetGo man in a yellow high vis and the possibility of a £70 fine is enough to spark fear in any Notts student.
Z – Zapp Thai
What's better than great Thai food with a student discount? It's definitely a winner in the hearts of many Notts students.

Related articles recommended by this author:
• Things about being a Notts student that would send a Victorian child into a coma
• Do you take the bins out? 20 signs you're Lenton's worst housemate
• Notts Forest football players were spotted at Unit 13's Dirty Monday partying with students