The student's guide to Eurovision 2023 in Liverpool
Diss season? No, it's Eurovision season
This is not a drill, it is Eurovision season! After months of waiting, the contest is finally here. The stage has been built, the flags are up, and Abercromby Square has been renamed for the occasion. It only feels right to zone out of diss season and soak up some Europop. Throw out the JSTOR tabs and say hello to a Moldovan man singing about his wedding.
However, with all the Eurovision noise, it's hard to filter out what's actually going on while the contest is here. Well, we're not here for gatekeeping, so here's the inside line on everything Eurovision going on in Liverpool this May.
What if I don't have tickets?
There's no need to worry. You don't need to be in the arena to enjoy Eurovision — there will be a whole festival around the city over the next two weeks. The 'EuroFestival' will offer a smörgåsbord of entertainment across Liverpool free of charge. To keep track of it all, the VisitLiverpool app is a must-have (#NotSpon).
Towards the Docks, the Eurovillage will be up and running from May 5th until the day of the Grand Final, May 13th. The Eurovillage offers a whole host of festivities over the course of the Eurovision week, including a big screening of the two semi-finals. Also, make a note of this because 2016 Eurovision winner Jamala will be making her way down to the Docks to perform on May 11th.
If you want to meet the Eurovision contestants and see them perform free of charge, Eurovision news-site Wiwibloggs are taking over the top floor of Lush with an exciting programme of Eurovision events. Bath bombs and Eurovision, what can go wrong?
Keep your eyes peeled around the city, because we have some Eurovision icons staying in the city over the next couple of weeks: Conchita Wurst, Jedward, Graham Norton, Epic Sax Guy and more. You have been warned, be prepared to see Jedward waltzing down Bold Street.
Hello, what about uni?
I have a wild conspiracy that the University of Liverpool have plotted to coincide deadline season with Eurovision to spite the girls, gays and theys. However, Eurovision being in Liverpool is a once-in-a-lifetime opportunity. 
Even for the acts, some of them are taking some time out of uni to come to the contest. Jan from Slovenia's Joker Out is in the midst of finishing his master's thesis and he's had the green light to come over (to some extent). "I still have a few pages to write. If we win, I might never finish it. I'm lucky because my supervisor is a huge fan. Yesterday he texted me and he said that wishes me all the best in my stardom," he told us.
I'm sure we can try to pull the same trick.
However, there's plenty happening on campus — there's even a pop-up stage up by the gym. There's also a whole host of Ukranian-inspired sunflowers (albeit plastic) across campus, and there's a special Eurovision mural by the entrance of The Guild.
Latvia's participants did a photoshoot right by Crown Place.
Can I still have a Eurovision Party?
Yes! The Eurovision watch party is a fine art. Here are some tips to help you have Smithdown's best EuroParty.
A European theme is a good place to start — come dressed as a former contestant or in a country's national dress. Don't forget to fly the leftover flag bunting you may have from the Euros and the like to show support for our European neighbours.
On drinks, you need to offer some Eurovision-themed drinks. This year, Finland's song mentions "piña colada" and Austria's entry mentions "gas station champagne" will be mentioned in the Grand Final, so have those drinks on standby.
Drinking games are also a big part of Eurovision (just like Freshers). Here are some basic rules to get you going — take a drink if…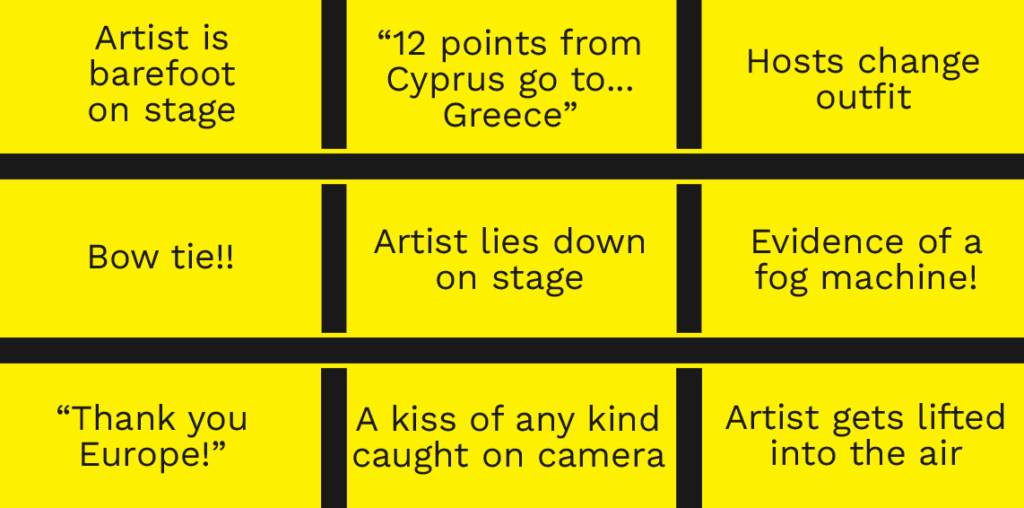 Anyways, with this unique experience coming to Liverpool, be sure to make the most of the Eurovision extravaganza. You know what? Use it as a break from all the studying inferno around you. You never know, you might bump into Jedward at Home Bargains whilst you're at it.
Who will win?
At the moment, it is looking like we have three frontrunners: Sweden, Finland and Ukraine. 
Sweden are bringing Eurovision royalty to Liverpool. No, it's not Abba. It's Loreen — the Claudia Winkelman lookalike that won in 2012. Her entry this year 'Tattoo' is the emotionally burnt-out sequel to her 2012 'Euphoria', with thumping synths, violins and all the Europop magic you come to expect from the contest. 
On the other hand, Finland's entry 'Cha Cha Cha' is a rollercoaster ride. Think of it as if a Europop banger spent a night in the dark rooms of a club in Berlin. It'll be something to behold this May.
Thirdly, Ukraine is a strong contender. Although the song is not as spellbinding as the previous two on this list, 'Heart of Steel' provides us with a haunting stage show filled with references to the ongoing war in their homeland. Will Europe continue to support Ukraine with their Eurovision votes? Only time will tell.
If you want to seem like a Eurovision expert to your housemates, you could also back France, Spain, Slovenia or Czechia for an underdog performance.