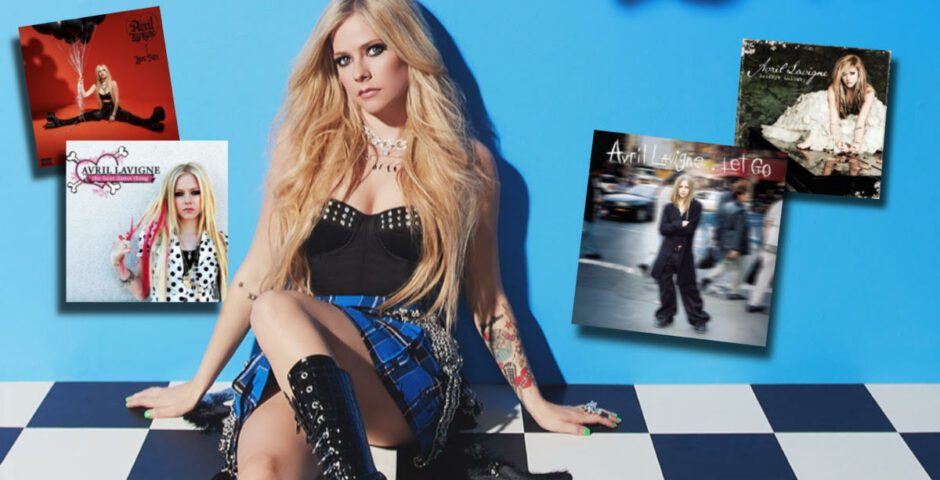 HEY HEY YOU YOU! Read this ranking of all seven Avril Lavigne albums
Need to know which one is Tyga's favourite
Avril Lavigne and Tyga confirming the fact that they're dating is one of the biggest shocks of 2023 for me so me I think, but when the shock subsided I felt like the only important thing to do was to have a deep dive into the discography of our pop punk princess to see which is definitively the best out of her seven albums. I mean, I already knew full well which was the best – but it's nice to confirm to yourself that you were always right, isn't it? Here are all seven Avril Lavigne albums ranked definitively from worst to best.
7. Head Above Water (2019)
Oh dear oh dear. When Avril Lavigne released the song's title track and lead single, hope was high and life worth living. Head Above Water (song) is a soaring masterpiece – fragile, personal, stunningly sang. Here I was ready for a mature Avril record, giving us singer songwriter excellence. But it was all a red herring. The album is an absolute mess.
We jump from the excellence of Head Above Water to the Meghan Trainor hell of Tell Me It's Over, then straight over to Best Damn Thing era sounding Dumb Blonde with a Nicki Minaj feature? What's happening? Couple that with the most boring album tracks anyone could ever compose and you've got a stinker.
6. Avril Lavigne (2013)
With certainly more highs than Head Above Water, Avril Lavigne's self-titled 2013 album is another jumble sale record that doesn't really know if it's coming or going. Rock N Roll and Here's To Never Growing Up are the highs of the record – kicking it off with the Avril Lavigne sound you'd expect. Ex-husband Chad Kroeger featuring Let Me Go  is a toe dip into the sounds of Evanescence that whilst overblown still works for me – but the cover of Chad's band Nickelback's biggest hit How You Remind Me that closes the album is corny at best.
On the hellish side, we've got the widely slated Hello Kitty which is as bad as it's always been, especially hating the "like a fat kid with a pack of Smarties" lyric. The Marilyn Manson jumpscare on this album is irredeemable.
5. The Best Damn Thing (2007)
Everyone who thinks this album is a blemish free masterpiece needs to take their rose-tinted nostalgia glasses off and stamp on them. The good stuff: Girlfriend is clearly one of her biggest hits ever, and with great reason.  Catchy, bratty, bursting with life and just such a satisfying listen melodically. The under running "So come over here" during the second verse? Pure magic. When You're Gone is one of the best and most beautifully delicate songs of her entire career. "The bed where you lie is made up on your side" – perfection. Also very happy with Hot as single three and the inclusion of the Eragon soundtrack (lol) single Keep Holding On.
The album tracks… I'm bored. They're either too bland or as annoying as the worst song on this album, the hideous title track that feels like you're being smacked around the face with pompoms by an insufferable cheerleading squad. The album that The Best Damn Thing should have been came out in 2022 instead… More on that later.
4. Goodbye Lullaby (2011)
When it comes to Avril Lavigne albums ranked, Goodbye Lullaby is certainly the black sheep. It's hard to place it, and it depends what you value in a body of work I think. For me, this album works as a bridge between her younger records and her older, with glimpses of maturity and pure pop perfection sitting side by side. What The Hell – one of my fave Avril songs ever, is still an absolute racket in the best way. Wish You Were Here is the little sister of When You're Gone – nowhere near as good but still solid. Smile is one of her most underrated bangers ever.
I just think Goodbye Lullaby edges out The Best Damn Thing for fourth place because it's massively less cringe. And for that we're thankful.
3. Love Sux (2022)
I've been on a journey with Love Sux. Bite Me, the lead single? One of her best EVER singles. An absolute tour de force of pop punk perfection, outstanding chorus, huge vocals. Love it so much. When the album came I was pretty cool on it on first listen, apart from opener Cannonball which goes off.
On repeat listens, I enjoy Love Sux more every time. Even at its most corny, the melodies always hit and it never overstays its welcome. From the title track's anthemic chorus to the call and response vibe of the chorus of Kiss Me Like The World Is Ending, Love Sux feels like putting on your favourite coat every time winter comes around – a true return to form for Avril and the perfect way for her to start off her new era with Travis Barker's label. Deluxe edition single I'm A Mess is GREAT – even if Yungblud is insufferable.
2. Under My Skin (2004)
Bloody hell, this album is great. No sophomore slump here – Under My Skin takes the tone of Let Go and plunges it deeper into the grunge and the emo-pop punk sound that really solidified Avril Lavigne's claims that she is indeed just a rawk chick who likes to rawk oot. Every song here hits, even though I think some of the single choices should have been swapped out for opening two songs Take Me Away and Together. My Happy Ending is pure Alanis in the best way, and Nobody's Home is one of her best songs without a shadow of a doubt.
Under My Skin holds up so well to this day. It somehow manages to be her most mature album even though it was her second? I love it so much.
1. Let Go
The first album the world got to hear from a then 18 year old Avril Lavigne is still almost 21 years on her best, and it's ranked at the top her albums with ease as far as I'm concerned. Let Go is a post-grunge masterpiece, and its four punch opening run is pretty tough to top by literally any artist. How can you outdo the crunchy grunge of Losing Grip into the outstanding lead Complicated, followed by era defining Sk8er Boi and her best EVER song I'm With You? You simply cannot.
Never cringe, never corny and always sounding wise beyond her years – Avril's outstanding voice is front and centre on Let Go, and the music goes from Alanis esque to bops Kurt Cobain would grin at. Mobile and Unwanted are still so strong, and the addition on last year's anniversary rerelease to include Avril's original version of the Kelly Clarkson single Breakaway is the perfect way to end this crowning jewel in her discog. Pop punk forever.
Recommended stories by this writer:
• Attention rock chicks! Every Avril Lavigne single ranked from worst to best
• Every Taylor Swift single painstakingly ranked from worst to best
• Every Ariana Grande single ranked from worst to best
Featured image credit via RCA, DTA and Elektra Records.