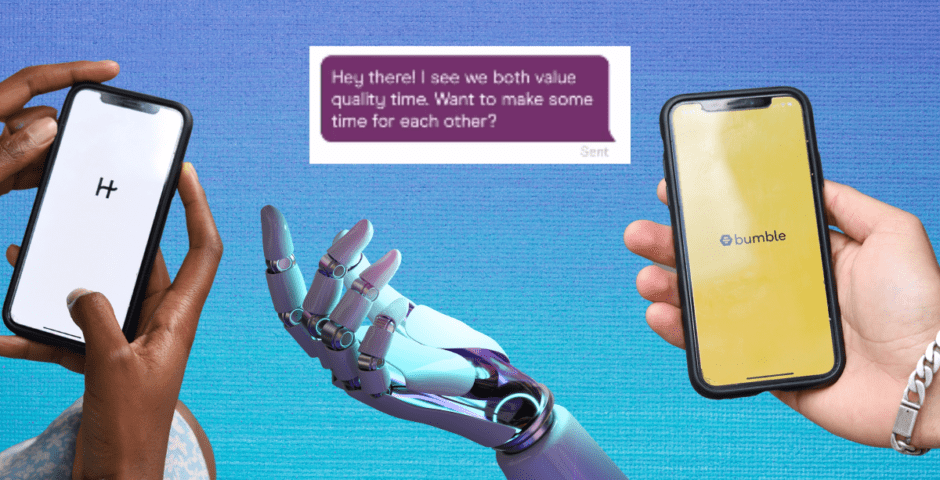 People are using this AI robot to write Hinge responses and the messages are shockingly good
Is the era of the failed talking stage over?
Thinking of what to respond to somebody on a dating app is notoriously shit. "Wuu2", the wave emoji or even "let's play two truths and a lie", are all options that will lead you down the path to another failed talking stage. Because, sorry, nobody cares what your favourite colour is or how many dogs you have.
So, in a desperate attempt to keep conversation interesting, everyone on TikTok lately has been using the AI chat bot ChatGPT to flirt with their matches on Hinge and Bumble and, surprisingly, the messages robots have been churning out are actually pretty good.
So, what actually is ChatGPT? 
Basically, ChatGPT is the best AI chat bot that has ever been made publicly available. It's sending everyone into a tailspin because it can talk like a human plus its brain is connected to vast amounts of information – unlike ours.
So, if you ask ChatGPT to write you a cover letter based on a job spec and your CV, it can do it in seconds. If you ask if to write the cover letter in a more enthusiastic tone, it can do that too. It can apparently write uni level essays, business plans, and even generate gift ideas for your family.
To put it into perspective, it took Netflix 3.5 years to reach a million users. It took Facebook 10 months and it took Instagram 2.5 months— and it only took ChatGPT five days. This free app is taking over. But it's expensive to run so, although it's free for now it's unclear how long for.
So, if  you want to use it to find the love of your life you'd better start now.
How do you use ChatGPT on dating apps? 
One TikTok user called Nate seemed to start off the trend of using ChatGPT to reply to Hinge matches: "A girl I matched with on Hinge has quality time listed as her love language," he told the chatbot. "Write me a first message to send her."
The bot then sent back three really long messages that would make you look like a serial killer if you sent them. "No, make it hornier and shorter" Nate replied. And ChatGPT then sends back three still fairly lengthy options. "Shorter than that," Nate prompts again— and the bot sends back three legitimate message options, from which he opts for: "Hey there! I see we both value quality time. Want to make some quality time for each other?"
So, within about two minutes, Nate had a Hinge message likely to be much more interesting than would have come from his human brain. It's like if your best friend had super powers every time you begged them for chat advice. TikTok commenters are now calling this phenomenon "robo rizz".
While the jury's still out on whether, working, studying, or flirting via ChatGPT is a good idea, we do have one word of warning: the software's knowledge only goes up to 2021. So, if you ask ChatGPT about something after 2021 (let's say your Hinge match wants to chat about The Traitors, for example) it won't having any idea whatsoever what you're on about and you'll have to struggle just as nature intended.
Related stories recommended by this writer:
•These stories about girls getting the ick are literally giving me the ick
•Have you caught The Ick or is it just a phase? Take this quiz to find out
•'He wanked next to me as I slept': The wildest reasons you've caught The Ick