Kendall Jenner showed fans around her home and it's honestly surprisingly…normal?
It actually looks like someone lives there!
If you were asked to come up with a few words to describe the Kardashians and their whole ethos, you'd be forgiven for missing such words as "classy" and "sophisticated" from your list. They are the official queens of palatial homes, garages full of supercars and essentially living for everything that resembles complete excess. But aren't all celebrities? Let's not forget Gigi Hadid's apartment as much as we'd like to!
Well, no – you'll be surprised to learn that Kendall has gone completely against the principles of the rest of the family with her place. Giving Architectural Digest a tour of her home (a privilege that has also been handed to such celebrities as Wiz Khalifa, Robert Downey Jr and Scott Disick), she revealed a house that ACTUALLY looks like it's being lived in. I know. And, according to the nearly three million views in 24 hours, people are pretty excited at the prospect of her having a relatively normal place to live too. Let's take a look around.
The living room and entrance
Upon entering the property, to the right is a large living room two long sofas, a vintage jukebox and a fireplace amongst other homely features. Kendall explains that there's no TV in the room so that she and her mates can have "a lot of deep talks in here".
To the side of the entrance is a large orb of light by American artist James Turrell that is reportedly worth $750,000. A lot to pay for vibes, but it's certainly a conversation starter.
If you're thinking of hanging with Kendall and are disappointed that you won't be able to kick back and watch TV, do not worry – she has a whole other living room which does have one:
Her ginormous bedroom
Next up is the bedroom in which lives a massive bed. Seriously, this thing is like two double beds pushed together!
On the opposing wall, she has another TV and a fireplace beneath. The beams in the ceiling and the arched doorways seem to be a recurring theme in most of the rooms in her house.
Is that the wrong "you're" spelling on the neon sign? Who knows, but it's a nice way of breaking up the mostly neutral colours in her bedroom regardless.
Oh, and there's ANOTHER area for her to chill away from her other two living rooms if she wants.
And a wardrobe full of more clothing and shoes than anyone could ever need.
The art room
One of the nicest features of Kendall's home is her art room, where she says that she enjoys lots of her downtime. Although she admits she isn't great at it, she calls it a kind of "therapy" where she can have some wine and enjoy herself with mates.
The kitchen and dining area
This is where she spends most of her time, and it really does look surprisingly normal compared to some of the monstrous creations that the other Kardashians are responsible for.
Deliberately mismatched chairs give this dining area a really charming feel:
The garden and outdoor areas
And finally, we come to the outdoor areas where, again, she has considerably less space than other members of her family. It really does seem like she wanted to go against the large, white and boring houses of her contemporaries.
The pool is original from when the house was first built in the 80s/90s according to Kendall.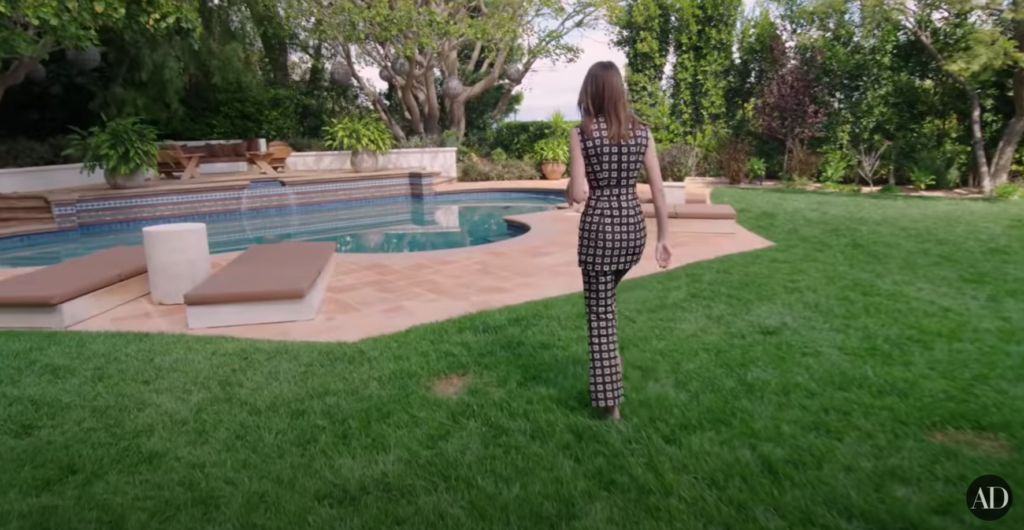 And that's it! For more of an in-depth tour watch Architectural Digest's full video on the house:
Related stories recommended by this writer:
• Drake has given us a tour of his massive mansion and the reactions are spot on
• Now Kylie isn't a billionaire, here's how much money each of the Kardashians has
• I refuse to believe this is how old all of the Kardashian and Jenner family are