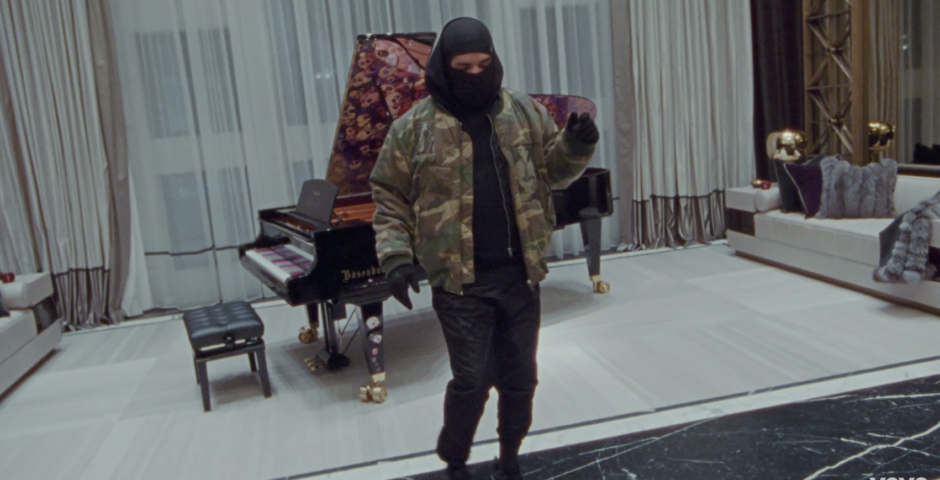 Drake has given us a tour of his massive mansion and the reactions are spot on
Just look at those ceilings
One particularly noticeable aspect of the quarantine is that we're being given the chance to take a look inside the homes of many celebrities for the first time. Whether it's Alesha Dixon being blasted when people mistook her garden for an actual park, or Justin Bieber's rumoured home being memed, there's something both painful and delightful about taking a peek inside the kind of homes that we could only ever dream of.
One particular celebrity to generously let us in through the front door is Drake, who gave us a full guided tour of his palatial home while donning a black Nike face mask. This is probably a first for music videos filmed from home during a pandemic:
As you can see from the guided tour, his house is undoubtedly very big and very fucking expensive. This was followed by a long and picture-heavy write up by Architectural Digest, who have given great guided tours of celeb homes on their YouTube channel, from Scott Disick to Nicole Scherzinger. In the article, Drake and his architect gush in depth on the particular stylistic and design choices that made The Embassy (yup, that's the name) what it is.
Which, according to many, is a sprawling, ugly mess. With a property so outlandish, many have understandably taken to social media to express their opinion on his mansion, and it ain't pretty. Here's 17 of the best reactions:
1.
2.
3.
4.
5.
6.
7.
8.
9.
10.
11.
12.
13.
14.
15.
16.
17.
Drake told Architectural Digest: "It's overwhelming high luxury. That message is delivered through the size of the rooms and the materials and details of the floors and the ceilings. I wanted to make sure people can see the work I've put in over the years reflected from every vantage point." Certainly overwhelming.
At the end of the day, you can think what you think about his choices, but you can't deny that it's certainly impressive, if not a little outlandish for the tastes of some. And he got a new TikTok trend out of it – that's dollar signs in the eyes for any modern musician.
Related stories recommended by this writer:
• We discovered a secret underground rave room locked away in our student house
• People are giving themselves atrocious home haircuts during quarantine
• Here are 35 of the best quaranmemes to come out of lockdown week two