Revealed: Sheffield Uni sought ad campaign with scandal-hit Cambridge Analytica
A leading Russell Group university sought to run a digital advertising campaign with the scandal-hit firm behind an unprecedented Facebook data leak that was used to help Donald Trump win the White House, The Tab Sheffield can disclose.
The University of Sheffield approached Cambridge Analytica at the height of the company's involvement in the Trump campaign, seeking its services to recruit new students. It has sparked fears student data was put at risk.
The Tab Sheffield has obtained emails and documents showing that the company sent an official proposal to the university in November 2016 detailing a partnership with the marketing team, and asked staff to hand over "audience" data.
However, the university staff involved in the discussions maintain that the proposal made by Cambridge Analytica was "not retained" and therefore cannot be shared. The institution initially denied any correspondence took place, before this was proven to be incorrect.
'Potential for abuse huge'
Dr Emma Briant, a former Sheffield Uni journalism academic who has been investigating Cambridge Analytica's ties to the institution, worries it was deliberately deleted when the company's dealings with Facebook were unmasked.
"The university are saying that they 'did not retain' the email. An email doesn't just suddenly disappear. You don't just accidentally knock it or something, you have to actually go into the thing and click a little box that says delete. There's a problem there.
"And there's a lot of questions to be asked about why they did that and about when they did that, that the university should be forthcoming about.
"The potential for abuse is huge. How are universities or any other organisations supposed to evaluate the companies that they are using for handling their data without any transparency over the firm's involvement?
"It's a very dangerous position to be in because if Cambridge Analytica were, for instance, to repurpose the data that they had been given by universities as clients, then the data could be used for targeting students with political messaging. This would be a massive abuse of the data."
CA collapsed after it was revealed that it used the personal information of millions of Facebook users during the 2016 EU referendum and US election to allow pro-Brexit and pro-Trump campaigners to target voters with political adverts.
Cambridge Analytica seeks student data
Discussions between the University of Sheffield and Cambridge Analytica began in autumn 2016, amid the US election, when a member of Corporate Communications, the team in charge of the institution's marketing and press office operation, first approached the firm.
In correspondence released under freedom of information laws, but redacted by the university, a Sheffield Uni staff member wrote in a webform on CA's website: "Hi, I'd like to learn more about how we might work with you on marketing and communications with our audiences here at the University of Sheffield. Especially around student recruitment. Thanks".
The company replied asking for the university to hand over data. "We would be very interested in speaking with you about how Cambridge Analytica could assist you," Cambridge Analytica wrote in an email on 29 November 2016, seen by The Tab Sheffield.
"Would you be able to share with us your current digital efforts (incl. audience) and what a 'win' from this project would look like for you?"
The email went on: "If we could learn a bit more about your current efforts and objectives that would be very helpful prior to arranging a call with you and your colleagues. Looking forward to hearing from you."
The following day a university staff member, in an email with the subject line "University of Sheffield & Cambridge Analytica", asked: "Would you say there any key areas of focus for student recruitment? With building a campaign in mind.
"I'm keen to explore these guys and how they might help us so wanting to give then at least some informed detail."
Offer of official deal
A staff member admitted in response to the FOI request that they had "a couple of phone calls" with Cambridge Analytica about "the potential to run a digital advertising campaign". Shortly after the firm sent a proposal to be considered by university bosses.
However, the university has now confirmed that this has been deleted from trace. "I've checked my own emails and records and can't find any details," the staff member said. "Given the timeframe and no action being taken, I wouldn't have kept a record."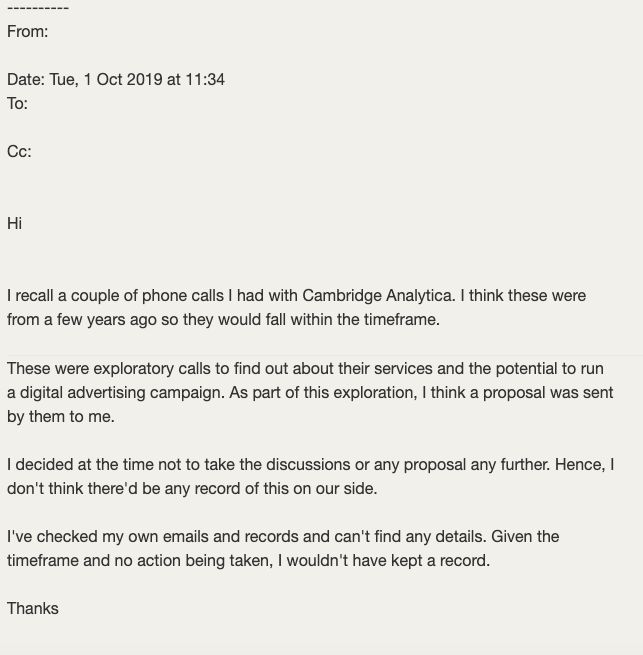 The University of Sheffield denied any student data had been shared, adding: "Nor would it have been". But Dr Briant feels the lack of transparency around the proposal raises pressing questions.
"The fact that they have apparently 'deleted' the information that was available shows a real lack of accountability for the decision making processes which parents, students and the wider public have a right to know about, with respect to students' data," she said.
"This particular firm approached UoS after the 2016 referendum, after the US election. So at the time this company was already in the news, the questions had already started being raised about Facebook data and CA, way back in 2016.
"While there's a lot of obscurity in the industry as a whole, this particular firm were becoming increasingly notorious at that time. And while UoS rejected their approach, they certainly were considering it."
A spokesperson from the University of Sheffield said: "The University often works with agencies as part of its digital marketing work and in 2016, a preliminary proposal was provided to the University by Cambridge Analytica.
"This proposal was not taken forward by the University and at no point was any student data shared, nor would it have been."