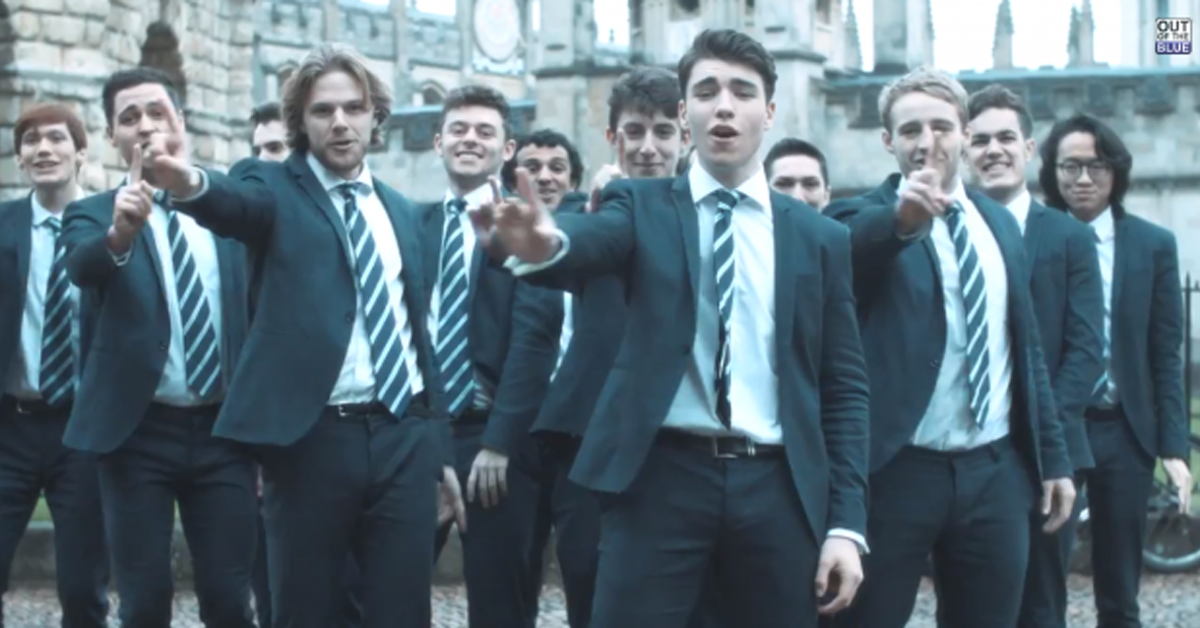 Attractive Oxford a cappella boys cover Mariah Carey's 'All I Want For Christmas'
Hot young studs cover busty older woman
World famous a cappella group Out Of The Blue are hoping for a festive Number One hit — with a sugary cover of Mariah Carey's 'All I Want For Christmas'.
The strapping boys have recorded their own Glee-style version of the Christmas classic, showing off their tight tailored trousers and camp dance moves.
The 14 clever hunks are trying to raise as much money as possible for Oxford children's charity, Helen & Douglas House.
Handsome singer Joel Fisher said: "We sing because we love to sing, and have a lot of fun with it.
"We don't pick songs to look cool otherwise we'd be singing Backstreet Boys.
"Our Shakira cover showed that we can do what we love and have fun – and that's why 'All I Want For Christmas Is You' was the perfect song for us to cover."
The dishy group shot the video over three days in some of Oxford's most iconic locations – including the famous Bodleian Library.
Second year maths student Joel added: "We got a lot of funny looks from people walking past when we were filming, but we love all that.
"It's a laugh for us, and if we can raise some money for a fantastic and very worthy cause, then we feel we should.
"We're going to tweet our video to Mariah, so fingers crossed she'll get back to us."
Right-of-centre cultural critic and Mariah fanatic Milo Yiannopoulos said: "Sorry to be rude, but there's something a bit grim about men singing Mariah Carey songs, whether it's kids with cancer on Oprah or delusional wannabes on American Idol.
"I'm afraid this version really takes the yule chocolate log.
"Don't get me wrong, previous covers by Out of the Blue have been witty, inventive and surprising, but they need some new schtick, because this reworking of All I Want For Christmas Is You achieves the near-impossible feat of being more icky and irritating even than Mariah's own 2011 "SuperFestive!" edition featuring Justin Bieber.
"Still love you for Hips Don't Lie, though, guys."