I tried as many of the Jalou cocktails in one night as I could and here's what happened
Jalou is well known in York for its cool interior and delicious cocktails, so I decided to set out to try and rate as many of Jalou's cocktails as possible. All in one night. As some of you may know Jalou has over 40 cocktails (including their shooters) so obviously this was a big undertaking, so I enlisted some friends to help me and our adventure commenced.  
So while I don't recommend trying this (especially as it hurts the bank account even more than your head the next morning) keep reading to see my increasingly-drunk thoughts on all the cocktails I tried: 
1. Solero
Refreshing, fruity, nostalgic. I normally get a bit scared of anything creamy in cocktails but this works super well: 7.5/10
Sober translation: not really sure this one needs any translation, still nice and coherent and a pretty honest review. Would definitely recommend. 
2. Bubblegum Daiquiri
Super sweet, the frozenness reminds me of being on a tropical holiday. Good vibes: 8/10 (Popping candle sprinkled on top adds a point for sure)
Sober translation: Again, still sober at the time of writing so nothing to see here. 
3. Bubble Butt
Machine broken so no bubbles, but the prosecco gives us the bubble content we need. Delicious: 8/10
Sober translation: I do remember being rather upset at the lack of bubbles as I feel that does add to the immersive experience of this drink and without it I guess it's just called "butt" but it was super delicious so can't really complain. 
4. Forgot About Wray
Super yummy: 9/10. Can't taste the alcohol but not too sweet. Honestly a wining combo.
Sober translation: our highest rating so far so clearly I enjoyed this one a lot and we still seem to be nice and sober. All is going well. 
5. Bee-yonce
Very strong flavour of honey which honestly I wasn't a huge fan of but sweet: 4/10
Sober translation: If you like honey, definitely a winner but personally not for me. In terms of my sobriety we're still doing well here at drink five. 
6. Zombie Bomb
The glass was far too reminiscent of Jagerbombs. Made me feel a little ill.
Sober translation: Didn't even manage to give this one a score out of 10 so clearly I was struggling a bit too much with the aesthetics. If I remember correctly it was actually pretty nice but I think I'm just a bit scarred by Jagerbombs. Defo worth a try for those of us without Jäger-phobia.
7. Irish coffee Shooter
8/10: creamy. 
Sober translation: Here we see the first feature of my good friend Rowan looking absolutely overjoyed with his shooter despite being a man of very few words. He did give it an 8/10 though so I guess we can assume it's good. And creamy. 
8. Lemon Cheesecake Shooter
7/10
Sober translation: Even fewer words here from our second guest star George. So honestly don't have much to go on here. 7/10 seems like a solid enough rating though. 
9. Jalou Zombie
Doesn't even taste like alcohol, more like fruit juice: 7.4/10
Sober translation: after our brief exploration through some shooters we were back on the cocktails for drink nine. Slightly vague review and an overly specific rating so all in all we weren't too helpful here (apologies). Have to say the tiki glass with a butt on the back was definitely one of my highlights of the night, almost wanted to take one home. 
10. Woo Wu Tang Clan
Also tastes like there's no alcohol. Nice and sour and yummy. 8/10 and Haribos!! Fun little bonus!
Sober translation: two consecutive drinks that don't taste like there's any alcohol is beginning to make me wonder if maybe we were just getting drunk by this point and not noticing??
11. WAP
Sweet and delicious without being overwhelming. 8/10
Sober translation: Surprisingly, seem very coherent here, a solid review and rating. Nothing to complain about. 
12. Hypotenuses
(
Sober Translation: Hypnotiser)
Super sweet, can't taste the alcohol, honestly incredible. 9/10
Sober translation: despite having to Google the Jalou menu whilst writing this to try and figure out what drink I was referring to, the review seems pretty solid and the rating is high, I was clearly just losing my ability to type all that well. 
13. Ghetto Grande
It is delicious. 8.5
Sober translation: hardly needs much translation. Cheeky little smile. No problems here. 
14. Spiced Zombie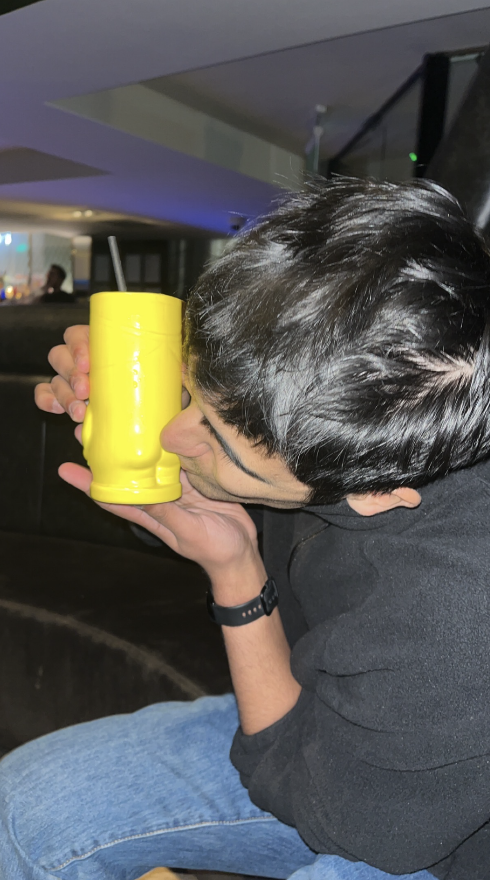 "Interesting facial expression. Spongy. Butt." 9/10
Sober translation: I have several problems here. Infuriating. "facial expression" – what facial expression? Can't even see his face. I'm not sure how spongy or butt really describes a drink but a 9/10 is hard to argue with.
15. Strawberry Lychee Mojito
Super nice, cute, yummy, lush. 8/10
Sober translation: Coherent review, and a very smiley face. Wholesome vibes from number 15.
16. Strawberry Cooler
Fu**ing delicious. That's a nine. Repeat we have a nine: 9/10
Sober translation: I feel like there was some passion behind this one. And the smoulder is intense. Must have been good. 
17. Kiss Me More
Sweet and fruity. Just how I like it
Sober translation: no rating, just a slightly weird comment. I don't really know what my thought process was here. Sorry.
18. Look At Me Now
So by this point things clearly got too muddled for me to even take photos of this drink, but here's what drunk me had to say about it: 
"4/10, sweet but also kinda soapy 6/10."
Sober translation: two separate ratings? I guess we have an average of 5/10? No wonder I didn't manage to get a photo because clearly I had no idea what was going on. 
So that concludes my (somewhat coherent) reviews of all the Jalou cocktails I tried in one night. In total 18 isn't a bad amount, so I'm pretty impressed with myself. The rest of the night involved cheesy chips from Chico's and a long walk home, and then watching a movie I genuinely can't remember. Overall, the cocktails were incredible, the company somewhat questionable, and the vibes – immaculate.
Related stories recommended by this writer:
• York has been voted the safest city for a night out
• Rainbow colours and celebrations: Here's what happened at York Pride 2023
• From snazzy to sickening: A definitive guide to the best and worst toilets on York's campus