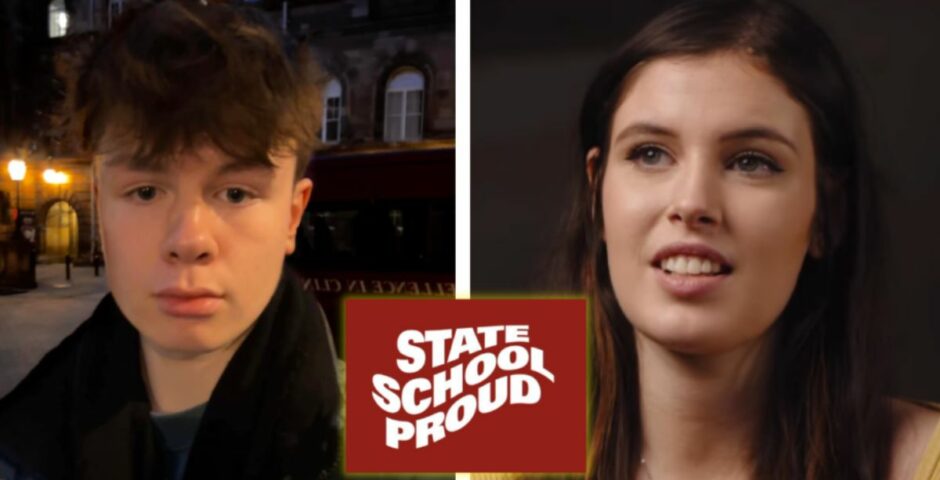 What we learn from listening to Edinburgh University's state school students
'You are worthy of your place here, you are good enough'
Under seven per cent of students in the UK are privately educated. At the University of Edinburgh, it's over 35 per cent, making it the fourth most elite university in the country – and if you went to a state school, you can tell.
A new student documentary series has highlighted the struggles of life at Edinburgh for those from state school backgrounds, revealing that students have their accents mocked, are ridiculed for getting a job at uni, and feel generally isolated.
Edinburgh University says it's proud of its "diverse university community", but sometimes it feels anything but.
Five short films were produced by The 93% Club, a student society which aims to represent those from less privileged backgrounds at British universities. Each installment of the 'State School Stories' campaign gives voice to a state school pupil who now studies at Edinburgh – here's everything we learned.
A lecturer 'mimicked my own accent back to me'
Catherine, a second-year English and Scottish Literature student from Glasgow, explains how her state school background has held her back at Edinburgh: "I had a Scottish Literature lecturer mimic my own accent back to me when she had an English accent", she says.
"That was a pretty insulting moment seeing as the piece she was reading from had been in Latin and translated into Modern English, and I just thought that was very inappropriate".
But students are at fault too. Catherine said she thinks her peers are "very guilty often of making very quick comments about just how ridiculous we sound, or how we sound less intelligent, or the way we speak is so unintelligible that they aren't even gonna bother to listen".
Sadly, this is far from uncommon at the university and across Scotland. 42 percent of Scottish students have experienced accent discrimination, and the Edinburgh Tab recently reported on the experience of Northern Irish students with accent discrimination.
'You are worthy of your place here'
Lorna, a fourth-year Mathematics and Biology student from Perth, agrees: "I didn't expect to feel, sort of, out of place and as an outsider being Scottish at a Scottish university so, for me, that was quite a big shock".
But the change from state school to university isn't just cultural, it's academic. Whilst this is true for everyone, state school students have always had less attention from their teachers, fewer extra-curricular academic opportunities, and often, less access to educational resources.
Private schools perform to a higher standard than state schools on average. The Scottish Qualifications Authority reports that in 2022, the attainment rate of an A at Higher in independent schools was 63 per cent. Comparatively, this figure dwindles to 34 per cent in state schools – almost half as many.
"I think it's important to be state school proud because we literally make up a large majority of the UK population, yet here we feel out of place and other and not as intelligent as our peers that had a better education than us", Lorna said.
"You are worthy of your place here, you are good enough, and if anything you maybe worked that little bit harder to get here".
Speaking about the value of The 93% Club, Lorna believes it wouldn't be needed if students were treated as "equals", or if private schools simply didn't exist and the funding was redirected to the state sector.
'I'm made to feel unusual or different'
Sophia, a second-year Social Policy student from Falkirk has also felt out of place at Edinburgh. "I was really surprised about how out of place I would feel as a state-educated student and how difficult it was to relate to people, that was not something I'd ever thought about".
She commutes to Edinburgh Uni, since her hometown is nearby – something she says has been mocked by other students, making her feel "unusual".
'The odds are stacked against you'
With schools on the Independent Schools Council boasting an average student-to-teacher ratio of 8.5 to 1, it's no wonder its students are more confident at university in social and academic settings. Some state schools' ratios are 12 to 1, or even higher.
Sandy, a fourth-year Law student from Perth emphasised the need for The 93% Club, because "the odds are stacked against you, especially at Russell Group universities; if you've made it here then well done, you've done amazingly, be proud of yourself."
Even with the university's Widening Participation scheme to improve the experiences of those from disadvantaged backgrounds, Grace, a second-year Politics and Philosophy student from North Yorkshire, said there's still a "really long way to go".
She too felt out of place because of how she spoke: "Before I sort of found the 93% Club, I'd literally met one other person with a Northern accent who sounded like me… it was so good to not, like, feel alienated anymore."
It can feel like the university shows a lack of respect for state school students in its admissions processes. We state school students need to make our voices heard, push the university to acknowledge how much harder it is to get into university as a state school student, and tackle the intolerance of our student and teaching body.
We bring unique perspectives to university, which can challenge assumptions about life and the world around us. By listening to and engaging with state school students, the University of Edinburgh can facilitate a more inclusive and diverse environment for everyone – something we desperately need.
Responding to the concerns raised in this article, a spokesperson for Edinburgh University said: "We are incredibly proud of our diverse University community and want to ensure that all of our students can flourish at Edinburgh, regardless of their background. More than 80 per cent of our entrants from Scotland consistently come from a state school and the proportion of students from Scotland's most disadvantaged areas has almost doubled since 2015.
"After listening to students, we are introducing a new support model that provides students with more dedicated pastoral and academic guidance throughout their studies. We always promote a positive culture that celebrates difference, challenges prejudice and ensures fairness and our Dignity and Respect policy sets out clear expectations of behaviour".
Featured image via Instagram @93clubedinburgh.
Related stories recommended by this writer:
• Russian societies around the UK call on students to speak out against war in Ukraine
• Over 10,000 Scottish students denied university accommodation each year
• 'Vastly underestimated by peers and the university': Edi's Ukrainian students on the anniversary of the war