Words of wisdom from the girls' bathroom graffiti
If these walls could talk, boy would they have some interesting things to say 
How's a bitch like me meant to get through an arduous trip to the grotty club toilets without some positive words of affirmation?  Fortunately, this is never an issue because the cubicle walls are always adorned with profound literature.
Phrases like "finger a fanny before you die" may just seem like drunken drawl to you, but future historians will look back on these proverbs with the same awe and curiosity with which we view cavemen paintings.
So from the scriptures of the sharpie, here's some life advice from various club toilets to get you through deadline season.
'Stop ya pooing start ya pursuing'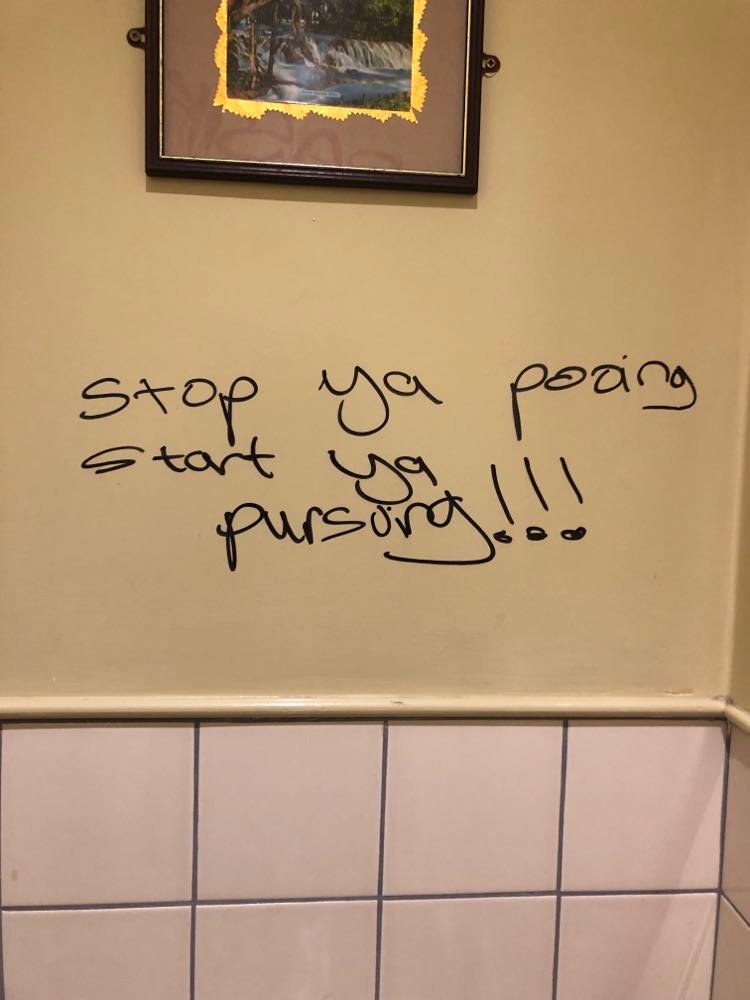 Starting off very strong with this absolute corker from The Star and Garter bathroom. Toilet humour, motivation and a rhyme? Doesn't get much more inspirational than this.
'Babes, don't worry about your pointy nips <3' 
Random girls in the bathroom calling me 'babes'>>>creepy men in the street calling me 'babes'. Crying in the cubicles over a silly boy? Not on this girl's watch. I just know she'd give you the most uplifting pep talk. Maybe I won't worry about having pointy nips after all.
'HAVE FUN STAY SAFE LIVE FAST EAT PUSSY DO GOOD THINGS'
Pretty sure Mother Theresa already said this but whatever, live fast die young bad girls do it well xoxo.
'Sam Fender, I fucking love you! xx 
-That's so wet'
Seventeen going blunder more like! Sorry Sam Fender, the girls bathroom does not claim you and you're not welcome in this toilet apparently.
'Without loo roll I'd have a smelly fanny :)'
I recognise this handwriting and vulgar charm anywhere. Definitely the same culprit of "Stop ya pooing start ya pursuing". Banksy's been real quiet since this mystery menace has been hitting the bathrooms.
'If you make my eggs like you fizz my tum I'll think about texting but not during bakeoff' (?)
submitting this one to r/handwriting because still not quite sure what the fuck it says. If you make my eggs like you fizz my tum, I'll think about texting but not during bakeoff? Maybe? I want to be this drunk. Whatever she's talking about; speak your truth sister.
'Be gay, <3 DO CRIME <3 – Danny Devito xox'
I love when artists collaborate. Truer words have never been spoken. The fact that it's signed off by Danny Devito (with his signature xox) is just the icing on the cake. So good.
Related stories recommended by this writer:
• Bristol University launches joint drug harm reduction campaign
•The Bristol Tab's Clubbers of the Week
•Bristol University launches joint drug harm reduction campaign