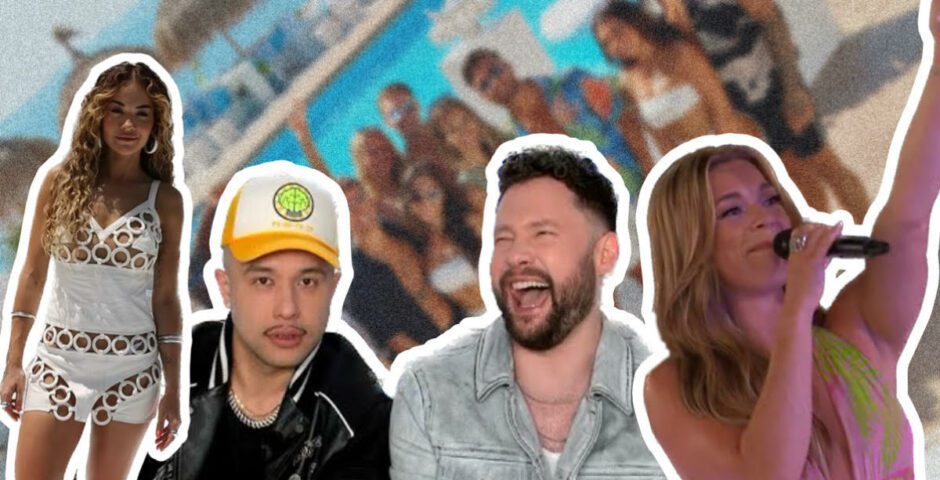 From Ne-Yo to Joel Corry: Ranking all the Love Island music guests from worst to best
Rita Ora is to me what Craig David is to Anton
The Love Island music guest every season is a certainty as true as the sun rising – we know it's coming. Despite this inevitability that we're going to probably endure rent-a-gob Becky Hill bellowing that she wishes us well at least once a season, we still shake in our little Islander boots every time we get the preview that a music guest is coming. This year was one of the best ever – the ante was upped considerably. Here's a definitive ranked list of all the Love Island music guests that I've spent way too much time agonising over.
11. Calum Scott
Calum Scott should be tried at The Hague for the crimes he's committed against Robyn's Dancing On My Own. The fact more people associate one of the greatest and most heartbreaking pop songs of all time to him and his maudlin acoustic cover devastates me in ways I can't stress. It's beyond belief.
10. Tom Zanetti
Tom Zanetti is a bit anticlimactic considering he's kind of like a Love Islander who just happened to blag himself a music career. At least he got a romance with Hayley Hughes out of it.
9. Becky Hill
Rent-a-gob Becky Hill might as well be on the ITV 2 payroll because she's on this show more than Maya Jama. Free us.
8. Ne-Yo
Would have been higher if he didn't have a transphobia scandal mere weeks after his appearance, which he then apologised for and then doubled down on the day after reversing the apology.
7. Sean Paul
Sean de Paul deserved better than the worst Love Island season of all time. He's got the hits. The first Winter Love Island got lucky here.
6. Jax Jones
Have significantly lowered him on the account of the fact he came in with Calum Scott, but Jax Jones has the titslappers. I would go as far to say that I am a Jax Jones stan. He should have brought RAYE in with him, end of.
5. Mabel
The Islanders paid Mabel dust. She's a bit of a can't be arsed pop queen who gives one per cent at all times, but she was giving a live performance of Let Them Know – one of the campest bangers on earth. Huge "watches Drag Race once energy". Lerrem know, I say!
4. Joel Corry
Joel Corey and Love Island go together like beans on toast. One cannot exist without the other. I truly believe that Love Island interludes are the catalyst for the success of Corry's music career. He's now in a relationship with Islander and "sucked tits" icon Coco Lodge. They are one and the same. King. an old faithful amongst the music guests on Love Island ranked here.
3. Rita Ora
Kind of the queen of pop when you think about it. She really does have the HITS and if I was in Love Island and Rita Ora came in to sing Praising You to me I'd be in bits. I love her. Even when she butchered Running Up That Hill within an inch of its life I still bowed at her alter.
2. Alfie Boe
I have an overwhelming crush on The Boe. I had a strange, hyper-fixation era with Les Misérables when I was a teenager. Don't ask. My favourite version was the 25th Anniversary Concert, which I watched about once a week. Alfie Boe played Jean Valjean. I used to watch the behind the scenes doc all the time too and he charmed me with his northern ways. I guess what I'm saying is if I got to see him with my own eyes in the villa I'd be losing my tiny little mind. The Boe is a wildcard, but a wow card.
1. Craig David
Craig David is truly one of the most legendary British artists of all time – his impact in the garage scene was unprecedented and Love Island getting him booked was nothing to sniff at. I do not blame Anton for his infamous tears at the sight of Ar Craig. Easily the top spot when getting Love Island music guests ranked – it doesn't get better than this!
For all the latest Love Island news and gossip and for the best memes and quizzes, like The Holy Church of Love Island on Facebook.
Related stories recommended by this writer:
• 'He's so in love': All of the signs Catherine and Scott are actually back together
• Revealed: The amount of cash the Love Island 2023 cast can earn on Instagram
• A breakdown of which cast members were scouted and who applied for Love Island 2023