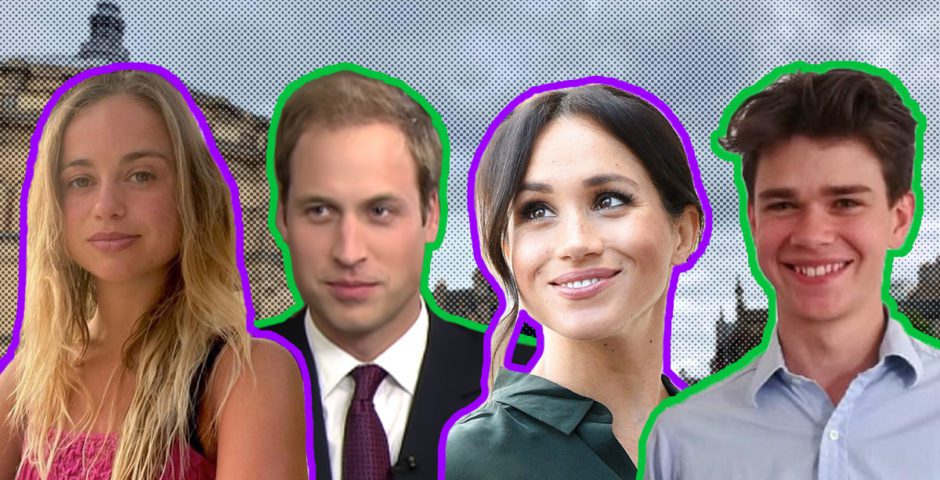 From Exeter to Edinburgh, this is exactly where all the royals went to university
Prince William said he 'kept falling asleep in lectures' when he was at uni lol
You meet all sorts of people in your university halls kitchen, from all over the country – but imagine unpacking your Tupperware on the first day of Freshers' Week and an actual member of the royal family walking in. It turns out a whole load of the royal family went to university – from the expectedly boujee unis of Edinburgh, Exeter and Cambridge, to the vibey party city of Newcastle.
Princess Anne apparently once called university "a highly overrated pastime", and Prince Harry famously also didn't go to uni, but instead had a gap year and then joined the army. But where did their family members go to uni? This is exactly where the royal family members went to university.
Here's which universities the royal family went to, and what degrees they all studied:
Prince William – St Andrews
After getting AAC at A-Level and taking a gap year, Prince William began at St Andrews studying history of art in 2001. He ended up changing to geography and eventually graduated with a 2:1. He's said in the past about his original degree: "I had to give it up – I kept falling asleep in lectures, it was terrible." Relatable.
For security reasons he apparently came to university slightly late and missed Freshers' Week. Prince William is also said to have called himself Steve at uni, to draw less attention to himself. He said he had "drapes up" in his room to make it "more cosy", and said he loved playing music – apparently loud RnB.
He played water polo and was the captain of the team. In 2004 he represented the Scottish national universities water polo team in the Celtic Nations tournament against Wales and Ireland.
View this post on Instagram
Whilst at uni, William apparently loved sambuca shots and a £135 cocktail called Treasure Chest, which is served in a wooden chest and is a combination of peach liquor, brandy and champagne. Yum. "Everybody thinks I drink beer but I actually like cider", he said in an interview for his 21st birthday.
Wills and Kate famously met at St Andrews. They lived in St Salvator's Hall in first year, before the two of them moved into a terraced house at 13a Hope Street, near the uni, with two other friends. It cost them all £100 each per week and they'd throw dinner parties for their mates. William apparently would try to impress Kate by cooking "these amazing fancy dinners", but has said he would end up burning it or setting something on fire. In their final year the two, who were then supposedly dating, moved into a more private cottage with some mates.
Kate Middleton – St Andrews
Kate Middleton studied history of art at St Andrews after getting AAB at A-Level, and graduated in 2005 with a 2:1. She'd originally had an offer from Edinburgh, but decided not to go and instead went on a gap year around Italy and Chile.
Kate became friends with Prince William in their first year at St Andrews, but it's widely speculated that Will fell for her after she wore a sheer black dress in a charity fashion show at the uni, which he had a front-row seat at. At the time though Kate was dating a fourth year student called Rupert Finch.
She co-founded a women's drinking society – reportedly after being "annoyed that the old ones excluded women", but apparently didn't get "very drunk". The Lumsden Club is a club for female students who want to get involved with charities, and also attend the odd champagne reception every so often.
Meghan Markle – Northwestern University in Chicago, America
At Northwestern, Meghan was in the Kappa Kappa Gamma sorority. She graduated in 2003 with a degree in theatre and international relations, she really just manifested both of her future roles. Meghan sounds like the ideal uni housemate, one woman who also was in Kappa Kappa Gamma called her "this ethereal, sophisticated, beautiful creature who lived with us and was always willing to lend you a top".
Princess Eugenie – Newcastle
It's been revealed that Princess Eugenie was initially rejected from studying English lit at Newcastle, as the entry requirements were AAA and she only achieved AAB at A-Level –  but she was apparently allowed to study combined honours English lit, history of art and politics because she "had more significance" than other applicants. Eugenie graduated with a 2:1 in 2012.
Her halls cost £96 per week and she reportedly had round the clock protection from Met Police bodyguards, said to cost £25k per year. In her final two years she lived with seven friends in a student house.
Princess Beatrice – Goldsmiths
Eugenie's sister Princess Beatrice decided to stay in London, and got a 2:1 in history and the history of ideas (yes, that's a real degree course) from Goldsmiths in 2011. During her first year's summer she worked as a sales assistant at boujee department store Selfridges.
Peter Phillips – Exeter
Anne's son Peter went to Exeter, graduating in 2000 with a degree in sports science. At Exeter he was part of the uni's Rugby League team.
Zara Tindall – Exeter
Peter's sister Zara also went to Exeter, and studied physiotherapy after a gap year travelling around Australia and New Zealand. She apparently specialised in equine physiotherapy (like, on horses) and went on to win an Olympic silver medal as well as an MBE for her services to equestrianism.
King Charles III – Cambridge
Charles got five O-Levels (GSCEs) and two A-Levels, a B in history and a C in French. He then got in to Cambridge University, where he began studying at Trinity College in 1967. He was the first British royal to get a university degree, and came out with a 2:2 after studying history, archaeology and anthropology.
Prince Edward – Cambridge
Prince Edward got a C and two Ds at A-Level (yikes) before following in his brother's footsteps and getting in to Cambridge, where he was at Jesus College. Edward graduated in 1986 with a 2:2 in history. His admission to the university was controversial because of his A-Level grades.
Sam Chatto – Edinburgh
Sam Chatto is the grandson of the Queen's sister Princess Margaret, and he is currently 29th in line to the throne. After going to Eton (naturally), Sam went to Edinburgh, graduating in 2017 with a degree in history of art. Sam is interested in yoga, travel and pottery making, and his Insta is very wholesome. He has almost 100k followers.
Arthur Chatto – Edinburgh
Sam's younger brother Arthur also went to Edinburgh and also studied history of art. After graduating he joined the Royal Marines. Arthur no longer has Instagram, but when he had an account it showed him enjoying working out, arctic diving, mountain climbing and playing the bagpipes.
Amelia Windsor – Edinburgh
Amelia Windsor is the granddaughter of Prince Edward, the Queen's cousin. She is currently 42nd in line to the throne. She goes by Mel and studied French and Italian at Edinburgh. Mel has over 100k followers on Instagram, has gone to Glasto, and is a model and sustainable fashion activist.
Featured image overlays via Instagram @amelwindsor / ITV / SWNS / Instagram @samchatto
Related stories recommended by this writer:
• Parties, living together and a break up: Everything we know about Kate and Will's relationship at St Andrews
• Meet Amelia Windsor: Edinburgh fourth year and member of the royal family
• Who were Diana's flatmates she lived with before marrying Prince Charles?