You can only call yourself a posh girl if you own these 38 things
Though there are 13 different types of posh people and posh girls in particular like to think they are all individual and follow no trends, there's no denying posh girls are essentially all the same blonde, tanned, flare wearing girls.
Most posh girls own the exact same items which makes up the rich girl uniform, I'm talking Vivienne Westwood necklaces, headbands and Gymshark leggings.  Maybe it's all those days in private girls' schools that's made them want to dress like clones of each other?
Regardless of whether they're edgy posh or basic posh – these girls will always have a vintage Adidas sweatshirt, a halter top and a Longchamp bag. It's the universal sign of having a lot of money in the bank.
And if you don't have at least three quarters of these items, then you really can't yourself a posh girl:
1. Vintage sweatshirts
Adidas, Ralph Lauren, Reebok. They will be worn on repeat and they will all be from Depop.
2. Cable knit jumper
Probably a Ralph Lauren one let's be honest, which will worn when visiting her second home in the country or by the sea.
3. Sunday lunch outfit
This is an exact formula of skirt, boots and a turtle neck jumper and everything will be from Zara. An obligatory photo with prosecco in hand will be taken of course.
4. Halter neck top
What else do posh girls wear on a night out?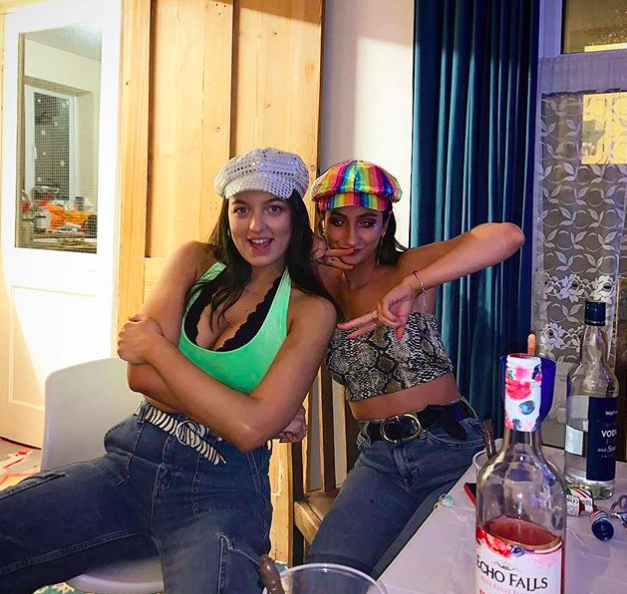 5. Tube top
Even more basic than a halter.
6. Flares
Black, zebra print or striped – they're not fussy.
7. Flared jeans
Different to the flared trousers as those are strictly for night outs whereas flared jeans are essential for days in the library.
8. Slazenger skort
Worn for anything other than actual tennis.
9. Fiorucci anything
But most likely the jeans or sweatshirt.
10. Gymshark leggings
They probably go to Exeter and spend an obsessive amount of time in the gym working on their bum.
11. Ellesse tracksuits
Again, will only be from Depop. They probably have a little business going on there as well.
12. A North Face or Canada Goose Jacket
Depending on how much you don't give a fuck about animals, you'll probably get a Canada Goose jacket. If you have a conscience you will get a North Face puffa, which will of course be the black one.
13. A Longchamp bag of some variety
Mainly seen during college, a posh girl will have the tote in black, navy and beige.
14. The Louis Vuitton checked brown bag
For the Fiat 500 posh girls all the essentials have to be carried in this.
15. Air Force 1s
This doesn't require an explanation – every single posh girl has a pair of dirty Air Force 1s.
16. UGG slippers
I'm talking proper slippers or sliders not UGG boots. The slippers are worn around their home in Surrey which is complete with an AGA and weekly Ocado deliveries.
17. Hunter wellies
How else are you gonna walk around your estate?
18. Tiffany anything but probably the heart necklace
This is for the basic posh girls who go around collecting those little blue boxes like it's their only job. Which in reality, it probably is.
19. A Vivienne Westwood necklace
The edgier posh girls wouldn't be seen dead without this necklace.
20. Gold hoop earrings that don't go green
No one knows where they get these chunky hoops from, we're just gonna have to let it go alright.
21. Headbands
Probably from Anthropologie.
22. Scarves folded in half and worn to look like a milk maid
Last year's headband girls have moved on and are now covering their heads in scarves, wearing square shaped sunglasses and stacks of jewellery.
23. A bucket hat
Potentially tie-dye, nearly always from Urban Outfitters and worn on every single night out without fail.
24. A MacBook
These will literally be chucked about, drinks spilt on them posh girls – don't really give a shit. But obvs they couldn't lose it because it has all their photos from Bali.
They will be used as the laptop to get the music on for pres and they will spend every lecture tapping away on it planning the next night out.
25. A Fiat 500 or a Mini
Look no one wants to admit to being Fiat 500 driver and if anyone finds out you'll blurt the classic excuse that your parents wanted to buy you a safe car. And not because you thought it was cool when you were 17.
26. A horse
Only true posh girls have their own horse and spent their childhood weekends at dressage contests.
27. A dog
It's the breed of dog that makes it posh. Labradors, retrievers and spaniels are the classic posh dogs. It's a Cocker Spaniel if you live in the country and a  King Charles Cavalier if you live in the city. They will all be called Monty.
28. Disposable camera photos
These will be all over her uni bedroom wall and will include pics from festivals, summer holidays to Italy and her first nights out.
29. AirPods
How else are you gonna show the world you're rich?
30. A Chilly's water bottle
All posh girls will be seen wondering around the library with this bottle and their Mac, stopping to chat to every single person they know.
31. Keep Cup
Most likely the clear one with the cork.
32. Big number silver or gold foil balloons for your 18th or 21st birthday
An Instagram birthday post is literally not complete without these, what is the point in even having a birthday if you don't get that shot?
33. Glossier makeup
Posh girls fall into one of two categories – the girls who love makeup and the ones who claim to never wear makeup. They're lying – they're wearing Boy Brow and Cloud Paint.
34. Charlotte Tilbury makeup
The other posh girls love Charlotte Tilbury, Fenty and all the Urban Decay they can get their hands on. And you will be waiting two hours for them to get ready at pres.
35. A Jo Malone or Diptyque candle
No one else's uni bedroom is smelling this good.
36. An effortless tan
Yes it could be from their holiday on the South of France or they've been putting on fake tan since the age of 12 at their all girls private school and are now elite experts. Either way you'll never know.
37. Best selling feminist books
Florence Given is their god and their bookshelves are full with aesthetic feminist books that they will never read.
38. A NutriBullet
Yes even at uni they will be sipping on that green juice.
Related stories recommended by this writer:
•Take this quiz and we'll tell you what posh girl name you should have
•There are thirteen types of posh and I am about to tell you which one you are