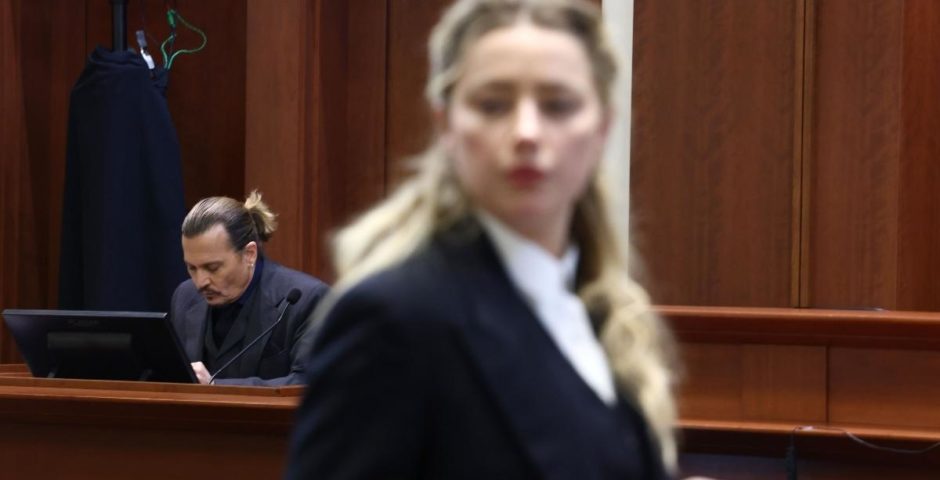 Johnny Depp's private texts revealed as actor undergoes intense cross-examination
His chat with Paul Bettany has been described as 'angry'
Live: This is a developing story and is being continuously updated.
A string of emails and texts sent by Johnny Depp to his various celebrity friends have been unveiled in court, as day one of his cross-examination came to a close.
Conversations with Paul Bettany, Elton John, Marilyn Manson and Stephen Deuters (Depp's personal assistant) were each used as evidence against him. The "violent" messages mainly concerned Amber Heard, who is suing the actor for defamation. Vanessa Paridis, Depp's ex-partner of 14 years, was also briefly mentioned.
Depp's questioning by J. Benjamin Rottenborn (Amber Heard's lawyer) covered his history of drug addiction, as well as arguments he had with Heard.
Within the first 10 minutes of Depp's cross-examination, texts exchanged between himself and Marilyn Manson in 2012 had already been pulled up. These specific messages involved the pair talking about smoking weed – with one of Depp's texts reading: "I take pot."
An image of four large bags containing cannabis stored in Depp's recording studio was shown to the court, as the actor remarked: "That's a lot of marijuana."
The tension within the courtroom became palpable as Vanessa Paridis – Johnny Depp's ex-partner and "the mother of my children," was mentioned in an email to Elton John.
While Depp stated "my kids have fallen in love with my new girl (Amber)," he branded Paridis (who is French) a "French extortionist" and "my ex-c**t."
Further emails sent to Stephen Deuters revealed Depp had trashed a hotel room during his marriage to Heard. "I got drunk and destroyed my room," he wrote. "There are hookers and animals in here."
A string of messages exchanged between Depp and British actor Paul Bettany were published in court. The "shocking" texts showed the pair talking about burning, drowning and committing necrophilia on Heard.
"Let's burn Amber!!!" Depp wrote.
"Having thought it through, I don't think we should burn Amber – she's delightful company and easy on the eye, plus I'm sure she's not a witch," Paul Bettany said. "We could of course try the English course of action in these predicaments – we do a drowning test. Thoughts? N.B I have a pool."
"Let's drown her before we burn her! I will fuck her burnt corpse afterwards to make sure she's dead…" Depp continued.
Who is Paul Bettany?
Bettany is an English actor who started his career in films like Wimbledon and The Da Vinci Code. He went on to gain worldwide recognition in his role as J.A.R.V.I.S. throughout the Marvel Cinematic Universe. He's perhaps best known for playing Vision in Wandavision.
Depp and Bettany have been close friends for years – the latter defended him during Heard's initial accusations of abuse in 2016. "He's the sweetest, kindest, gentlest man I've ever known," Bettany said at the time.
known Johnny Depp for years and through several relationships. He's the sweetest, kindest, gentlest man that I've ever known. Just saying.

— Paul Bettany (@Paul_Bettany) May 28, 2016
The actor hasn't yet responded to the outed texts, and it's unknown whether he'll provide evidence in court.
For more updates on the Johnny Depp v Amber Heard trial, follow our live blog here.
Related stories recommended by this writer:
Featured image via JIM LO SCALZO/POOL/EPA-EFE/Shutterstock.