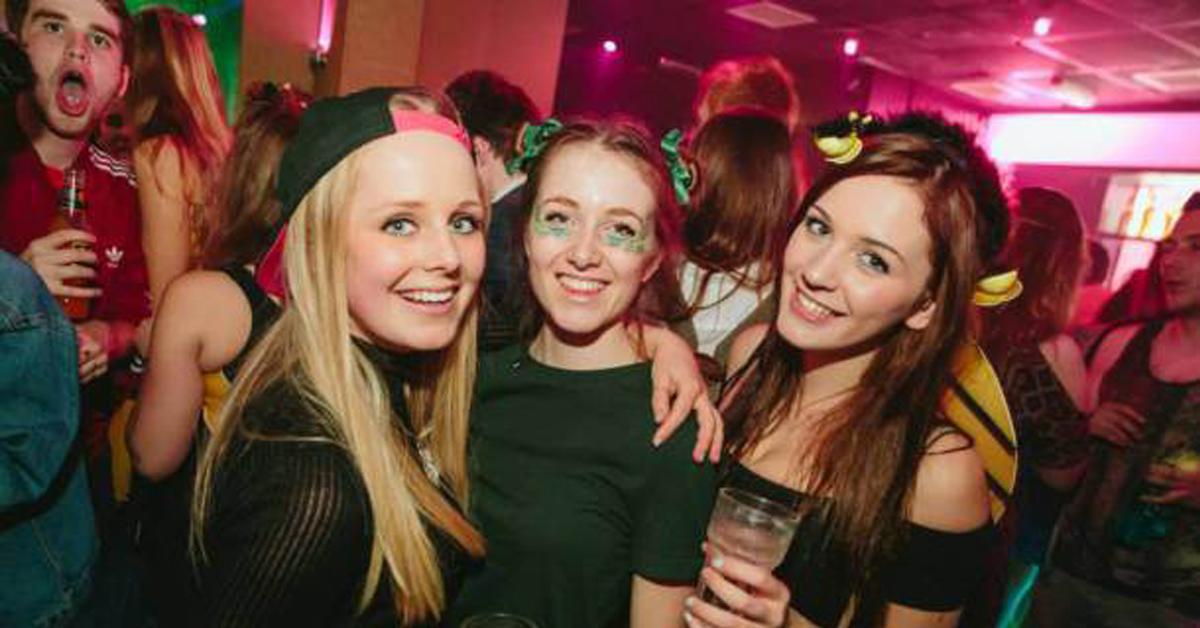 Vote: What is the best night out in the UK?
noad
Aberdeen
Liquid Wednesdays at Institute is the only club in Europe to play the Lion King before 11. VKs and jägers are required drinking, strong-armed next to rugby boys in chinos and ties. Also because you're in Scotland, you'll find yourself smashing vodkas with ruddy-faced 17-year-olds, already grizzled by a vitamin-free diet of paint-stripping liquor and rain.
Aberystwyth
Who knew those two clubs could provide so much fun? Forget the endless debate of where you should go: everyone's going to be in Pier or Yoko's, and as they have different nights, chances are everyone will end up in the same club. And now the Pier is under administration, Yoko's is probably your safest bet. Don't forget 24 hour Spar for your late night snack either, who wants a chicken burger anyway?
Bath
Terrified of disturbing the tranquil beauty of the historic spa town of Bath, ndoncal government have made all the clubs go underground. Hidden away, these dens of inequity sprawl under the opulent townhouses like a warren, creating innumerable dark corners to dance and hide away in. Yes, it's true Bath is more likely to inspire a landscape painting than a grimy house track, but Bristol's near enough that Bath can just borrow their sound and focus on what they're really good at: making the room dark and sweaty while you drink enough to forget how claustrophobic you're feeling.
Belfast
Do you like clubbing with locals? Well then you're going to fucking love Belfast. There's an endless array of clubs, set on a hill, on another hill, on the opposite end of town beside the big river. It's the ideal situation for a city where if you're not wearing heels almost as big as your eyebrows you're not allowed out. Enjoy the best of London prices, but with angrier accents. Round off your night by stumbling out of Lavery's and struggling to find any club still open past 1.30, and having a wholesome fight in the big KFC. Paradise.
Birmingham
There's nothing like being in a gigantic club and losing all your mates. Don't you love it when that happens? You'll stand there pondering which floor they're on (surely they haven't left yet?), before hitting the toilets and finally the bar. You'll ring them, but it's too loud, so you can't hear anything. You'll throw the towel in and go home, alone.
Blackpool
If you're having a great time, you're probably on a menopausal hen do or are so completely off your face on lager you're impervious to the sheer tackiness of the place. It's like Faliraki without the weather or the charm. Best just to wait it out until morning when The Pleasure Beach opens and you can actually enjoy yourself.
Brighton
Chock-a-block stuffed full of lefty Londoners and the unwashed of Medway, all  those who come to cleanse themselves with as much mandy as they can scrap the pennies together for find Brighton to be one big non-stop party. What happens under the arches stays under the arches, and in Funfair you find a club where VIP is a fucking ball pool. Apparently the gay scene's not bad either.
Bristol
Pick up some pills and pack your party bags, it's time to spend six hours dancing in Motion pretending you like Red Stripe and house music. Enjoy the communal thrill of taking a train from Redland to this skatepark-turned-dancefloor in the middle of nowhere, drinking enough to avoid focusing on how tricky it's gonna be to get a taxi home at 6am when your eyes are bulging out of your sockets. Once you're there the only thing to do is lose yourself to the music while sweat rains down from the ceiling above you, a reverie broken only by the occasional trip outside to the portacabin toilets and smoking area. After the comedown wears off, you'll want to head straight back.
Cambridge
Don't go to Cambridge for a good night out: least of all for the music. The only superiority you can find is among the people. Pound VKs with red trousered Henries in Cindies and bust shapes on the coloured tiles in Lola Lo with cackling Lotties. Tear around Life (a sticky-carpeted heaven) with tie-clad trust-funders who order jägers by the dozen. Avoid Fez: the walls sweat more than the gurning bucket hat trendies inside trying to forget their private school upbringing.
Cardiff
With names like #YOLO and GLAM, Cardiff really is the naffest night out. It has its merits – the girls get really dressed up, there's a Grey Goose waiting on every table and it's a magnet for rugby players and shit celebs. But if you want to escape the monotony of Tiger Tiger booth obsessed clubbing, this is no place for you. There's nothing cool or underground about Wales.
Durham
Are you from Tunbridge Wells? Do you enjoy downing things? Are you attracted to fit Lax girls dancing with their match kit on and well-endowed rugby boys wearing purple blazers? Then Durham is not just the best night out you'll ever have in the UK, but in the world. Klute may be infamous for being the worst nightclub in Europe, but the Quaddies (just buy one) and classic 90s tunes make up for it. There are some genuinely excellent house nights (Nova is the original) where you can gurn the night away, but on a Wednesday night everyone inevitably ends up in Loveshack dancing to Pharrell. Be warned though, you're up North. Your Coutts card won't get you special treatment at the bar and the bouncer won't give a fuck that your Dad's golf clubs cost more than their car.
Edinburgh
You can roughly divide Edinburgh nights out into two areas: Cowgate, for normal, chilled-out indie kids and George Street, for turbo-charged Canada Goose-clad poshos. It depends what you want from your night: top music or top chat, mate. It doesn't really matter where you start and where you intend to end up, nights always seem to end in Hive: free entry and cheap booze are the tired arguments to pull out before the inevitable "fuck it, let's go to Hive".
Exeter
Once merely the hub for Devonian agriculture, Exeter now hosts the straw-chewing toothless folk of the fields as they bin sambuccas and scrap over who's fucking whose sister. Peroxide princesses pepper the student nights and somehow Solly Akhtar from the last series of The Apprentice is always out down there (what's his agenda? Didn't he graduate two years back?) Apparently a few years ago a guy wrote his dissertation about Mosaic. He got a first – which is probably something you couldn't say for your local dive.
Glasgow
If you like a good ol' scrap in a club then by heck you've come to the right place. It's as if the dancefloors are made of broken glass – and you may think the pavements are all cobbled, but it's probably just teeth stuck to the ground with Buckfast. Beware the strike of the Viper.
Hull
There's lots of places to go, but you know you're going to end up in [W]elly. And why wouldn't you? It's the best place on earth. You don't need anything else in life now you've found [W]elly, you are complete.
Leeds
Cool and it knows it. It is possible to escape the stereotypical Leeds edginess and find your own vibe given the sheer variety of places. Stay out of Call Lane and your night won't be too expensive, but even the people who do shell out have a bloody good time.
Leicester
The ultimate in stereotypical student nights. Every event name sounds exactly like you'd expect it to: Let's Disko, Shabang, Mosh, Basement and Republic. A byword for blandness, all you can expect is cheese, early noughties bangers, VKs and fancy dress. What else would you expect from a town whose only claim to fame is finding the 500-year-old corpse of Richard III in a council car park?
Liverpool
The cobbles. Oh, the cobbles. And the locals. And why are there so many clubs? Nowhere needs that many clubs. Just pick the best ones, and leave it there. Fair enough the taxis are cheap and the drinks are a steal, but do you really want to be out with a bunch of Scousers anyway? Their hair just gets in the way, and no amount of alcohol can ease the pain of being stabbed by a stiletto.
London
When you arrived at your London uni you imagined you'd expand your tastes and go to amazing clubs but instead you found yourself snarfing cheap cocaine off a bedside table in Archway. Your nights out are a sorry rotation of Monday night XOYO, Wednesday sports night and nodding as tinny speakers play house mixes on Soundcloud. There's maybe the occasional trip to Fabric but the bouncers searching you like you're about to jet off on a one way flight to Turkey is a total mood killer. You'd rather be back in your horrid flat sinking tins of warm lager and talking about the election.
Loughborough
Remember your mates trip to Malia? You start far too early, regret every decision you make and it's all blamed on fishbowls. In this grey corner of the East Midlands, where locals and students vie over who's more of a twat, they still serve this ice loaded round artefacts, complete with enough alcohol and orange juice to make you book a flight with Easyjet as soon as the hangover kicks in.
Manchester
Guys? Have you heard of the Warehouse Project? Sankeys? Parklife? Madchester, as its resident cringingly call it, is quite a large night out. Like Leeds, only smug about being less obvious and proud to be a bit forgotten. Everything is curated and comes in sessions, and the basements of their damp red brick mansions play host to dank house parties straight out of the 90s. So what if some of them got disgustingly out of hand and now they're being debated in parliament? At the same time though, it's also full of WAGS so there's a tasty selection of cream leather clubs with carpeted walls and fighting locals if that's more your scene.
Newcastle
Just…watch this, and every episode of the first few series of Geordie Shore.
Norwich
It's unfair to say Norwich is where nightlife goes to die but there's a reason Cara Delevingne has yet to be spotted tumbling out of Mojo's. The region is as flat as the vibes – after snakebites in the union bar it's down to Lola Lo for selfies with a fishbowl: everyone gets a straw. It's a classic market town night out where you can find the only people on the planet who could possibly be excited by the plastic tiki decor in Lola's.
Nottingham
If you've got a mate at Nottingham, chances are they've already chewed your ear off about how it's the best night in the country. "But Ocean mate", they say. "Fingerer's corner…VKs…". None of it makes any sense to you, and it probably never will. If the sky-high gun crime or the simpering Christian Union heads limply offering you unbuttered jam sandwiches doesn't put you off, then trust me: get into the bubble. You're in for one of the best shocks of your life.
Oxford
El Brigo, The Bridge Club, Anuba – there's so many names for Oxford's most tragic club because it's pretty much the only one. And even then it's just a one big smoking area that's a bit like a gated pen crammed full of tie wearers who don't even smoke. But beware of Mondays, that's the poly night – because god forbid you'd have to share the same club. Apart from that it's just art galleries, tea rooms and dining halls.
Plymouth
Unless you stick to Cuba and Bang Bang, you face the enormous trek back up that bloody hill to get home, during which time you'll sober up, and start having second thoughts about the minger hanging off your arm. Caffeine Club does make up for it with their undercover seating though, so you can munch your drunken nosh without getting wet.
Reading
It's like London, except it's not London. You'd think it was London given the prices, so best stick to those student nights the freshers just love. There is the SU, which is definitely your vibe if you like school discos. Memories.
Sheffield
As a fresher you'll be running around Plug every Thursday, a real first year haven. Basic bitches pack the tiles grooving to a playlist so unchanged you'll quickly become familiar with the order: watch out for "I bet you look good on the dance floor" at 1:20AM, without fail. Avoid the Hallam students on Carver street, you'll need tight dresses and heels to get anywhere near. West Street Live is a favourite, except for a wall of drinks deals written in comic sans. Keep your wits about you on a weekend because all the scallies will come charging down from Doncaster and Rotherham with their intimidating wives, just waiting for an excuse to bottle you.

Southampton
The jewel in the crown of the south coast's nightlife scene. If ludicrous bookings at Switch don't light your fire, the eye-wateringly cheap drinks and infamous floor in Jesters certainly will. It's like its neighbour Portsmouth except without all the sailors swinging for you. Craig David's from here for fuck's sake.
Warwick
Throwing wine bottles out of windows is both clever and cool. It's a great way to make sure your student run bass night has a solid future with no police trouble. But you're happy with the 8th best nightclub in the world, with light up walls and queueing for basements will more moisture than a steam room.
York
People who come to York from bigger cities always complain about how small the clubs are. They're not that bad, but you'll find enough cheese to give you diabetes in Kuda. Salvation is worth it for the modern chart music and the R&B, if you're into that. Willow is the ultimate night out though: an old Chinese restaurant closed for poor hygiene, they still serve prawn crackers by the bar. Rumour has it a Chemistry student took some home and tested them to find actual shit. Nights always seem to end in Willow, probably because you're guaranteed a shag.
By David Cowlishaw, Charlie Gardiner-Hill, Roisin Lanigan, Matt McDonald, Craig O'Callaghan, Catherine Reid, Harry Shukman and Grace Vielma
More articles recommended by the author