A fistful of scholars: porn film shot on university campus
Pornstar poses as a student and dishes out blowjobs to co-star Johnny Rockard
A porn video starring Bristol UWE's campus has been released on Pornhub.
The video features porn 'star' Xzena:
Giving a blowjob first at a bus stop and then on a bus into Bristol city centre

Fingering herself on some steps
Heading back to her elderly co-stars house to be "dominated" and "trashed"
The POV film was made by local adult film maker Johnny Rockard who's been in the business for a whopping 40 years.
Despite claiming Xzena is a UWE student, she's actually a porn actress who was pretending to be a student on the Frenchay campus where the film was shot.
He told the Tab: "Historically lots of porn performers have come from Bristol. There's lots of talent, and it's very accessible in terms of transport routes."
Blozzers to rozzers
But its a case of "Blozzers to rozzers" for Rockard, because furious uni chiefs failed to see the funny side and called the police over the porn film.
University vice-chancellor Steve West said: "I am appalled that the university should be subject to such behaviour from someone with no connection to the university, resulting in a false and misleading representation of the university.
"We have worked with the Students' Union, staff, our on-campus security, have involved the police to investigate and have taken legal action."
Students' union president Charlie Roper also slammed the blue movie. He said: "UWE Students' Union are deeply concerned that this act has happened campus and are aware that UWE are fully investigating and taking legal action."
A spokesman for Avon and Somerset police said they were aware of the incident and were investigating whether any offences had been committed – potentially outraging public decency.
He said: "The incident was reported to us on Monday, January 20.
"We are investigating an allegation that somebody has gone onto the campus grounds and made an adult film with a suspected female actress in a public space.
"We are currently looking into this incident and whether any offences have been committed."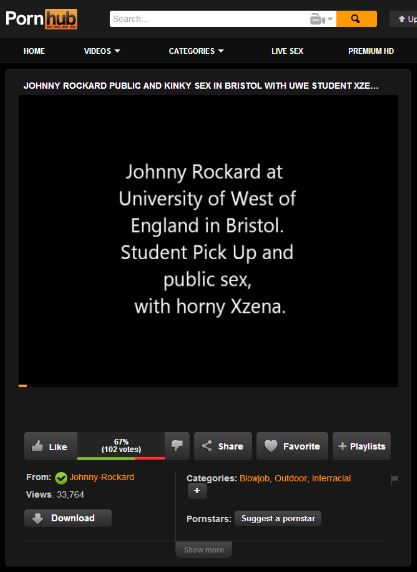 The film was shot during the summer holidays but students can be seen milling around the campus.
Johnny films himself wandering around until he strikes up a conversation with Xzena, who says she is a third-year psychology student.
Rack and a half
After engaging in sex acts at the campus and on the bus, other scenes were shot at the steps to a flyover in Bristol city centre and later at a property.
Yesterday Johnny – who claims his company is "probably the most globally publicised and promoted UK name in adult entertainments" – insisted no laws were broken.
A spokesman for the Bristol-based company said Xzena made hundreds of pounds from the filthy shoot.
The early stages of the film see Rockard scouting out potential mates on campus, he opens by saying "Right, here I am at the University of the West of England today."
"I'm looking around really for a girl who, er, wants to earn some money."
He meets Xzena and takes her to a park bench where he lifts up her top, fondles her breasts and tells her: "Now that, is a rack and a half. That's nice innit."
From there Xzena is seen sucking off the elderly pornographer at a bus stop on campus and whilst on a bus heading into the centre of Bristol.
Later in the sordid sex vid Xzena heads back to Johnny's house for a sadomasochist sex session in which we finally see the wizened lothario's face (and, unfortunately, body).
On her blog Xzena, from Cardiff, said the video was her "very first experience of porn".
'Edgy'
She wrote: "Okay. So we arrived at the Uni and the scenario is that I am to walk out of a building and he will catch me up and then randomly interview me about life on campus.
"Easy, I thought. I'm given the direction and take my place waiting for Johnny to be within a few metres of me before I casually walk out ahead of him and wait to be approached as I'm walking down the footpath by the student accommodation.
"I won't spoil your viewing pleasure by telling you what happens in the video next.
"This whole experience was exhilarating, and edgy to say the least, and I absolutely LOVED every minute of it!!!"
Bizarrely this isn't the first time Johnny's used a uni connection in one of his productions.
In September the Tab Bristol reported on a film by Rockard filmed in and around Tyndall Avenue and St. Michael's Hill featuring "horny Anglo-Asian student Kiki".
That film also featured al fresco fellatio, an actress masquerading as a student and claimed that Kiki took part in "a gang bang at Johnny Rockard HQ".
If this hasn't been enough to put you off, you can watch the video here.
The Tab is not responsible for the content of external sites and obviously it's not safe for the library.