What your major dresses like, according to everyone else
Obviously the History major is wearing a turtleneck
Sociology majors are always blonde – it's science. And as for Science? They'll probably be wearing a hoodie, looking tired, slouching their way to yet another lab session.
Despite what you may think, it's as easy to categorize people by their subject as it is to differentiate between species in the wild.
Don't believe us? Take a look below to see where you fit in.
"You can spot an architect from a mile away. They will be constantly dressed to the nines with stupidly bougie jackets but probably have paint stains all over them. Chelsea boots are a must-have and a backpack with all sorts of building materials sticking out. No-one knows why they dress so well just to walk from their messy rooms to the messy studio." – Russell
"Businesswear all the time – leather shoes and leather laptop cases. Also a lot of long tweedy coats/blazers." – Jess
They'll be designing your house one day, so it's no surprise they can put together a decent-looking aesthetic – even though their fashion choices are often as stuffy as a New England townhouse.
"High school graduation hoodies, straight-leg jeans. The girls will have grey duster coats and over the knee boots." – Charley
"The Economics girls are always really glamorous in comparison to the boys." – Bobbie
They said it. The girls are well-put-together, the guys are decidedly not – high school graduation hoodies are a must. And before you say it, we'll counter: Economics and Business students are no different.
"All of the classics students at Exeter wear red chinos and have white shirts that stick out from under their Ralph Lauren sweaters." – Meg
"They're definitely the ones to wear tweed suits/waistcoats/bow ties to uni." – Sammy
"It's a mix of either signet rings and caps or just a complete inability to escape 2005 fashion. There's the boarding school Barbours who have been learning Greek since aged 3, with their class rings and jumper/shirt combos. Then there's the people who spend so much of their lives reading Homer that they haven't bought clothes since 2005." – Isobel
Speak like your dad, read like your dad, dress like your dad.
"Harem trousers." – Jess, Kent
"Production sweatshirts and hair in two buns like ears." – Charley
"Theater guys wear basic V-neck T-shirts and jeans that are a bit too loose on the legs but super tight on the ass. They're just 100 percent V-neck wearing types." – Laura
Drama and Theater students are constantly dressed for rehearsals, even when they're taking seminars or in dive bars. After all, wearing proper clothes can stifle your creative flow.
"Mom-like types with big thick woolly jumpers and paint on their hands. Leggings all the time, probably playing with a Guinea Pig." – Oli
"Engineers wear bootcut jeans, fleeces and slightly discolored T-shirts. They wouldn't wear something if it didn't have a practical purpose, and they certainly don't have time for laundry – they've already made it quite clear how busy their schedules are. Usually sporting a wildly large backpack, yet rarely seem to have a pen." – Lorna
Tired, practical, tired, sturdy, tired, disheveled and, mainly, so so tired.
"Round glasses, ripped jeans, denim jackets." – Grace
"English Lit guys always rocking those fuckboy glasses" – Laura
"The vibe is 'wannabe indie but can't quite escape preppy.' The guys will have a well-annotated book in the pocket of their Levi's jacket." – Charley
"Oversized vintage fleeces, ankle grazing mom jeans, tatty backpacks and Gazelle trainers." – Jenna
More alternative than History and Geography but not as alternative as History of Art, English students are firmly in the "looks so different that they all look the same" bracket. Cool shirt tho, is that vintage?
"They wear the shit you see on Instagram and think 'nah it wouldn't work in real life' but they wear it in real life and it kind of does." – Roisin
"Stupid hats that don't cover your ears, dodgy peroxide blonde bangs, those horrible thick chunky Nike trainers that look like dinosaur feet, tracksuits, black coats. Awful." – Lucy
It's fashion. Some people just don't get it.
"Turtleneck jumpers, Scarface or Tarantino t-shirts (or if you really want to drive the point home, a Hitchcock shirt). Girls are more fashionable (A line skirts and nice boots) while guys keep it chilled and hipster in skinny jeans and jumpers. Everyone's a messy artist but tries to keep it stylish, basically." – Alexandra
Red-eyed from lack of sleep due to staying up watching Battleship Potemkin and working on their screenplay, Film students carry an air of nonchalance which doesn't match their screaming, manic desire to be the next Alejandro Iñárritu.
"Puffer jacket (that green puffer amirite),  athleisure leggings, very dirty trainers, hair half up in a massive scrunchy, and a T-shirt they probably slept in the night before." – Bobbie
"Yeah, the excuse for Geography students not having showered is that they're trying to save water because when they were in Malawi on a research trip last year, it was just awful." – Charley
Are they going to the gym? Are they going to class? Are they just going to brunch? They'll leave the answer deliberately vague – but it's probably the latter.
"Look at you, with your fur coat and your perfectly-out-of-place hair and your Vogue cigarette hanging out of your right hand. You're aloof, and everyone knows it. Often seen sporting the clunkiest Doc Martens in the market, which build the foundations upon which your slight, caffeinated frame exists." – Bella
"Some really obscene trends like bralettes over sheer T-shirts, wide leg trousers, loads of hoops in their ears." – Diyora
If the cast of Mean Girls were at college, they'd be studying History of Art: smoking Vogues, discussing the male gaze and telling lowly Cultural Studies majors you can't sit with us.
"History majors take themselves seriously: desert boots, big bags for books, leather things." – Grace
A bit like English majors, but they care more about their studies than their wardrobes. Good for you?
"Striped shirts, navy peacoats, fitted jeans, red lipstick and boots. So desperate to speak French that they feel the need to look French also." – Lucy
"Black rollnecks and little vintagey skirts. Black tights, black boots. Chic and European." – Flo
They think they're Audrey Tautou and Audrey Hepburn rolled into one, but really they'll be begging their dads to let them come home after their first semester abroad in Naples.
"Chinos and a sweatshirt – they try to be normal but jeans are just too mainstream to bear." – Charley
Dressed for the courtroom, just five or so years too early.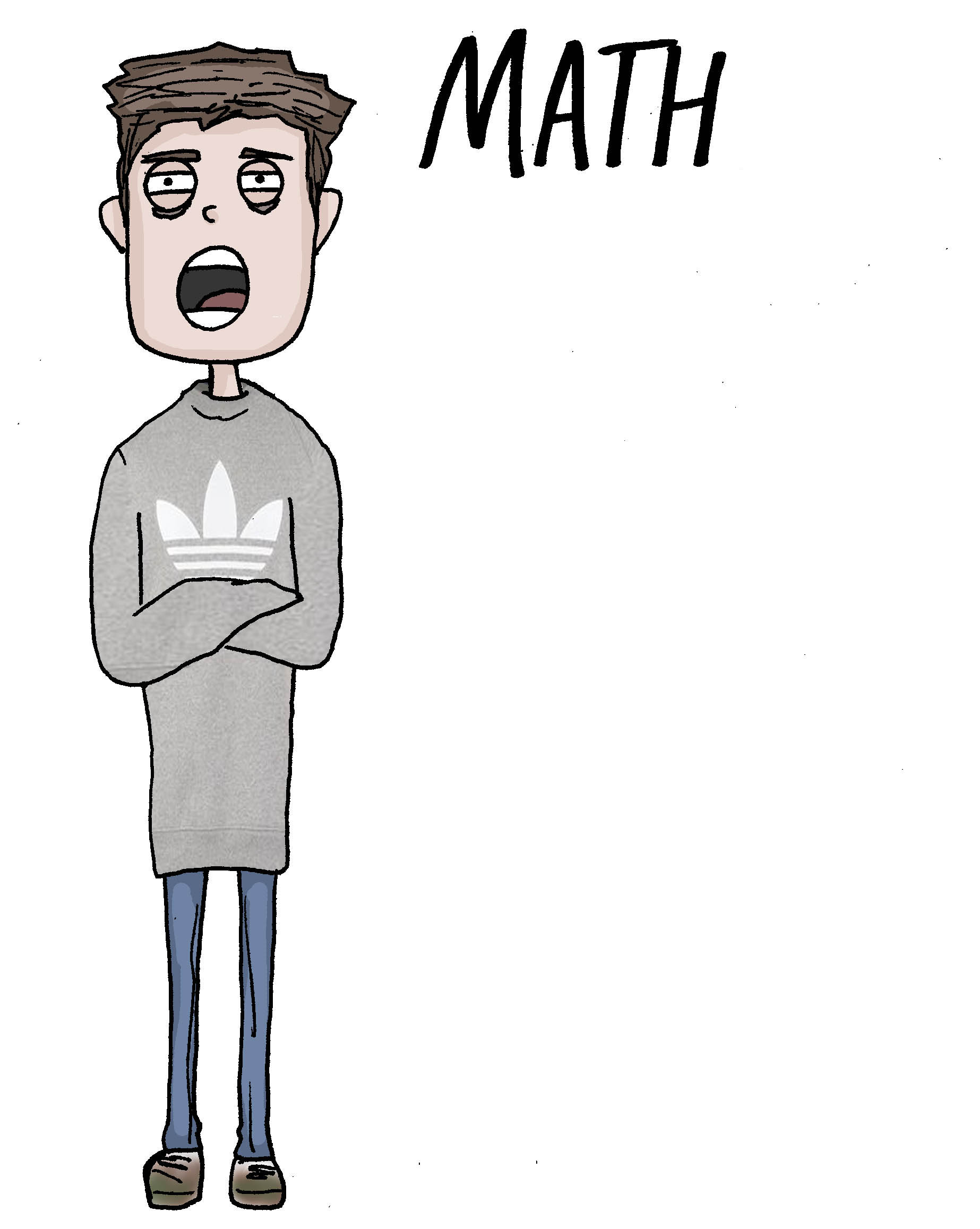 "You're always surprised when you meet someone who does Math, because they're kind of normal. Just clever." – Bella 
"Definitely chews his pen." – Grace
Not nearly as nerdy as you'd think. Sure, Math is for dweebs, but that doesn't mean they have to wear specs and tucked-in-shirts and pocket protectors.
"Junglist Movement T-shirt, tracksuit bottoms and skate-y trainers." – Reuben
Whether it's playing an instrument or lounging about in Music Tech, their outfit will scream that they're only doing it until their sideline as a DJ really takes off.
"Philosophy majors wear glasses they don't need, have curly sidecuts, and always always always wear army green oversized men's coats – especially the girls." – Sunniva
"Tattoos and piercings, colorful trousers, crop tops and Doc Martens." – Victoria
They'll look like they don't wash. But in such a dirty world, can anyone truly ever be clean?
"The guys dress really neatly: shirt under jumper, brown shoes, glasses, nice but not flashy watch, messenger bag." – Jonny
"Definitely an ironic MAGA cap." – Eddie
"Big long black jacket, boots, smart shirt. You also own some obscure international organization shirt, hat, sticker, socks, jacket etc and will wear it to class a few times to start up conversations with the professor." – Kyle
"Slicked back hair, wearing some kind of blazer with the lapels covered in badges about Greenpeace, Bernie Sanders, gay marriage and trees. A color of jumper that doesn't match the blazer with skinny jeans and smart dress shoes." – Lee
They'll tell you they're suave and debonair, like Trudeau and Obama. Really they'll be dead-eyed and awkward, like Sean Spicer.
They're invariably happy, because they're doing what they truly enjoy. Who cares if the class hamster chews through their sweater, or if they get paint all over their favorite mom jeans. Teaching is love!
"Heeled boots, uniformly black skinny jeans, leather jackets and quilted bags held at the elbow. Hair always perfectly blow dried and never seen without a full face of makeup including contour and highlighter. It's a lot, honestly." – Roisin
It is a lot, but Psychology is a cut-throat business – especially when every single person on your course is a style-minded girl with a lot of student loan to spare.
"They wear cheap sneakers from Walmart and narrow rectangular glasses." – Sammy
"Billabong hoodie, outdoorsy shoes/walking boots, large beard." – Reuben
"Chemistry, Physics and Biology are all quite similar. They'll be wearing a T-shirt with a motif that was on sale in Topman three years ago, with blue jeans – probably bootcut." – Oli
"Biology try to have an aura of Medicine, but they don't quite nail it." – Grace
It's a broad spectrum, but there's a reason the sciences are grouped together.
Sure, Computer Science may be beardier; Physics may be more inclined to practical outdoorsy wear. Biology may be the somewhat more edgy, more normal one of the bunch, rocking some New Balance like it's no big deal.
One thing applies to all of them, though: they don't really know how to dress themselves, and they don't really give a shit.
"Blonde, girly, a tiny bit edgy but quite basic. Maybe she dyed her hair a bit pink to piss off her dad, but she's going to dye it back because she loves him really." – Bella
"Basic." – Oli 
Basic, basically.