What it's really like working at Victoria's Secret
Walking into Victoria's Secret is a girl's favorite moment at any mall. Hours can be spent browsing the colorful bras and sexy lingerie while being greeted by the happiest sales associates. It's basically our time to feel like an angel. Working at Victoria's Secret has always my dream – and I finally managed to get a job there last year, where I've worked ever since. I love it but I would be lying if I said it's as glamorous as I thought it was going to be.
In reality it's actually just another job that comes with lots of work and acting like you're always happy to be there even when you woke up on the wrong side of the bed.

My position is Sales Support/Generalist. I started off processing which sounds fancy but it just means putting sensors on clothes, bras and panties before pushing them out to the floor. Now I primarily work at the register – this has given me loads of experience interacting with customers. Working at VS there's so much to learn like how to greet people, what and what not to say and most importantly how to fold the panties right.
We have to make a woman feel sexy while shopping at Victoria's Secret
"I think you should try this lacey push-up bra. You're going to love it!"
"Omg I love your nails!"
"Where did you get that jacket? It's so cute!"
When I would shop there before I got the job all the workers would make me feel welcome, pretty and ultimately, sexy. This was one of the main reasons I wanted to work there. I don't think Victoria's Secret would have become such a popular store without all the amazing people that work there.
We always have to look good and be perky even when the last thing we are is perky
You pretty much always have to be glammed up and perfect if you are working on the sales floor – when I would process in the back it wouldn't matter as much. When I first started the dress code was all black everything and I hated it – I was expecting the have the chance to be all dolled up in pink. Though I did get to wear a pink bow which helped.
Guys only come in the store during big holidays
The rare moment men come in – which is usually only close to Valentine's Day and Christmas – they immediately find the first sales associate and ask for help. It's literally foreign territory for them, but they are the easiest customers to help because they aren't picky at all.
And when they don't come in they are probably waiting outside on the benches outside.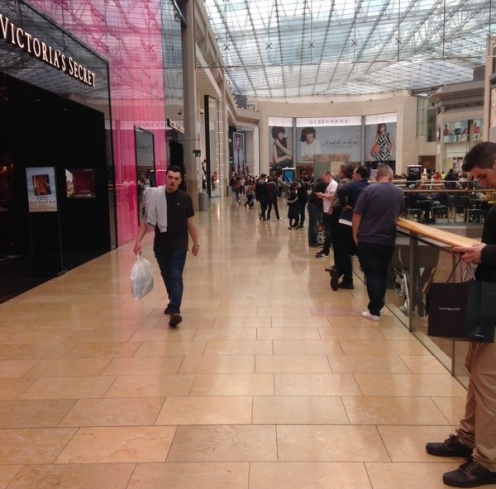 Yes, we do get good discounts
I'm not going to lie, the discounts are amazing. It's the first thing people ask me about when I tell them I work at VS. No, you can't use them unless I really like you.
It's not as fabulous as you think
I love my job and the people I work with because they have such positive energy. I have definitely gotten out of my comfort zone from working there.
But it's not all colorful bras and sexy thongs – it's a job that requires a lot of effort. Everything has to be a certain way, even what you say has to sound natural when it isn't. Our main goal is to sell and even when we aren't having the best day we appear like life is all sunshine and rainbows – especially when the customers are rude. Having to deal with needy customers at the register is stressful but in the end it's all about the customer being happy.
Working the seven for $27.50 pantie deal is the worst day to work
Women go crazy over the discounts we have – especially the seven for $27.50 panties. The store gets so packed around the pantie bars that you can barely move and the only thing I repeat throughout the whole day is "Your total is 27.50$." It's also the day where people don't really need help finding things because they are on a personal mission to choose their panties. We let them know the deals and since customers don't really need help we spend our day "straightening our little hearts out," as my manager says, which basically means folding underwear and make everything look nice. 
The seven for $27.50 deal is even worse if you have to close the store
The store technically closes at 9pm but during the seven for $27.50 deal the closers won't leave till all the panties are folded. Sometimes we won't leave until 12am – just remember this mess can happen within the first 10 minutes. It's crazy.
But despite all the craziness, I plan on keeping my job all through my four years of college. Yes it's just like any other job but it's a great place to work and there really is nothing better than discounted bras.