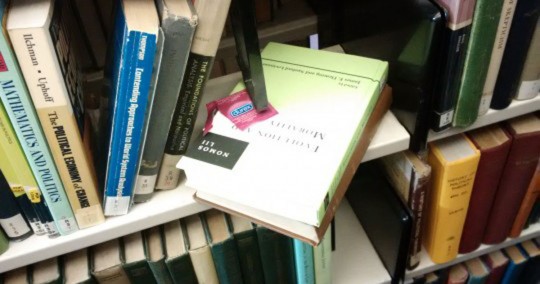 The essential guide to shagging in the library
A guide to getting your rocks off where others get their read on
Campus
Library
sex
student sex
Attention potential Blowmeos & Juliets, to help you avoid an embarrassing appearance on Overheard at Lancaster we've explored the sexual opportunities of an area that should be very close to all our hearts now we're in exam time: the library.
If you know anyone who's bumped uglies somewhere out of the ordinary on campus, it's probably here. It's got everything: it's one of the few buildings open 24-hours, allowing access no matter what time the mood takes you and bae. It's massive, which means there's plenty of sneaky little nooks and crannies, and there's a varied selection of spots available, to keep anyone from getting bored.
Sure, there's the haters, like EPR student Christie who asks "why would you shag in the library? You're never too far from someone's flat, really", but those who have joined the academic equivalent of the Mile High Club know there's more too it than that. Much more.
C Floor
There's not really a lot to C floor, which is its greatest strength. At the moment, at least, it's pretty much an empty construction site.
But those lingering empty corridors are the potential perfect place to get jiggy. Law second year Danny is one to embrace this experience. He summaried it as: "Bad. Not again."
B Floor
The vertiginous upper reaches of the library are host to a number of fine spots. The computer areas around the centre are shielded from view from those across the gap, but you're completely exposed on the other side, and these are usually popular spots. The silent reading room always has a late-night crammer or two, making it a no-go.
Highlights are a small alcove by a mysterious door, as well as the comfy seating area in one of the corners, although that tends to have someone floating about in it most of the time.
A Floor
Ground floor has some decent game going for it to0 – there's the bookshelves to the right where you could easily scurry away into. A personal favourite spot is the seating at the far end of the room, protected from view by a large screen facing the entrance, as well as screens from the side.

The biggest issue with A floor, however, is how exposed you'll find yourself vertically. Anyone up on B floor need only to peek downwards, perhaps having seen some back-and-forth movement out of the corner of their eye, and bam – you've been rumbled.
Of course, if you're hardcore, you could always try it in the lobby.
Basement
There's a certain Hogwartsian charm to the basement. Either that, or a serial killer's lair kind of charm. Depends on your mindset really, although if you're getting the serial killer vibes, maybe it's time to ditch your pull.
It also grants you the power to form your own little romantic hideaway, arranging the bookshelves in order to get the sexual feng shui just right. The bookshelves do an admirable job of hiding you away from the world, while the peaceful/creepy quietness makes it easy to hear someone coming on the off chance you get a visitor. How tantalisingly decadent. Just don't expect to be shedding layers here; frozen bollocks is a promise.
Also, as Psychology fresher Emily points out: "There's a chair floating around which you can get creative with, if you can find it."
Other
You could hypothetically bang in the elevator by repeatedly going between C Floor and the Basement (approx 10 seconds each way), but Otis would be disgusted at what you're doing inside of him.