Durham Duz Dance 002: Zero Sammy Virjins
Wondering who Sammy Virji is and why Durham students will pay 50 quid to see him?
The students of Durham seem to descend into a frenzy when they hear Sammy Virji is coming to town. It's like Christmas in our dance music scene.
But instead of lining up to tell Sammy our wishlist, we line up to receive the gift of groove. Making his second appearance in Durham at Mildert's summer ball, here's a look back at the producer's event earlier this year with Zero.
Perhaps the best place to heed the buzz is on our very own 'Overheard at Durham'. In the weeks leading up to the event, timelines are bombarded with expressions of desperation for sold out tix or business opportunists looking to make a sure few quid from hideous mark ups (that people are actually willing to entertain). 
Brett, founder of SNAFU (host of the event), can be spotted in the comments, shutting down attempts to resell tickets at hiked up prices for profit. He has expressed that the act of reselling goes against the ethos of his organisation. It's about making dance accessible to students. The devotion to this goal is at the core of their ticketing policy. If you are sold a ticket beyond its original price, SNAFU will refund that ticket and offer you a new one at the original rate. 
So yes, people are willing to fork out hefty lumps sums for resold tickets, but SNAFU makes sure that they shouldn't have to. SNAFU proves to evolve with and respond to their audience, while finding new ways to innovate the party experience. One new concept this year are their 'secret sets': a pre-event that is held at an undisclosed location, and made known through a lottery tip or word of mouth.
Their debut 'secret set' began the festivities at the Angel's terrace. Zero was tasked with launching the night off shore. The DJ had big love for the 'secret set', saying it was "fun to play a low pressure set" and "liberating" to be able to explore some sounds that typically don't fit into a "classic Zero bassline set". 
He spoke of his affinity for smaller events, much like this one, emphasising that "it's literally so intimate". He found from his experience that in more intimate crowds, when people "know what you're about", "that's when you get the best reactions". He adds, "it's early as well, not everyone is off their absolute tits", "at these bigger shows, I'm playing from 2 till 3… obviously everyone is smashed". 
While it's easy to assume artists leave behind small gigs once they reach the level of booking dream-gigs at big-time venues, Zero dispels such assumptions. He used the comparison of playing Warehouse Project for two weeks before this event. 
"That's 6,000 people on the main stage and then there's like 60 people here and I probably had just as much fun doing that as I did Warehouse Project".
Turns out uni crowds have something about them. I thought I'd do some digging into his student life. Turns out he had "a wicked time for three years" in Brighton studying music technology. Unsurprisingly, the course was a breeze for the artist, having done chunks of his course in his free time prior. Uni was a turning point in his career, not because of the course itself, but, in his words:
"Being in a city that isn't where I was from, surrounded by people who also love music and like just going out every week and going to the club's. I wasn't just going, getting absolutely munted. Like I was going and just enjoy the music, finding out about new artists and stuff and just getting involved in the community that was there."
He learned: "If you're trying to be involved in the music industry, you've got to be proactive", "get yourself out there" and "be part of some kind of community".
In fact, Zero has collated a community of his own, engaging eyes and ears on his Instagram and Tiktok. He emphasised that his industry is competitive, making the task of distinguishing yourself of the utmost importance. And distinguish himself he does. Whether he's literally smashing a burger on his face, or showing how he made a choon out of a sample from a streetbusker's performance, he never fails at showing the world the person at the heart of his music. 
Lockdown propelled Zero's online presence. He says: "Looking back, 2020 was such a good year… Because I was kind of snowballing in terms of my career anyway." He recalls: "We went into lockdown and it kind of went to my advantage in a in a way… I had all this stuff that I've been playing in the clubs and then immediately everyone's at home on their phones, doing nothing",  he reckons as a result, the stuff he was posting online had a gained more attention, having a "bigger effect". 
As an artist who started as a uni student and worked his way to success, I thought he could impart some valuable knowhow upon, not just uni students aspiring to be artists, but dreamers venturing into any creative industry. Being honest, I wanted the advice for myself in any case. One piece of advice that had resonated with him was one he's heard time and time again:
"It takes ten years to blow up overnight". 
Now that is a quote! The DJ was full of wise words, I thought I'd leave you with some in this neat graphic I took far too much time making.
Speaking to Zero was one of my favourite parts of the night. Apart from answering questions insightfully and with sincerity, he was such a sound presence. Someone you could have a quality chat with. With a hug and an exchange of well wishes for each of our future endeavours, the boat was pushed and on its way to Loft. 
In a quick chat with Sammy before his set outside Loft, I told him about how much of a full circle moment it was for me, from sulking at Jimmy's during his gig last year, to standing right next to him. His own full circle moment was, granted, much more impressive than mine.
"I was a massive fan of Flava D when I was younger and I just went back to back with her at Warehouse Project. I was looking back at the set and I was like… That's pretty crazy."
Like Zero, Sammy was producing and DJing for a while before heading to Newcastle for Uni, but it was the first time he "got a set in a club and it really started to take off from there".
Another echoed sentiment was a preference for more intimate venues as he expressed, "obviously massive festivals can be really good… but I'm more a fan of the small intimate places". 
In fact, Sammy's intimate Durham gig in the previous year (held at Fab's) was the first time he ever had people hold up posters for him. He had a good chuckle when reminded of the infamous "DADDY VIRJI" poster, it most definitely left quite the impression. And with that he was on his way. 
I dare to say the night was worth the hype, frenzy, hysteria, you name it. Zero's bassline set surged the energy, interweaving familiar favourites with invigorating rhythms.  I was in the bathroom when "Find My Way Home" started heating the place up, rest assured I was finding my way to the dance-floor ASAP. The tune holds a special place in my heart, the first one that piqued my curiosity of the dance music scene when I came to Durham. I first heard it in a random viaduct basement, fast forward to it blaring fresh off the decks from the man himself. Pardon me for the sentimentality, but without Sammy and his talent, who knows if I would have found my way to the dance-floor? 
Sammy and Zero got on the decks alongside one another to see the night off. Four hands on deck meant double the energy, and it was palpable. If you saw everyone leaving Loft, I wouldn't blame you if you thought the roof was heavily leaking water onto the dance-floor. It was a properly sweaty ordeal. But were you really dancing if you weren't sweating your tits off? Though I am completely aware of how grim this sounds, I found that a good sweat was a welcome catharsis and an odd indication of a night well earned. Sammy and Zero put in the work, and the crowd did too.
As I turned right leaving Loft, content and in a slight haze, it felt as if the smoke machines lined the streets of Durham. Through the mist, I spied my friends speaking to Sammy outside Big Bird. We found out his girlfriend is from Durham. Perhaps the steadfast connection and affection Durham has towards the DJ is not one sided after all. Sammy found love here too. Nonetheless, Durham will always <3 Sammy. That night, there wasn't a single Virjin still standing, and the reviews were rave. For the Sammy Virjins who are sceptical, I say daga-don't knock it till you try it 😉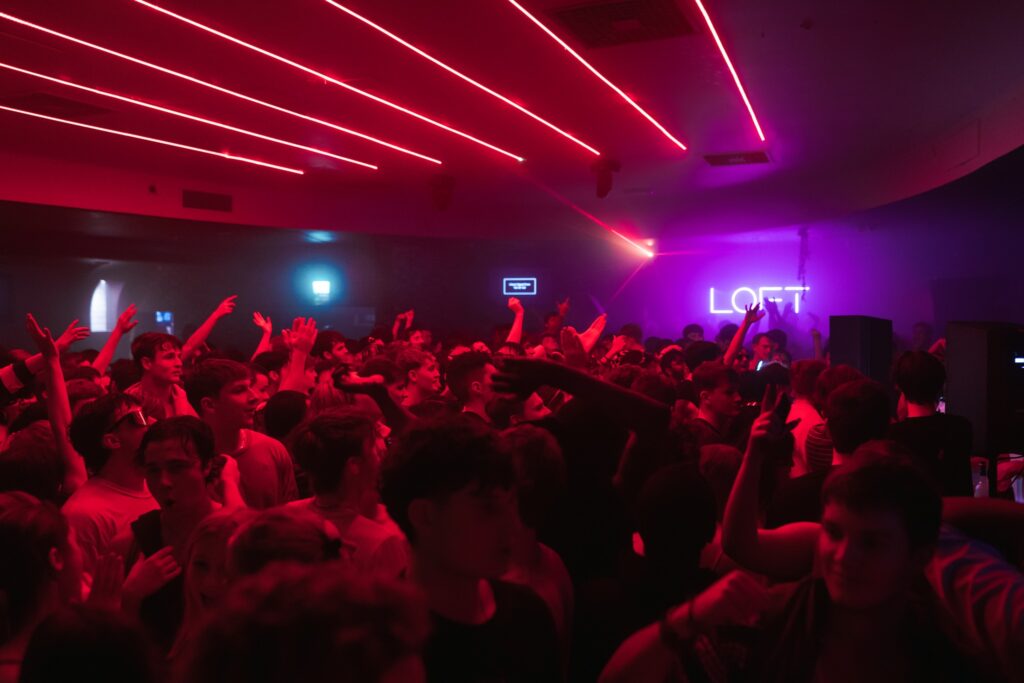 Though I won't be here next year, there's a chance Sammy and/or Zero may be and there's only one way to find out. Look out for SNAFU's fb and insta for updates. Keep up with Sammy Virji and Zero on their insta pages if you're keen on following their journey.
Related articles recommended by this author:
• So you're going to Durham and want to be on the Bailey? We'll find the college for you
• Durham Duz Dance 001: SNAFU's first bday with Barry Can't Swim
• Durham has just won University Challenge for the first time in over 20 years!!