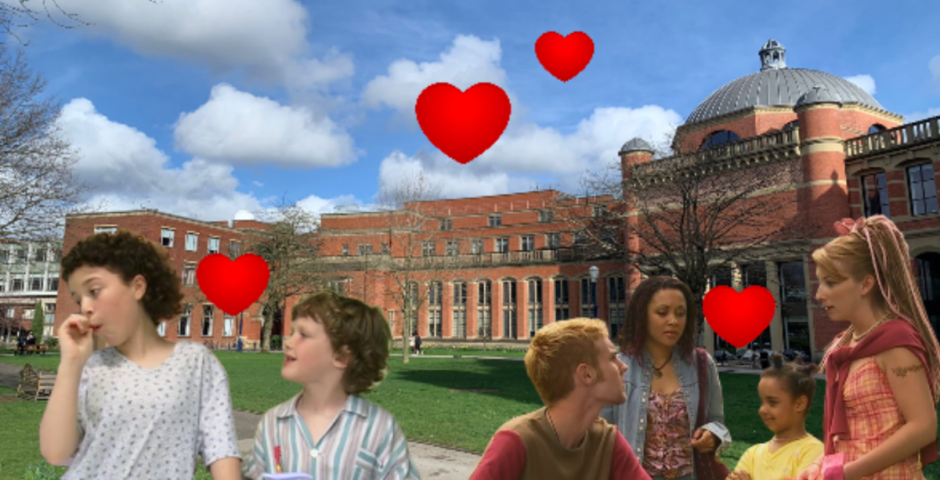 Tagging Tracy Beaker characters as Brumble posts
The Dumping Ground house makes Love Island look the the Teletubbies
In an alternative universe, all the Dumping Ground veterans joined the Uni of Birmingham and just like you and me, fell into the trap of writing Brumbles to confess their undying love to someone they saw once and are now convinced their stars are aligned.
Here's the definitive ranking (because it's hard to know which one of all the countless rankings to trust!!) of Brumbles that our most beloved Tracy Baccy characters would write:
Tracy Beaker
In her hay fever, sad girl era. Remember her first boyfriend Wilson, he cemented Miss Baccy's type as Welsh ginger boys with curtains and a smile that could launch a thousand ships. 'Ar Trace has been looking for her replacement ever since… But she got nervous (*cries in hay fever szn*) 
Jenny
The careworker on careworker trope! Girl boss Jenny. Firm but fair feminist icon. The straight to the point tone of this Brumble screams Jenny. Authoritative and knows what she wants. And what she wants is MM aka Mike Milligan, everybody's fave careworker who was the face of a dadcore crazed generation.
Jenny wants to give the impression of being too cool to care, hence why she had to write an anonymous declaration of love. Jenny either wrote this Brumble at the sad afters of the staff Christmas party, or after Beaker's infamous bday bash. Either way, Mike should say no to that extra VK if he wants a chance with Miss Jenny from the block. These careworkers love to she/it where they eat.
Nathan
Nathan. The Noughties icon who kick-started a generational choke-hold for boys with frosted tips who call people "dude" unironically. Fun fact I fancied this man so much that I wanted to call my first child Nathan. But this isn't about me. This is about Nathan and demonic Dolly – can you say charisma? No.
Remember when she single handily manufactured the breakup of Dumping Ground golden couple Nathan and his hippie girlfriend by telling her Nathan loved a girl whose name began with D. I can still hear Nathan's girlfriend's wedged sandals flip flopping out of screen. You just know Nathan would smoke in the Dumping Ground outhouse and write nostalgic Brumbles about his ex.  
Bouncer 
Welsh patriot, hopeless romantic, Brumble ad-vo-cat. Bouncer was a walking talking shoulder to cry on. He was the glue that held the Dumping Ground together and so it makes no odds to me that he in unraveling the comfort blanket for his fellow Welshie. He's a giver at the end of the day. Remember when he dressed up as Marco's mother just so Marco could get a free inflatable alien? And yet he's that supportive that he would have all the days in the week for you. Bouncer boots the house down. 
Peter
I know national tresh Peter was click clack clacking behind the screen of the Dumping Ground's shared computer when he wrote this one. I can hear his simpy ways all the way from Selly. His heartbreak and pick-me energy can only be at the hands of one housemate, his birthday twin, Tracy Beaker, whom he would walk over hot coals for if she only ever gave him the chance.
Peter is the kind of boy to fall in love with his first-year flat mate on the first day of freshers and spend the rest of the week saying cryptic Paranoias about them in the hopes that they'll eventually pick up and return their affections. They will not. Soz Pete.   
Elaine the Pain
Elaine the pain. Oh she would wouldn't she. Duke made her an emergency sandwich one night she was working overtime and she fell right into the palm of his hands. Firstly, fair. Secondly, it's time our y2k, eyeshadow destroyer princess Elaine mixed business with pleasure. You go girl!
Rio Wellard
Ah this one didn't age too well. We all know how enamoured Rio Well-hard was with his Maroon 5 CD (it's gone missing). Much to Rio's dismay, the CD did leave, in one of Elm Tree House's biggest scandals of theft, betrayal and Maroon 5. 2006 hit a national crisis. I can't remember who stole the silly sod of a CD, but whoever it was, did their bit for the community, love you. 
Crash
Remember Jackie? Revolutionized the sporty spice aesthetic and Crash was all over it. If she told Crash to jump, he would just say how high. Jackie was the calm to Crash' storm. Always bothered me how Crash married Justine in that one dream episode of Tracy Baccy. That should have been Jackie. I just know Jackie would have donned a naughty tracksuit style wedding dress a la Glee's Sue Sylvester if she would have ended up marrying Crash. This Brumble is just one of the many Crash wrote about Jackie before he starts on writing the gym trope Brumble.
Stories recommended by this writer
•University of Birmingham students are the third most targeted by top employers
•These Birmingham Uni flatmate horror stories will make you wish you still lived at home
•Joe Lycett to Ozzy Osbourne: Here are the celebrities who went to school in Birmingham 
Featured image credit BBC via YouTube