This is what it's actually like to self-isolate at uni because of coronavirus
Takeaways have to be dropped at the doorstep
"Day two of self-isolation," Sam writes on his Instagram story. "I have still achieved very little. In fact my PS4 has probably never seen as much use in such a short space of time."
Sam is bored. After five days sitting in his room with nothing to do but coursework, only able to speak to his girlfriend from a few meters away when she's dropping off a "care package of supplies," the novelty of self-isolation has well and truly worn off.
The 22-year-old mechanical engineering student is in his fifth and final year at Cardiff University, and has a dissertation write. Even with the strikes factored in, he reckons he's missed about five hours of lecture content.
"After the first day, you just realise that you're stuck in a small room, by yourself," he told The Tab. "You can only leave if you cover your mouth with something, anti-bac your hands."
Sam had been on holiday in Primolo, a small town "towards the edge of the Category 2 zone." The outbreak hadn't even reached Italy when he and his mates touched down, but people "in protective gear" still scanned their temperatures after they landed.
"We were all keeping up to date with all the news whilst we were out there," he said. "We were all very aware of what was going on and you could see every day as we were riding the cable car up to the ski slope that more and more people were covering their faces. It was a bit jarring to be in the middle of it all."
Sam arrived back in the UK on Wednesday, and avoided his housemates when he got back to Cardiff. He'd had "a minor cough" while he was in Italy and it persisted while he was at home.
"My girlfriend was very insistent that I take all the necessary precautions and obviously I didn't want to infect my friends or family, so I just called up the NHS hotline to get some advice, and that's when I was told to self isolate and that they'd be in touch to arrange a visitation," he told The Tab.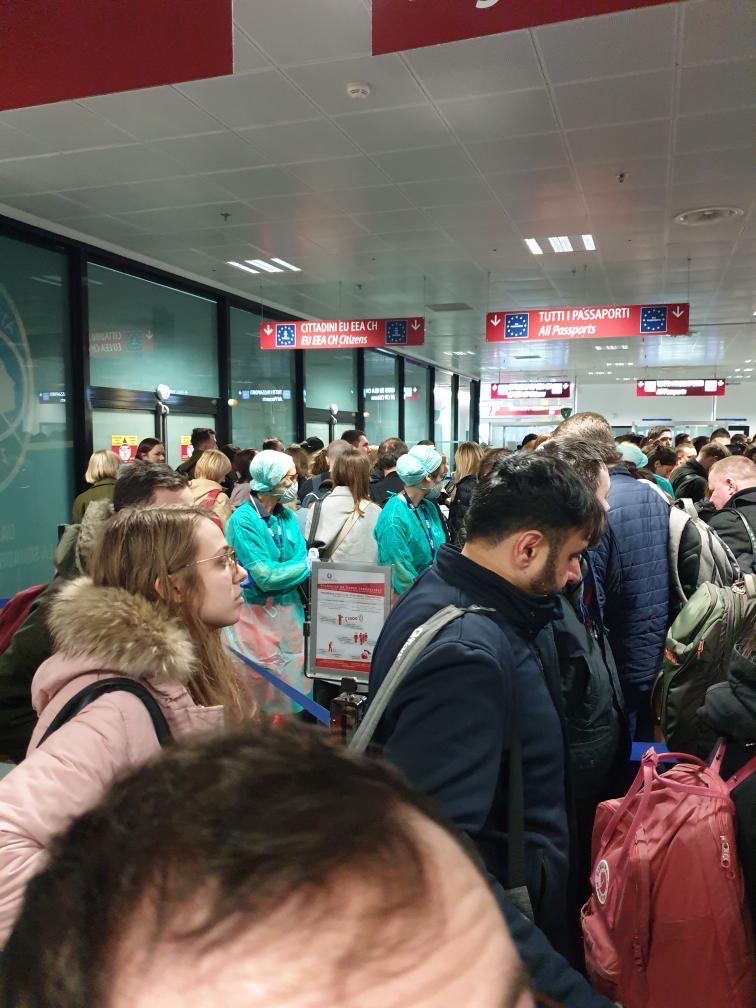 Doctors told Sam not to leave the house for any reason. If he even leaves his room, he has to disinfect his hands and clean any surfaces he touches.
"If I have a mask, I should wear it too," he told The Tab. "But I don't have one so this has mostly consisted of me tying a tea towel around my face."
Sam has sanctioned off his own plates and cutlery "to avoid cross contamination" and has to wash his clothes separately as well. 
"The weirdest one is what to do with my household waste," he added. "I have to section off all my rubbish and bag it up separately to the rest. I'm not allowed to chuck it out until I get the all clear so I'm just kind of stockpiling crap in the corner of my room."
Unable to leave the house, Sam has had to rely on his girlfriend, who at one point delivered him a "care package of supplies." Sam said he "briefly" spoke to her from the other side of the garden gate and "just kind of chatted at a few metres length."
"Besides that, my only contact has been FaceTime and the doctors," he said.
One day, Sam ordered an UberEats and had no choice but to tell the delivery driver to "drop it at the doorstep."
"I thought he might not come if I name dropped the coronavirus," he said.
Being a final year, Sam has found self-isolation hasn't been ideal for uni work. He said: "It's especially a pain because I need to go in and do hands-on work for my diss. It's not something I can work on at home."
Sam asked the University for advice they day after he got back, and he says "they just told me to look up the official guidance on the internet."
The first visitation from doctors was "surreal". Sam told The Tab he was instructed to unlock the door and sit in his living room while doctors let themselves in and "kitted up" the hall.
"I was expecting a full hazmat type deal but it was more along the lines of the kit you'd see a doctor wearing in a morgue," he said. "Long blue apron, mask, clear plastic face shield, gloves and shoe covers."
Sam was swabbed ("they fully jammed it around my tonsils and everything which obviously made me gag a couple of times") and the doctors then left.
Though Sam isn't showing "any major symptoms" he admits the testing was enough to make him "a little bit" worried. He said: "I also know that it's mostly just like a common flu, and the vast majority of deaths have been in people over 50 with pre-existing medical conditions, so chances are even if I do have it, I'll be able to tough it out."
Sam is still trapped in his room, though he says he's "officially coronavirus free" now, he has to stay in his room until his cough dies down.
"It's been a unique experience. At least I can say that much." 
Related stories recommended by this writer:
• This map shows every confirmed case of coronavirus in the UK so far
• King's student quarantined in Italy following coronavirus outbreak
• Coronavirus Update: Glasgow Uni staff member sent home and told to self-isolate