How did Jack Renshaw, star of the creepy BNP Youth video, end up attempting to murder an MP?
He also plotted to kill a policewoman
On 12th May 2014, 560,330 people watched a video by BNP Youth called Fight Back. In it, eight teenagers target their anger at "militant homosexuals", "heartless Zionists", "cultural Marxists" and Stephen Lawrence's mum.
The first person to appear proudly on screen is Jack Renshaw, a 19-year-old boy from Skelmersdale, West Lancashire. As if brainwashed, he stares into the screen a reels off a script about protecting British sovereignty.
Not much is known about the rest of the cast – they haven't gone on to make names for themselves in the political world. Perhaps they went to uni, perhaps they moved on from the BNP and their right-wing views. Jack Renshaw however, now 23, has been in court this week for attempting to murder a Labour MP and a policewoman, as well as for child grooming and stirring up racial hatred.
So, how exactly did this young man go from video campaigner to attempted murder?
Jack Renshaw became a member of the EDL at the age of 15 after having moved to Blackpool from his home town, Skelmersdale, West Lancashire. While taking part in a memorial service for Charlene Downes – a 14-year-old girl who went missing in 2003 whose disappearance spurred racially motivated attacks in Blackpool – he met the BNP leader at the time, Nick Griffin. He subsequently joined the BNP, a decision his parents are said to have fought. Had he listened to their advice, he may not have attempted murder.
Jack began studying Economics and Politics at Manchester Metropolitan University in 2013. During this time he became the poster boy for the BNP Youth campaign. He told The Tab in an interview four years ago he struggled to make friends at university. He said: "When I make friends I don't go out of my way, it's accidental. You talk to someone and you get to know them. I speak some people at uni like in lectures and we get on, I don't go out my way to socialise."
He admitted to having spent too much time campaigning, when he should have been studying for his degree. He was kicked out of MMU after they investigated him for inciting racial hatred. He gained infamy during his time at uni when he posted a Facebook status telling his pet Labrador Derek to not "challenge my principles" by "licking the penises of other male dogs", which he later claimed was a joke. Jack Renshaw was not your average Manchester student.
In 2015, Renshaw moved his attention to National Action, a far-right organisation. National Action was proscribed as a terrorist organisation after its full support of the murder of Labour MP, Jo Cox in 2016. This is likely to have been an inspiration for Renshaw, who planned to murder the West Lancashire Labour MP, Rosie Cooper.
At a National Action event in 2015, Renshaw called for Jewish people to be "eradicated", stating his sympathy for Adolf Hitler: "Hitler was right in many senses but you know where he was wrong? He showed mercy to people who did not deserve mercy. As nationalists we need to learn from the mistakes of the national socialists and we need to realise that, no, you do not show the Jew mercy." He was investigated by West Yorkshire Police for these remarks.
Renshaw's first arrest took place in January 2017, and he was charged with inciting racial hatred. His interviewer was DC Victoria Henderson, one of the women who subsequently planned to murder.
On his phone there was evidence of what appeared to be child sex offences (grooming). He was arrested for these charges in May 2017 and interviewed again by Henderson. These events led to Renshaw believing that the police officer was out to get him, which contributed to his murder plot.
He was also charged for being a member of the proscribed group, National Action, along with Christopher Lythgoe, 32, from Warrington; Garron Helm, 24, from Seaforth, Merseyside; Matthew Hankinson, 24, from Newton-le-Willows, Merseyside; Andrew Clark, 33, and Michael Trubini, 35, both from Warrington. They all denied the charge.
A meeting between most of the aforementioned members of National Action took place at the Friar Penketh pub, Warrington on 1st July 2017. The meeting lasted three and a half hours. At this meeting, the plan was set for Jack Renshaw to murder Rosie Cooper.
He had bought a 48cm Gladius machete between 5th June and 3rd July 2017 to be used as his murder weapon.
Christopher Lythgoe was in full support of the plan after threats were made at the pub. He was charged with encouraging Renshaw to murder Cooper on behalf of National Action. He denies the charges.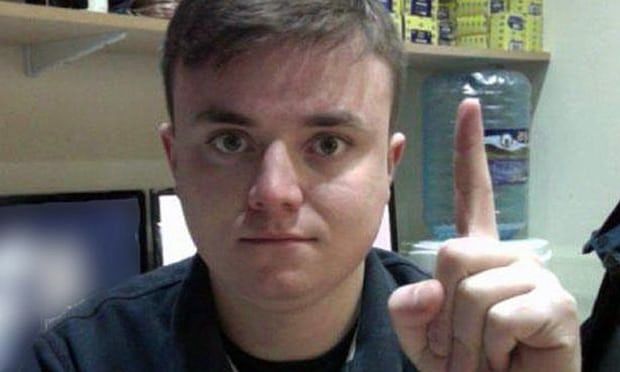 However, Jack Renshaw did not only plan to murder the Labour MP Rosie Cooper. After his frequent interactions with DC Victoria Henderson, he became convinced that she was trying to ruin his life. He devised a plan to kidnap Cooper, and request for Henderson to be the police officer at the scene, upon her arrival he would murder both women.
He had also planned to wear a fake suicide vest so that upon the arrival of the police, he would be shot to death after having murdered Rosie Cooper.
His internet history showed searches about Ms Cooper, as well as how to cut the jugular artery and how soon after such a cut the victim would die. The court heard that Renshaw's motivations were personal and political.
A former member of National Action, Robbie Mullen – who became disillusioned from the organisation shortly before its proscription – was present at the meeting and fed information to the group Hope Not Hate when he felt that they were becoming a threat this prevented Renshaw's plans from materialising.
On Tuesday 12th June 2018, Jack Renshaw pleaded guilty to preparing terrorist acts by buying a weapon with the intention of murdering Rosie Copper. He also admitted to making a threat to kill DC Victoria Henderson. The trial continues.