NUS delegate has SEVEN-person orgy in lunch break
Sabbatical officer engages in steamy group sex session…ONE DAY before representing his uni as an NUS delegate
exclusive
A guided tour of a sandpaper factory. A glass of lukewarm bathwater. A year-long internship in tax accountancy.
All of the above are things you may assume are more interesting than the NUS National Conference. But not for one randy Scottish delegate.
The student, a Sabbatical Officer at a Scottish university, admitted to engaging in a gay sex orgy over his lunch break with six other men.
The Sabb (who wished to remain anonymous) told of how he left his Exec office over lunch yesterday to participate in sex with six other men, who were all strangers, saying, "It was great, I couldn't sit down afterwards.
"There were four tops, one bottom and I'm first, so I was like 'Oh fuck…just have your turn!
"That's the ***** ways, go on your lunch break for a shag and come back."
When asked how long his lunch breaks are he responded with a smile, "Just whatever you need.
"Honestly, we've just got prosecco and stuff in the office, just fucking sit on the sofa, check my emails, go on Facebook, speak to students."
He also spends time reading The Tab, "I fucking love The Tab, I think it's hilarious, I loved your elections bit. Let me write for The Tab!"
When told he could write about his lunch break, he said, "I could, I've got pictures, videos…"
His sex tales certainly livened up what is proving to be a long, long conference.
Set to finish on Thursday afternoon, the NUS National Conference, this year held at Liverpool Arena Conference Centre, involves around 700 delegates voting on motions for the coming academic year.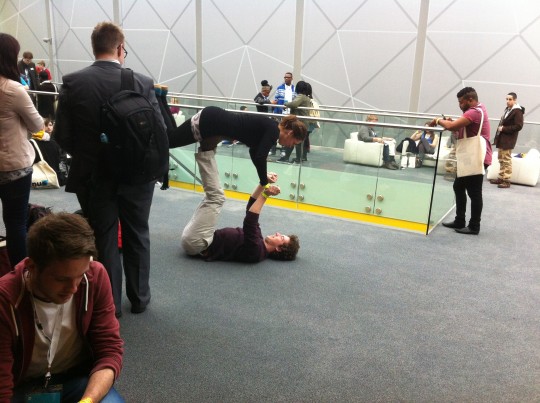 Motions so far have included 'Opposition to UKIP', 'Opposing privatisation of student loans' and a national demonstration in the first academic term (which failed).
Follow The Tab Aberdeen on Twitter for live updates.