New Course Available for Pisshead Students
Students caught drunk and disorderly in Notts could half their fine and potentially avoid a criminal conviction.
Students who are caught pissed-up might have to enrol on an alcohol awareness course in order to avoid more excessive fines, after a successful pilot scheme.
Last Orders costs £40 to complete, which would halve the usual fine of £80 often found slapped on the hungover faces of students all over Nottingham.
Inspector Neil Williams, who keeps an eye on drunks in Mansfield, said: "It's a bit like the driving scheme where instead of giving people points and prosecuting them for speeding, we try to advocate safe driving and we are trying to do the same for drinking."
This could be good news for students as – if the course works in the same way as the speed awareness course does (which seems likely) – taking the course rather than the full fine would mean students could avoid it flagging up in DBS checks (formerly known as CRB checks), which could otherwise dramatically lower their chances of employment after graduation.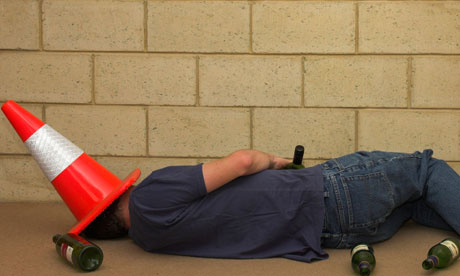 One law student (who we've kept anonymous for obvious reasons) feared her aspirations of a career as a solicitor have been ruined after being charged with being "drunk and disorderly in a public place, waving her arms around, pointing at security staff and swearing", according to the penalty notice.
"What actually happened was, I was ejected from a club for being slightly too drunk. The bouncer was being unreasonable and decided to retain my jacket for NO reason.
"I walked to a nearby police car and asked them if she had a legal right to withhold it, but I can't remember what they said, all I remember is that they were being patronising, which annoyed me, and I remember saying 'Look, I am more intelligent than you, so whatever'.
"Then I walked back to the door and demanded my jacket back from her. She flipped and said "You are a fucking bitch" and pushed me against the wall. Then the two police officers I said I was more intelligent than ran over and arrested me."
DBS checks are needed for many types of jobs, like working with children and in healthcare. Unfortunately for this student, barristers and solicitors also require a check.
Giving students the option to take part in this course rather than be convicted, could save many career plans which may otherwise be destroyed by one-off, juvenile incidents.
And with exam season soon to be over, it seems inevitable that these courses could soon be overrun by partied-out students after many nights of throwing up on their own shoes, shouting at bouncers and, of course, falling asleep on the pavement.