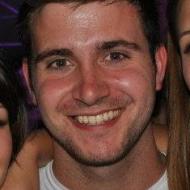 Exeter student's bid for MTV Student of the Year
Ashley Jenkin in it to win it as MTV's 'Student of the Year' competition enters its final stages
Voting is now open for MTV's 'Student of the Year' competition, and one of our own, Ashley Jenkin, has made the shortlist.
He's up against 19 other students from around the country in a bid to win a competition only marginally less prestigious than BNOC of the Year.
Ashley says: "I'm passionate about my university, I am a driven and focused individual, and I love MTV." Don't we all?
The 23-year-old English MA student is a keen volunteer and fundraiser, citing Philip Schofield (of all people) as his inspiration.
He's a high-flyer: "I have already achieved a 2:1 in my BA, and so have proven that I am able to achieve highly at one of the country's top universities."
But what makes someone the UK's 'Student of the Year'?
Is it boasting a sub three second bolt? Or getting consistent Firsts?
Is it the number of tallies on your bed post? Or perhaps your vibrant and jam-packed CV?
Well to be honest it's a massive popularity contest, so your vote counts for Ashley.
Applications came in from all over the country and the judges whittled them down to a final 20.
Voting closes on June 9.
Every voter will be entered into a prize draw to win 1 of 10 pairs of tickets or a pair of VIP tickets to the first ever Isle of Man Festival, headlined by Primal Scream, Paloma Faith, and Wretch 32 in July.
Voting will also give you a feel for what makes a good application for when the competition runs next year. Check the applicants out here.
The winner will receive a three month paid placement at MTV's European HQ in Camden as well as a tonne of prizes including: an iPad, £500 towards a holiday of their choice and tickets to the European Music Awards in Amsterdam.
Four runners up will also receive a one-week placement and a bunch of money–can't-buy MTV merchandise.
Vote for Ashley here. Let's get Exeter to the top once again!